The Cranbrook Snowmobile Club (CSC) is a very active group that maintains a trail system and a two-storey cabin in the Lumberton area. The club is believed to have one of the best grooming crews in the province, having received several Riders Choice Awards for Favourite Groomed Trail Riding in B.C.
Main Cranbrook snowmobiling area
Lumberton is the CSC's main snowmobiling area and it offers over 50 kilometres of groomed trails as well as access to several lakes and alpine play areas. Lumberton is well signed, and in some areas, the club has also installed firepits for all to use.
For more information about Lumberton, see our destination article.
Where is the staging area for Lumberton?
The staging area for Lumberton is located 14.6 kilometres up the Moyie Main Forest Service Road west of Cranbrook. There are two plowed parking lots which are large enough for trucks with enclosed trailers to turn around. On the weekends, the staging area can fill up fast, so riders will want to get there reasonably early.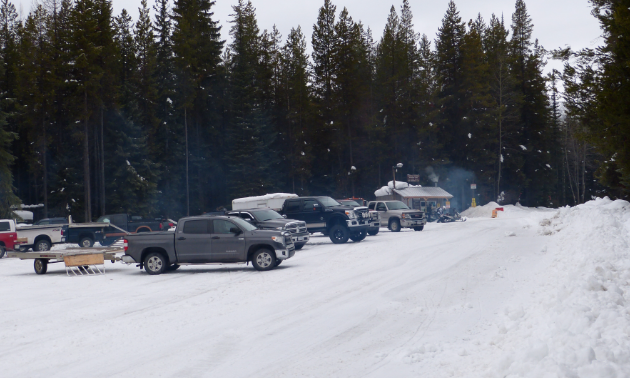 How to get trail passes for Lumberton, near Cranbrook BC
Trail fees apply to the Lumberton area and they are $20 per sled, per day, or $100 for an annual membership. Day passes and club memberships are available at the trailhead, but if you want to purchase in advance, see the list of businesses in Cranbrook that sell trail passes.
Groomer
1989 Tucker SnoCat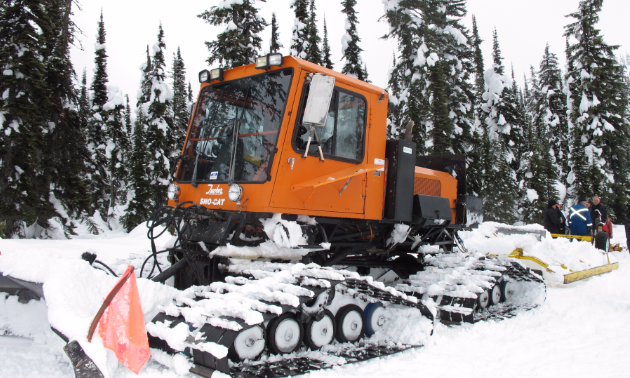 Cabin
There is a beautiful two-storey cabin located in the Lumberton area where club functions are typically held. The cabin is also equipped with beds and a kitchen so that members can enjoy overnight stays. Keep in mind, though, that the cabin is locked. To get a key, members are asked to attend a combination of five meetings and work parties within each year, and at least one of the five must be a work party.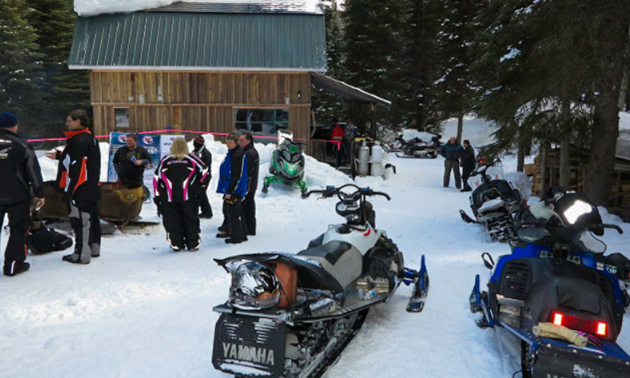 Cranbrook Snowmobile Club meetings
Club meetings are held on the first and third Wednesday of every month (October to April) at the Heritage Inn boardroom starting at 7 p.m. Anyone is welcome to attend, even if you're not a member.
Annual snowmobile events for Cranbrook
Family Days: Usually held in February, this event invites non-members and families to come out and enjoy a free day of riding on the trails.
Poker Run & Vintage Rendezvous: This is a great event that is suitable for all ages and all types of snowmobiles, both old and new. It usually takes place in late February.
How to join the Cranbrook Snowmobile Club
Memberships are available at All Seasons Motorsports, Chevron Town Pantry, K & K Powersport Supply, Mulisha Small Engine Repair and Peak Performance Motorsports in Cranbrook. You can also buy your membership online. It is $100 for a primary membership and $75 for a secondary.
Cranbrook Snowmobile Club contact
Doug Williamson, secretary. Contact by email or phone (250-426-0407).
Connect with the Cranbrook Snowmobile Club
Club start date: 1980
Average number of members: 200
Current president: Mike Plant (2016-2017)
Have you gone snowmobiling in Lumberton? Got photos? Share them with SnoRiders and be entered to win cool prizes in our Hotshots contest.