Like many sledders who started out east, Blair Murphy felt a calling to the alpine out west. Growing up in Thunder Bay, Ontario, snowmobiling was primarily meant for trail riding and snocross, which wasn't quite enough for someone as outgoing as Murphy. So when he caught wind of the riders on Thunderstruck Films, his spirit yearned to be as free as those adrenalin junkies. When the opportunity arose to move and work out west, Murphy jumped at the chance and moved to Kimberley, B.C., in 2015.
"It's the best move my wife and I ever made," he said. "I am fortunate to work a job that grants me winters off to snowmobile and pursue my passion of backcountry riding, photography and social media."
Initially, Murphy's snowmobile was for ski access, but slowly the skis started staying home and Murphy morphed into a man with a machine on a mission.
"Snowmobiling is so much more than just a sport that I enjoy doing and sharing on social media—snowmobiling changed my life," Murphy said. "I have struggled for most of my life with mental health and addictions and moving out here and finding my passion changed my entire life. I met incredible people that I look up to, I found a sport that I am excited to wake up and do and I found purpose in sharing my journey with others and helping them find their passion. I am grateful everyday for the opportunities that I have and continue to have."
Murphy's infectious positive attitude has paved the way for partnerships with a variety of sponsors, like sled wrap design company 3Sixty5Designs.
"I think that sled wraps are so important to snowmobilers because it's not only how we express our personal styles, it's how we identify ourselves and display the companies that we collaborate with and sponsor," said Murphy. "I'm a pretty flashy guy. I typically like to stand out. The more colourful and noticeable the better, ha ha!"
Murphy's favourite sled wrap is draped around his 2020 Polaris Khaos with a Bikeman Stage 2 Kit. He gave artistic freedom to the team at 3Sixty5Designs and they created a design for the god of Khaos. The collaboration allowed sponsors to be displayed without covering the design itself.
"It's such a sick design and it was executed perfectly," Murphy said. "They took my idea and brought it to the next level. The wrap is high quality and stands up to the abuse I put it through in the backcountry. The best part of my role with 3Sixty5Designs is getting to showcase their work on my sleds through my social media."
It takes more than a slick sled wrap to stand out from the sledder crowd on Instagram for Kaptain Khaos—Murphy's moniker. Murphy has developed photography skills that lend themselves well to showcasing his stellar designs and eccentric personality.
"Photography tips I swear by: always shoot it raw for the most versatility in post," he said. "Wait for the lighting—this can be tough and takes patience, but is so worth it. Shoot in manual when you can. Lastly, learn the rule of thirds."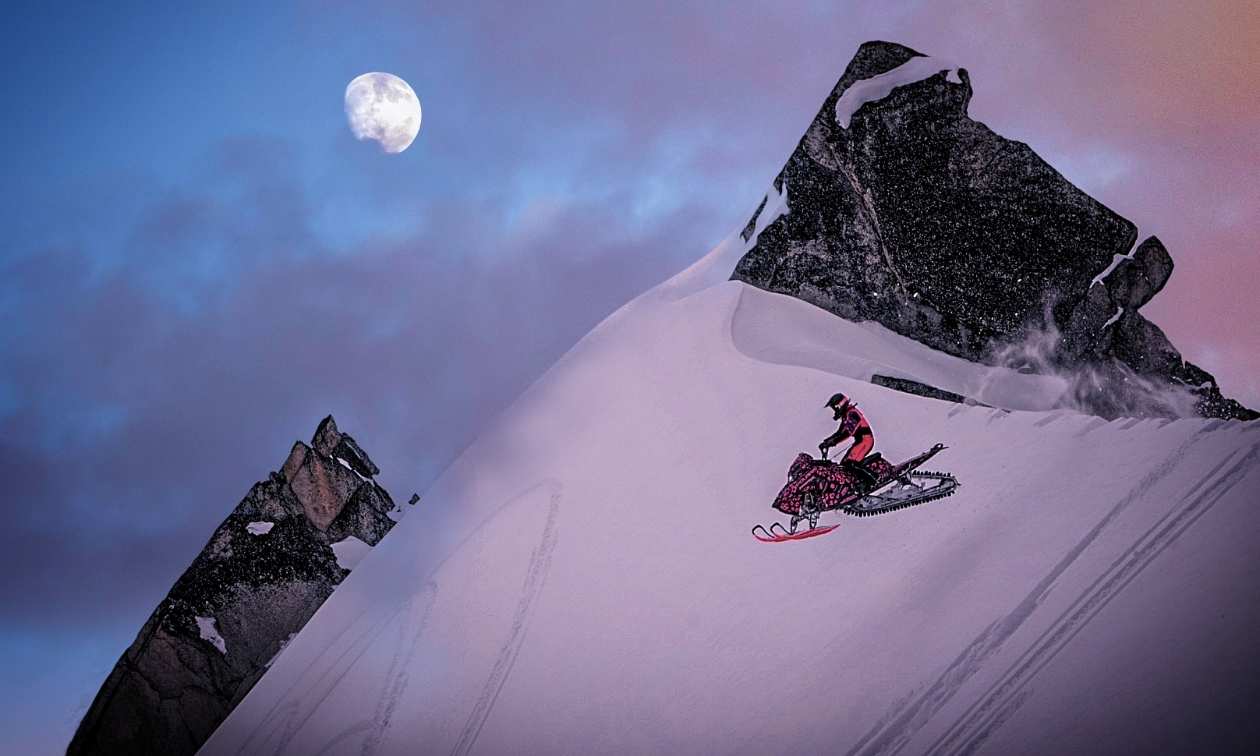 If you're looking to spot Murphy and his latest sled wrap, the most likely place to begin searching is Lumberton, B.C., in the East Kootenay.
"The area I ride is home to the Cranbrook Snowmobile Club which does an amazing job at keeping our trails groomed and mogul free," Murphy said "As a backcountry rider, I typically only use trails for access to the riding areas in the backcountry."
In looking back at his journey westward, Murphy is grateful for the opportunities granted while seated on a sled.
"The coolest thing I have done on my snowmobile is riding to the top of the Columbia ice fields at 12,000-feet as well as pushing myself to climb chutes I never thought possible," he said. "I have started a YouTube Channel, TikTok and Instagram because of snowmobiling. I never thought I'd be fortunate enough to be able to share my journey and passion with people the way I do. Between buddies I ride with, companies I work with and people I meet on the mountain, snowmobiling has given me the best relationships and connections."