Disorganization can be damaging for snowmobile clubs. Without order, memberships drop, trails don't get cleared and facilities fall into disrepair. Sometimes, all it takes is the right leader and some thoughtful planning to turn things around. The Windermere Valley Snowmobile Society (WVSS) in Invermere, B.C., is a testament to how quickly a club can bounce back with a little guidance.
"We really turned the club around in the past couple years by organizing ourselves and having a strong board of directors," said Gary Prosser, president of the WVSS. "We used to be like most other clubs, where you have a few members doing all the work and just trying to hold it together.
"We realigned ourselves when I stepped in as president. I always work under structure, so I'd ask that we bring some more key players on board who are engaged with what we're doing. We put in all this extra work and turned it around from what the club once was."
Two-timers
The hard work paid off and was recognized in a big way. In 2018, the WVSS was named British Columbia Snowmobile Federation (BCSF) Outstanding Snowmobile Club of the Year. This year, the club was honoured on an even bigger scale, picking up the Canadian Council of Snowmobile Organizations (CCSO) Excellence Award for the Outstanding Snowmobile Club of the Year.
"I was shocked and surprised—it wasn't expected," Prosser said. "Last year, when we were awarded the BCSF Outstanding Snowmobile Club of the Year, that caught us off guard. We were extremely happy about that. As for the CCSO, the next thing we know, we're getting contacted and they let us know that we won it. We're so proud of all the hard work we've put in."
Interactive initiatives
The first year that Prosser took over the WVSS, he realigned the club's trajectory by getting involved with the community, including participation in the local Christmas parade and involvement with other non-profit organizations. In keeping with this initiative, the WVSS has recently started their new Right to Ride Foundation for kids. Two years ago, Prosser and his staff revived the poker run after a 10-year hiatus. Last year's resurrected annual event raised over $7,500 in one day.
"Being part of the community, sitting in on other boards, bringing safety to the club, working with the government and enhancing the entire experience have made our club very desirable," Prosser said. "We're kind of like that unpolished gem. We have a small group of people who are dedicated and we have a nice riding area."
The making of a comeback
The WVSS has managed to make Invermere one of the premier destinations to go snowmobiling in all of Canada. The BCSF and CCSO hardware awarded to the club has been warranted for a variety of reasons.
"We're big on tourism," said Prosser. "We bring in a lot of Albertans. We have over 2,000 riders a year who use our system. We're gaining a lot of momentum and seeing more people using the trail system because we're organized, it's maintained and groomed, there's a beautiful cabin at the end and it's not overpacked."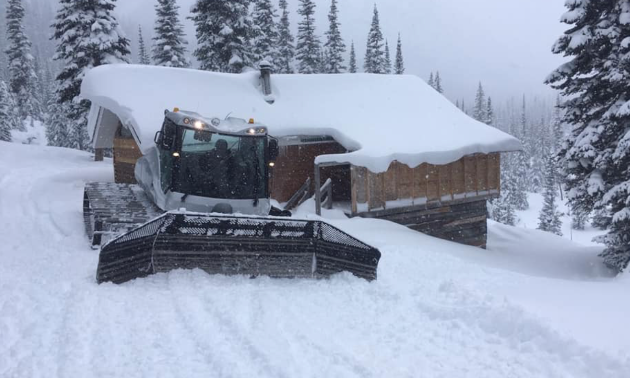 In continuing with its zealous resurgence, the club has invested a hefty amount of dollars and hours into its infrastructure.
"We purchased a used groomer for north of $80,000 that will last us many years and facilitate everything that we're trying to do to keep the system open," said Prosser. "We just spent a couple of weekends working on the cabin. We put two new decks on and redid the roof on one side. We redid the floor last year. We stained the floor this last weekend to preserve it. We keep investing in the trails and the cabin."
Bleeping beacon boxes
The WVSS has also been proactive when it comes to safety. Working with Avalanche Canada and Toby Creek Adventures, the club built a beacon park consisting of 10 buried beacon blocks. Riders hone their rescue skills by searching for the beacon boxes as though they were a missing person trapped in an avalanche. To make it more affordable, WVSS has subsidized the safety course for its members.
For snowmobile clubs looking to mimic the success of the WVSS, follow Prosser's example and heed his advice.
"When it's dysfunctional and not fun—it seems like work—it's hard to hold people's attention," Prosser said. "If you're interested, having fun and you're passionate about something, it's easy to bring other people in and be engaged in it."