Thirty-six-year-old Brandon Barrett of Invermere, B.C., lives breathes and craves snowmobiling. A diehard Ski-Doo fan, he started off as a small child on a tiny 250-cc Citation, which prompted a lifelong obsession.
In 2005, he started venturing deeper into the backcountry, going harder with a Summit 670, but after realizing its limitations, especially in deep powder, he progressed to a longer track. His 146 Rev was liberating, allowing him to ride more aggressive treelines and other challenging terrain.
Like many riders, financing a sled is a double-edged sword. While the upgraded ride satisfies your need to ride harder, it isn't long before you are yearning for new technology.
"The first sled I financed was the one and only time I've done that," said Barrett. "Within two years I was wanting a new one but found I was upside down in value."
Does he regret it? Absolutely not! Not a want—snowmobiling is a need for Barrett.
Riding with the pros
Having friends in the industry has its perks, especially when they are industry ambassadors.
Ski-Doo legend Carl Kuster has been an incredible source of support and mentorship for Barrett, helping him troubleshoot wrenching conundrums and offering advice on riding technique.
"I can't even explain how grateful I am for all Carl Kuster has done for me," said Barrett. "At least 80 per cent of what I know as a snowmobiler Carl has taught me."
You'll often find this adventurous snowmobiler deep in the trees, or sending it over one of the alpine features near Radium Hot Springs. Normally, Barrett opted for a shorter track, telling himself he couldn't go longer because he loves to jump. Proving himself wrong aboard his Summit 800 174, he started to figure out that jumping wasn't just for short tracks anymore.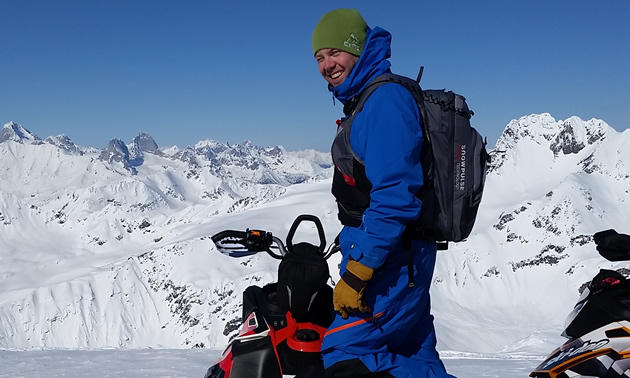 "Because I can obtain a higher rate of speed in a shorter distance, I find I can jump and drop more aggressive lines with my 174," said Barrett. "Sure, I probably won't do as much jumping on spring concrete, but mid-winter deep powder dropping is fantastic with my 174."
Inside the Radium sled scene
Radium and Invermere area riders are a tight crowd with everyone looking out for each other. No drama, no games—everyone is out to ride and enjoy the backcountry.
"While you may start out with just a couple of people," said Barrett, "once you hit the cabin or staging area you will always find more people to ride with."
Barrett's girlfriend, Chantal von Rotz, is one of his favourite riding buddies. Starting out riding with your significant other can be a challenge for some, but not for Barrett. Helping her grow as a rider is one of his most favourite parts of the snowmobile life.
"I can always count on her," he said. "She's come so far in her skill set the last couple of years, there seriously isn't anywhere I want to go that she can't. It's great to simply be able to wake up and say 'hey, do you want to go riding?' and just like that you're off."
As the owner and operator of Amped Up Electrical Service in Invermere, Barrett experiences the challenges of being a business owner much in demand. In the winter months, many a desperate situation has called for Barrett to alter or cancel his plans.
"If you have a family in need of heat I can't say, 'Yeah, I'll get to you on Monday, I'm heading out sledding,' " said Barrett. "You need to look after business before satisfying that crazy addiction called sledding."
More than meets the eye
Radium riding areas can be deceiving.
"Nestled between the Rocky and Purcell mountains, there is endless riding that cannot be seen when driving through on the highway," said Barrett. "Many will simply drive on by because they have no idea how much riding we have out there."
Consistent snowpack allows riders to sled from mid-October to the first week in June. Forster Creek, located 20 kilometres west of Radium Hot Springs, is one of those unique areas that has terrain for everyone. With some places reaching elevations of over 10,000 feet, snow pack is long lasting.
Another key zone Barrett enjoys is the Catamount Glacier. Open to snowmobilers from February 15 to May 31, it hosts epic snowpack and endless exciting terrain features. But it is important to know exactly where you are at all times if you are riding Catamount as there are nearby closures. The North Star Glacier right beside Catamount is strictly off limits to snowmobiling.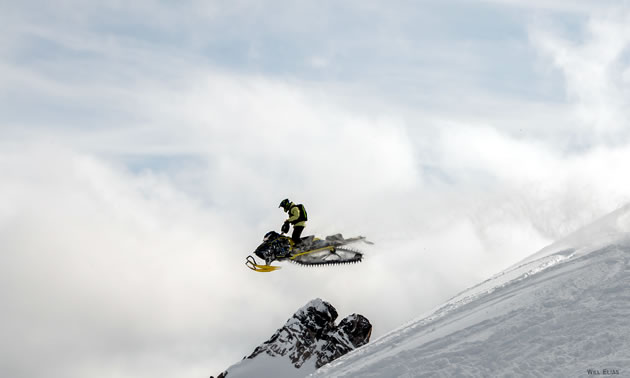 Abiding by closures has created a co-operative relationship between snowmobilers and skiers, one which is getting closer as time goes on. Many skiers are now active sledders, using their snowmobiles to access the backcountry and even tossing the skis aside for a great day of horsepower and fresh powder.
Thinking about riding Radium Hot Springs? Check out this article.