The British Columbia Snowmobile Federation's (BCSF) proposed Provincial Membership Plan is the most heated topic being discussed in the history of British Columbia snowmobiling. Rumors are flying and tempers are flaring, so let's break down the facts to date and shed some light on the PMP:
The topic of one provincial pass has been on and off the table for over a decade. All snowmobiling provinces within Canada and many U.S. states offer a single trail pass for their province or state.
Out of the 43,000 estimated snowmobilers in B.C., less than 16 per cent of those riders support organized snowmobiling. This is a huge untapped revenue stream that is much needed. The PMP could be a way of engaging those who have yet to contribute to organized snowmobiling on a provincial level, creating a much larger revenue stream to benefit all BCSF clubs.
With more revenue, the BCSF would have the ability to hire an economist to develop a Provincial Economic Impact Study, and to hire biologists and lobbyists, which would give B.C. snowmobilers a more powerful voice. Safety outreach could also be better supported with a more solid financial foundation, giving clubs more for their membership by way of avalanche education and safety training.
Those opposed to the PMP worry that internal revenue, which supports their club, will be negatively impacted, financially breaking their large thriving clubs. Some smaller clubs simply do not want out-of-towners in their honey holes, and fear the PMP will promote tourism in their area.
In the winter of 2016-2017, Donegal Wilson, executive director of the BCSF, reached out to BCSF clubs to discuss the PMP, requesting that they send delegates to the spring meeting who could vote on whether or not the BCSF as an organization would investigate the PMP further.
On April 1, 2017, with 41 clubs in attendance with over 100 representatives, the clubs were asked to cast a vote on whether or not to investigate the PMP further. The vote was cast with two-thirds in favour of investigating the PMP with the goal of creating a funding model that can work for clubs within the BCSF.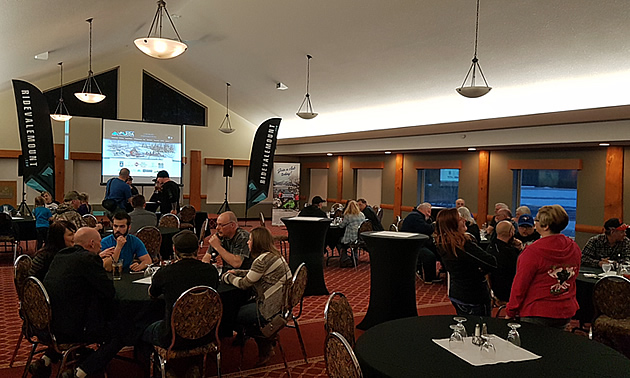 A committee was formed with the objective of creating the funding model with experts such as an economist, a contract lawyer and a data collector to gather all the information needed to create a funding model.
The cost attributed to creating a workable funding model was estimated to be about $120,000. Each club was asked to contribute $1,700 for this process.
On July 15, the 16-member PMP committee, consisting of club representatives from around the province, met to begin the process.
The first action items were to find and hire internally an individual to collect data to submit to the economist. A contract lawyer was also sourced to review and navigate Section 56 trail agreements and regulations and how they impact the PMP process.
In September 2017 data is expected to be collected with the economist and contract lawyer to be hired by October 2017. A refined budget will also be set by October of 2017.
There will be an update from the PMP committee at the club congress in October.
In December 2017, the second draft of the PMP will be delivered to all BCSF member clubs.
The final draft of the PMP will be delivered and voted on by member clubs at the BCSF spring meeting in Revelstoke, B.C., in March of 2018.
While it is no easy task, the Provincial Membership Plan, with a working funding model, promises hope for a brighter future for the snowmobilers of B.C. It is a complex issue, further complicated by British Columbia's unique snowmobile terrain, which is unlike any other Canadian province. Can it be done? We shall see. Stay tuned for more updates on the progress of the BCSF's Provincial Membership Plan.