Mountain sledding in Revelstoke has come a long way from its humble beginnings over 50 years ago.
"The sport, equipment, lifestyle—the way sledders live and breathe sledding—is evolving" said Teena Rumak, general manager of the Revelstoke Snowmobile Club (RSC).
The RSC, which is the largest of its kind in British Columbia with over 800 members, has launched a new website.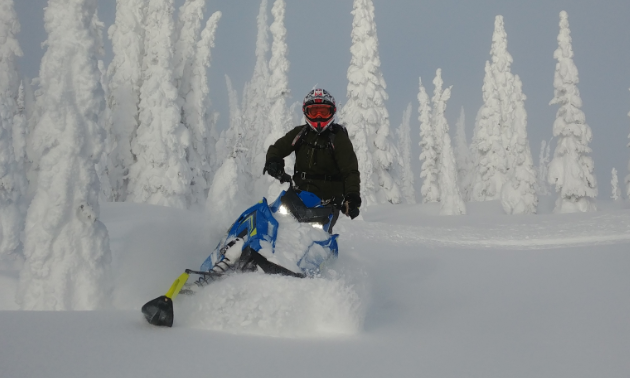 New website, new features
Website visitors can expect to be greeted with a fresh visual, followed with a comprehensive guide to everything you need to know about sledding in Revelstoke.
Website improvements include a new member log-in portal and updated riding area descriptions, including the implementation of an ability rating guide.
Allocating beginner, intermediate and advance ratings to riding areas allows new visitors to easily find the perfect terrain to braaap their way through winter.
Determined to provide a winter experience like no other to sledders visiting Revelstoke, the RSC has created a sledder guide. The page lists options to eat and sleep, a guide on where to find parts, gear, rentals and guides.
"We wanted to give new and returning visitors the chance to experience Revy the way a local would" said Rumak.
Snowmobiling & COVID-19
The website updates are part of the club's commitment to grow sustainable snowmobile tourism in Revelstoke after an unexpected end to their last season.
RSC shut down their operations on March 18, 2020, in response to COVID-19—one month earlier than their scheduled April 18 closing date. As a result, the club lost one-fifth of its season.
"It had a large financial impact to the club," said Rumak.
"Despite being armed with gloves and helmets, there's a real risk when snowmobiling," Rumak said. "Snowmobilers naturally practice social distancing on the mountain but riders need to be mindful when using shared spaces like the emergency shelter cabins and washroom facilities."
To limit the risk to riders and staff, the RSC is adapting their existing membership system to ensure a safe and strong 2020-2021 season.
Online Membership Registration
One of the website's new features is an online registration system for members. Memberships to the club allow riders unlimited trail access to both Boulder Mountain and Frisby Ridge.
"Existing members can reload last year's memberships cards online, allowing for reduced contact between staff and other riders," said Rumak.
New members can purchase their membership online and pick up their membership card up from the Welcome Centre.
"This system is something no other snowmobiling club has done in Canada," Rumak said.
Memberships are on sale for $225 until Nov 30, 2020. Full-priced memberships are $250 after Dec 1, 2020.
The 2020-2021 snowmobiling season will start in late November, dependant on snow conditions.
For more information, visit revelstokesnowmobileclub.com
About Revelstoke Snowmobile Club:
Established in 1968, the Revelstoke Snowmobile Club (RSC) is proud to be one of the oldest and largest registered clubs in the province. The mandate of the RSC is to promote the recreational sport of snowmobiling, work with Government to keep riding areas open for everyone to enjoy and promote awareness of the protected areas for mountain caribou. RSC also coordinates club events that benefit local charities and snowmobilers.