The Cranbrook Snowmobile Club (CSC) held its 34th annual Poker Run & Vintage Rendezvous on February 25, 2017.
Val Traverse and yours truly looked after organizing the parking once again and were kept very busy from 8 a.m. until noon. There was a beautiful sunny sky for the event, and by noon, both parking lots were filled to capacity with trucks and trailers jammed into every available space.
There was some overflow parking back at kilometre 12, across from the Noke Creek Campground, and some chose to stage from there.
The final poker run entrants, Sheldon Thomas and Kelsie Morin, arrived at about 11:30 a.m. (after driving all night from Edmonton, Alberta, just to attend the event). They stopped in town long enough for breakfast and then headed straight to Lumberton. Now that is a dedicated snowmobiling couple! When asked how they heard about our Poker Run, their reply was simple: "Facebook."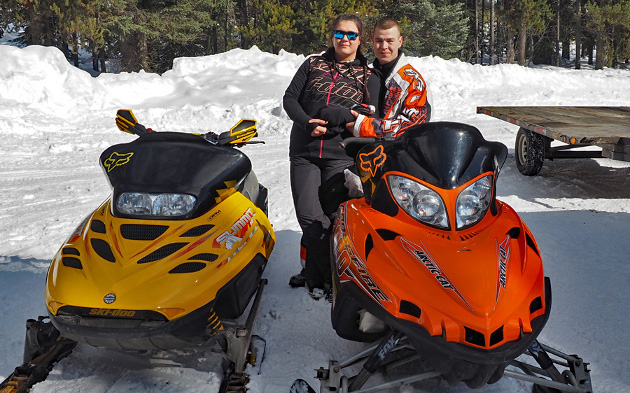 There were several vintage sleds in attendance, and from what I could see, the 1970 Ski-Doo, owned by Todd Jones of Cranbrook, was the most minty machine of all the oldies. A sign of the changing times was the presence of quite a number of tracked-up side-by-side ATVs. Sorry, I missed getting photos of any of those machines.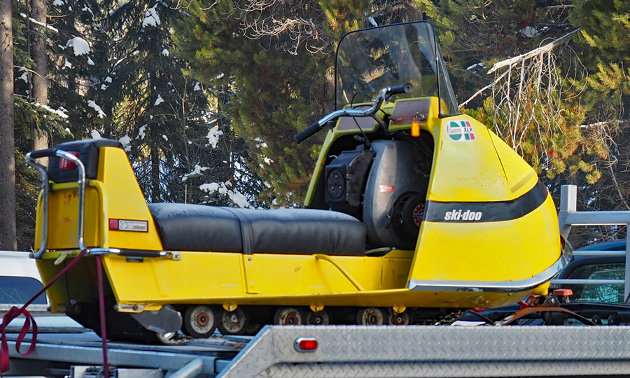 This was another very successful event for the Cranbrook Snowmobile Club. Organizers Kris Peltzer and Mike Sanderman and all their volunteers did a great job.
Also on hand was Wade Boardman, who was selling raffle tickets for the Yamaha Kodiak ATV, which was brought up to the parking lot for display by Jay Yates from Peak Performance Motorsports. This is the second year for a CSC raffle. Only 1,000 tickets are printed and the raffle draw is April 29. For more information, see the CSC website.