Another world record has been set in Whitecourt, Alberta. On Sunday, February 15, Reagan Sieg of Vernon, B.C., managed to jump his Timbersled snowbike to a distance of 25 metres (83 feet). Words cannot describe Sieg's performance, and the entire freestyle show that Octane Addictions delivered on Day 5 of the 2015 World Snowmobile Invasion, but I'll still give it a try.
The stands were packed. Hundreds of people had shown up to the Westward Community Centre to see six of the best snowmobilers in the world do what they do best. It was a rare opportunity indeed to see Levi LaVallee, Sam Rogers, Daniel Bodin, Joe Parsons, Willie Elam and Fred Rasmussen all in one place. For LaVallee, it was something new. Earlier in the week, he told reporters that this would be his first non-competitive performance.
The octane started flowing through everyone's veins when each of these riders rode into the ring and immediately started throwing down backflips and other tricks that most of us have only ever seen on TV.
The show really got rolling when Reagan broke the world record. Then, Octane Addictions held its own version of the now defunct X Games Snowmobile Best Trick competition. Although it was pretty hard to tell, the crowd picked Joe Parsons as the winner with his "Parsby" trick. Bodin got second with the "Superflip" and Sieg third with a "Seat grab."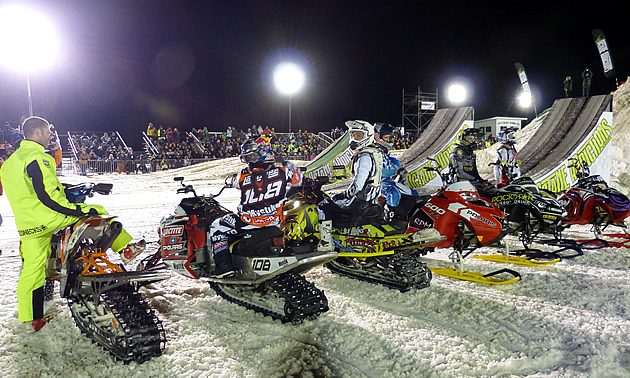 It was a hugely successful event. Tyler Johnson, owner of Octane Addictions, was pleased with the turnout.
"We put the people there and the good Lord watched over them," said Johnson.
Bodin was equally impressed.
"One of the best shows I've ever been to," he said.
Fireworks signalled the end of the freestyle show as well as the end of the five-day World Snowmobile Invasion event. What a week it was! Thank you to the Whitecourt Trailblazers, Octane Addictions, the Town of Whitecourt, Woodlands County, Days Inn & Suites and everyone else who showed SnoRiders such a great time in Whitecourt!