Whitecourt, Alberta—or more specifically the Westward Community Centre—was the place to be last night. Octane Addictions put on one of the most incredible freestyle shows Canada has ever seen. Hosted by Tyler Johnson (owner of Octane Addictions) and Slednecks superstar Cody Borchers, the show featured Levi LaVallee, Sam Rogers, Willie Elam, Joe Parsons and Fred "Fuzzy" Rasmussen.
Fresh off X Games, these guys pulled out all their biggest tricks and looked flawless doing them. The crowd went especially wild when LaVallee cranked up the heat with a backflip. From then on, it was like a competition to see who could throw down the sickest trick. And if that wasn't enough for spectators, Octane ended the show with fireworks.
We aren't sure how it will be possible, but Sunday's freestyle show is supposed to be even better. Daniel Bodin is flying in from Sweden to join the crew and Reagan Sieg will be attempting to set a new world record long distance jump on a Timbersled snowbike. Whether you are a snowmobiler or not, this is one show you'd be crazy to miss.
After the freestyle show, we headed over to the Allan & Jean Millar Centre in Whitecourt for the Western Canadian Festival where the Boom Chucka Boys were playing. As a country music fan, I was impressed. This band from Sylvan Lake, Alberta, got everyone up and dancing.
So that's what went down last night at the 2015 World Snowmobile Invasion.
Today was the ASA Jamboree/World Snowmobile Rally. The idea was to ride in the rally and experience the world. Checkpoints along the rally were decorated to reflect the different countries being represented: Japan, Sweden, Norway, Finland, U.S.A. and Canada. A total of 878 registered for the rally, which according to the Trailblazers is a new club record.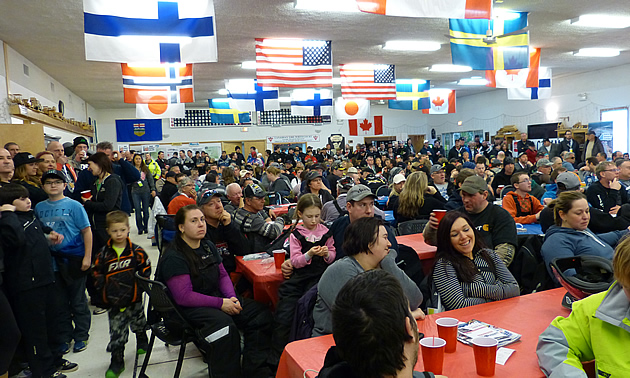 Afterwards everyone gathered back at the Welcome Centre for the raffle and prize draws. Susan King of Whitecourt won the 2015 Polaris 800 Switchback Pro-X and Brandon Heim of Ardmore won the Full Lotus sled deck.
Tomorrow is the final day of the World Snowmobile Invasion. Follow us on Twitter and Facebook for updates from tomorrow's rally and freestyle show.