Tyler Johnson—owner of the event-hosting agency Octane Addictions—has set lofty goals for himself and the crew of big-name riders who are heading to Whitecourt, Alberta, for the World Snowmobile Invasion (WSI) in February 2015.
"I will do the best possible show we've ever done," said Johnson. "I promise any person who is coming to that show that it will be the one you will not want to miss. In my opinion, this is going to be better than X Games. . . ."
And Johnson's no stranger to X Games. In the early years of his career, Johnson worked alongside ESPN sport organizer Joe Duncan, building the ramps that launch world-class snowmobile freestylers like Daniel Bodin, Levi LaVallee and Colton Moore into the air.
How it all started
Rewinding 30 (or so) years brings us to when Johnson was a kid growing up in southwestern Montana.
"My father was a snowmobiler, so we spent quite a bit of time snowmobiling in the winter season," Johnson said. "In Montana, you are two hours from the hill so we rode pretty much every weekend."
Dirt bikes were in the mix as well.
"As a kid, I'd spend every summer with my grandparents," he said. They owned a ranch in Springdale, Montana.
"I'd show up and grandpa would have gotten me a new motorcycle, every year," said Johnson. "It was to change sprinkler pipes, so it was work, but I wouldn't change it for the world."
Motorsports became a big part of Johnson's life. When he was old enough to ride alone, Johnson's grandfather bought him his first snowmobile.
"I think it was an old 340 TNT," he said.
Becoming a businessman
Johnson also had a competitive side to him. After playing football in university, he decided to race snowmobiles on the hillclimb circuit, but with a lack of financial support, his interest in it eventually died. That's when he met Sam Rogers and his foray into the freestyle world began.
"I had just finished racing snowmobiles and I met Sam Rogers in the Walmart parking lot here in Billings, Montana," said Johnson. "A young little punk kid at 17 or 18–whatever he was—says, 'Man, you should do a freestyle show.' I was like, 'Listen punk, I'm not down with freestyle.' "
Despite his initial reaction, Johnson decided it was good idea. He put on his first freestyle show 11 years ago in Red Lodge, Montana, with Jimmy Blaze, the punk (Sam Rogers), Nate Haag and Travis Rogers.
"We backflipped snowmobiles on Main Street right next to the Snow Creek Saloon," said Johnson. "It went off awesome."
From there, Octane Addictions grew into the full-scale graphic design, apparel and event-hosting agency it is today. With a roster full of the world's most-renowned snowmobile, ATV and motorcycle riders, Octane Addictions puts on quite the show.
"Pretty much any rider rides for us," said Johnson. "And we have fun . . . Most riders who come to my show leave with a smile on their faces, saying that was the funnest show they've ever done."
What it's all about
The fans—especially the kids—have their fair share of fun, both during and after each show.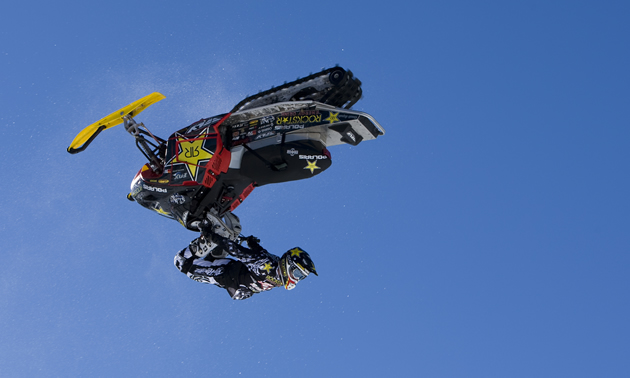 "Our motto is that we can be late for our flight three days later and we won't care as long as we are still signing autographs," said Johnson. "That's the neat thing about the crew of guys that work with me. They are all about the kids."
Johnson's eight-year-old daughter, Isabella, and his wife, Amanda, are involved in the business, too.
"(Isabella) goes to a lot of the shows with us," he said. "She sets up the booth."
And Amanda, who is an accountant, takes care of the company's clothing line and finances.
When he's not working, Johnson spends his downtime slaying the pow in Cooke City and West Yellowstone, Montana. Last year, he even made a trip to Canada and spent some some time with Timbersled snow bike phenom Reagan Sieg, who is from Vernon, B.C.
"I'm a big fan of the Timbersleds, too," said Johnson. "We're actually bringing a Timbersled to Whitecourt."
The plan, according to him, is to set a new world record for the longest jump ever attempted on a Timbersled snow bike. And that's only the beginning.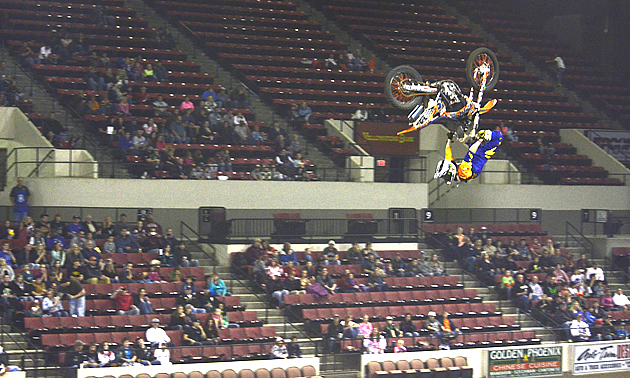 An event you won't want to miss
Octane Addictions is planning two shows for the WSI—one for Friday evening and the other on Sunday evening. Riders who have been invited to perform include Daniel Bodin, Sam Rogers, Colton Moore and Dane Ferguson.
Johnson said the Octane crew will also be participating in the world snowmobile rally and the parade, which are taking place during the WSI.
"It should be a good time," he said.
For more information and to buy tickets, visit the WSI website.