Levi LaVallee is always smiling. You would be too if you had seven X Games gold medals, a world record and a spot on ESPN's list of the 50 Most Influential People in Action Sports. Having been featured on Good Morning America, The Tonight Show with Jay Leno, CBS Sports and other TV shows, LaVallee is well-known even to those who know little about snowmobiling.
His fans may be surprised to know that long before he turned snowmobiling into a career, LaVallee worked in a grocery store in Longville, Minnesota, and the first toy he saved up for was a new snowmobile. At 12 years old, he started racing cross-country, then switched to snocross after the International Series of Champions (ISOC) was formed.
Working his way up from junior to pro in 2002, LaVallee became a snocross sensation, and by the age of 27, had started his own race team. Since then, he's racked up five ISOC fan favourite awards and a series title, but the now 32-year-old will always remember his first snocross race like it was yesterday.
"It was Duluth (Minnesota) and I was so nervous," he said. "I couldn't sleep the night before. I ended up throwing up. I mean, it was terrible, and I'll never forget that first race."
Launchin' it to the next level
In 2008, when Snowmobile Speed and Style—a timed event that combines traditional snocross with tricks—and Snowmobile Freestyle were added to the Winter X Games competition, LaVallee got a call.
"The organizers reached out to me and said, 'Hey, if you can send us a video, showing that you can do a freestyle trick, you can be entered in the freestyle,' and I thought, 'That'd be awesome to be in multiple events," said LaVallee.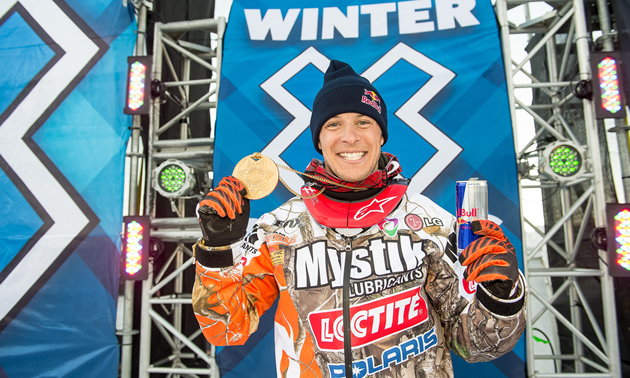 He contacted Red Bull, asking if the energy drink company could help him find a freestyle ramp, and a week and a half later, one was delivered to his house. After only a few weeks of practice, LaVallee qualified for X Games and went on to win both events.
In the 2009 X Games, he shocked the snowmobile world by attempting the first ever double-backflip on a sled in competition. Unfortunately, LaVallee didn't land it, but he was so close that some would consider it a success.
In 2011, he attempted to set a new world record for snowmobile distance jump and succeeded. But that wasn't good enough, so LaVallee broke his own record in 2012 with a jump that spanned 412 feet (125.5 metres).
A whole new experience
LaVallee recently announced his retirement from the national snocross league, but he will still be competing in snocross at the 2015 X Games. Taking a step back, LaVallee said, will allow him to focus on other aspects of the sport, such as riding for fun.
"In the past, it has always been race, race, race, freestyle, X Games, done," said LaVallee. "Now I can look at what I can do that will be fun on my snowmobile. And I've got a ton of really cool ideas, and I'm actually working with Red Bull on a big project that we are hoping to do this winter."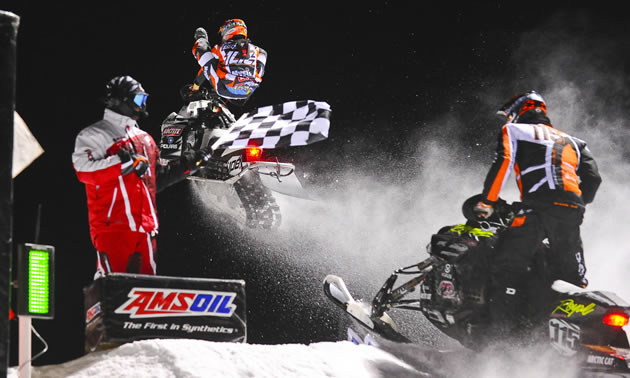 He's been busy, too, with the newest addition to the LaVallee family: two-month-old Liv Joy. Being a father is a whole new experience for him.
"I've learned that you love something instantly," said Levi. "There are a few things that just right away you're like, wow, I absolutely love you. I would die for you, and it's pretty crazy when you look at it in that regard. So that was a cool thing to experience."
What's next?
LaVallee is looking forward to the 2015 World Snowmobile Invasion (WSI) in Whitecourt, Alberta. It will be his first freestyle show and first performance in Western Canada.
"It's going to be a bit of a learning curve for me because I've never done it," he said. "But the other freestyle riders that have done a lot of shows, like Sam Rogers, I'm just going to pay attention to what they do and go out there and try to do the biggest tricks I can."
With his impressive history, we can expect LaVallee's performance in Whitecourt to be fantastic. LaVallee said he will also be participating in some of the other events that are taking place during the WSI, such as the rally, so fans will not only get to see him do what he does best, but they'll also be able to beat up the trails with him.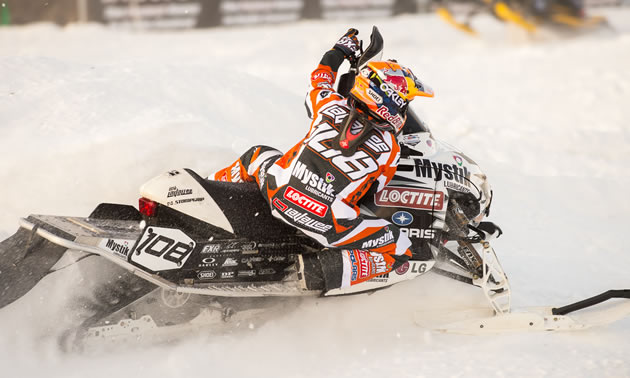 After 20 years of hits, whips and backflips, could Levi possibly get the same thrill from snowmobiling that he did when he was a kid?
"It's funny because I'm looking out the window right now, watching the snow come down and I just can't wait to go out riding . . . ," he said. "I think the fun thing about snowmobiling is you always get that break in the summer where you aren't able to do it, and it's crazy how as those months pass it just builds in you and you're like, 'Man, I can't wait to get back on the snow.' And then when it's fall and you get the first little dusting of snow, you just sit there like a kid on Christmas Eve—it's almost here."