Ashley Erickson's family gave her the gift of a lifelong love of snowmobiling. Her grandparents own a cabin at Brereton Lake in Whiteshell Provincial Park, which has been her favourite riding spot since the age of four. "I started with my dad," Erickson said. "I sat in front of him, and off we would go, just riding with dad every day for a couple hundred miles!" Now, at age 22, Erickson and her family still spend as much time on Whiteshell's groomed trails as the winter season will allow. To Erickson, the more snow, the better.
At sixteen, Erickson purchased her first sled: a 2005 Ski-Doo 500ss. She's been riding that sled on Whiteshell's trails ever since. "We went to watch a Snocross race," she said, "just a little circuit that they had here in Manitoba." Watching from the stands, Erickson knew that Snocross was the next step for her snowmobiling career. While her first race was on the 2005 Ski-Doo, she has since upgraded to a 2016 Ski-Doo 600Rs.
While Erickson lives just five minutes from Whiteshell Provincial Park, the groomed trails aren't ideal for Snocross practice. Instead, she drives all the way to the United States to practice and race on weekends throughout the winter. The home opener race is in Duluth, Minnesota, at the end of November each year. Her season runs through to mid-March, to finish in Lake Geneva, Wisconsin.
Perseverance on and off her sled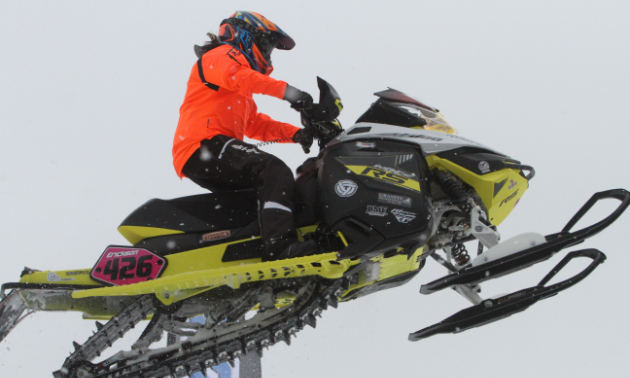 The past few years proved challenging for Erickson and her family: she acquired a few injuries, including temporary blindness in one eye. "I took a year off to focus on my health, and I came back to it last year to make the best of what I had," she said. This year, Erickson feels stronger and ready to race, especially with her vision almost entirely back to normal.
Her perseverance comes from her supportive family of snowmobilers. "My dad and stepmom are my everything," Erickson said. "We have a 28-foot race trailer that we haul everywhere with us." Her dad is her mechanic, driver, manager and coach. "He's supported me right from day one," she said. "He loves it just as much as I do."
Her goals this season are to finish in the top five at the ISOC National series of Snocross in the United States as well as encourage younger girls to join—and stick with—the sport. Snowmobiling is typically considered a men's sport—a stereotype that Erickson overcomes every time she rides. "I don't wear girly clothes," she said. This choice results in comments like "oh, you're a girl?" when she removes her helmet while riding Whiteshell's trails.
Erickson hopes that other young girls will find a similar appreciation of and love for the sport, especially with the recent addition of another female ranking. In the past, females raced against males until the age of 16. Only ages 16 and above had their own female class. Now, girls aged nine to 13 race in their own ranking, and girls aged 14 can opt to compete in the 16+ rankings. Erickson thinks these changes will encourage them to participate in the sport earlier and longer.
Despite her injuries and demanding racing schedule, Erickson recently acquired a bachelor's degree in physical education from the University of Manitoba. She has returned to school this year to work on her bachelor of education, with the hopes of becoming a teacher.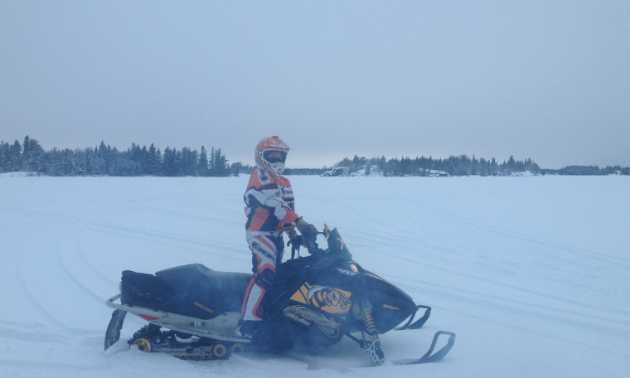 Die-hard trail rider
A cold and snowy morning is Erickson's dream when she isn't in school or racing. "I'm not going to race forever, but I will always have the trails," she said. While she rides fast and furious in a race, a relaxing family cruise is her go-to style on Whiteshell's trails.
Whiteshell's snowy trails along the Canadian Shield forever hold a spot in her heart, specifically the area of Brereton Lake. Erickson and her family often spend weekday evenings and sunny afternoons out on the trails. "I bring my family with me," she said. She runs among people who dislike being cooped up inside. Family and friends, including her plus-70-year-old grandparents are always up for a fun run on the sleds.
For this young Canadian racer, riding isn't just about chasing the gold medal. "The relationships and friendships I've built, not only from riding in Whiteshell but from racing, are unforgettable," Erickson said. Snowmobiling along Whiteshell's trails has always brought her loved ones together, and she plans to keep it that way. "Trail riding doesn't help me with racing, but that's what I really enjoy," she said. "That's where I started and it is where I will finish."