It was Monday morning and the 2016 West Yellowstone Snowmobile Expo was over. Time to head back home to Cranbrook, B.C. That was our plan, but waking up to a foot of fresh snow on our cabin doorstep changed things in a hurry.
We had our sleds and they were already loaded, fuelled and ready to go. Plus, other weekend visitors had already left town so it wouldn't matter where we went—all snowmobiling areas around West Yellowstone would be empty.
Who could resist? A quick email to my editor at SnoRiders to tell him I probably wouldn't be coming into work the next day and we were off.
North to Big Sky
From town, it was barely a 10-minute drive to the Big Sky Trailhead and we could've ridden the sleds if we had wanted. But gas needed to be saved for the deep day ahead. It was also a 14-kilometre trail ride to get to where we were going, namely Teepee Creek.
But wait, back up here. You can't ride Yellowstone National Park without a guide. True, but we weren't in the park. You see, West Yellowstone is a small town that sits on the edge of the park's western boundary. So to the west of it, and to the north and south, are hundreds of kilometres of groomed trails leading away from the park into places like the Gallatin National Forest and Idaho's Targhee National Forest.
Trail fees apply, and if you're headed south, it's likely you'll be needing a trail pass for both Montana and Idaho. We, however, were headed north, so we only needed the Montana state pass which, by the way, is a bargain at $25 per sled, per year.
Now, back to the ride. After skirting the highway for a few clicks, the Big Sky Trail took us on a gradual climb into the alpine. Then it ended, the groomed portion that is, and we climbed.
Up here, the air was thin and it took us only one stuck to realize we were above 9,000 feet. Our sleds were sucking wind, too, which made me draw a comparison between Western Canadian snowmobiling areas and U.S. ones.
Back home in the Kootenays, it's only a few times a year that we ride above 8,000 feet (maybe more if you sled Golden and Revelstoke every weekend), but here in the Western U.S., it's my understanding that 8,000 to 9,000 feet is fairly average for backcountry sled areas. Nevertheless, if you're going to be spending some amount of time in the States, it's probably worth it to adjust clutch weights.
An unexpected surprise
A few wrong turns and some impossibly tight tree riding later, we found what we didn't even know was there—a huge alpine basin with meadows, creeks and valleys. To our extreme delight, it was all untouched and above us, the sky was turning from cloudy to bluebird.
Rarely do conditions like these line up so well, and so for the next four hours, we rode non-stop, making as many tracks in the fresh powder as we could.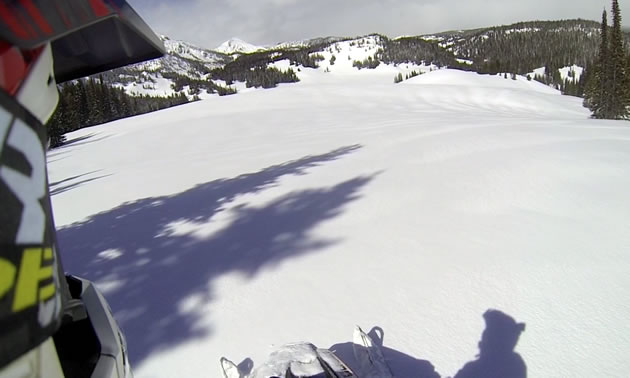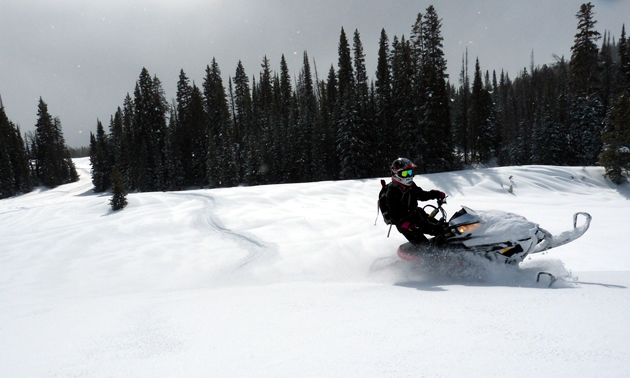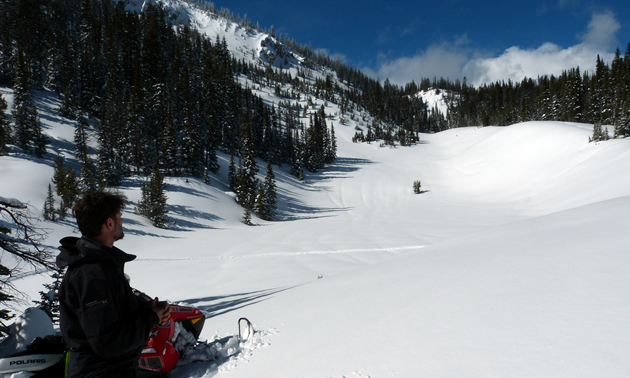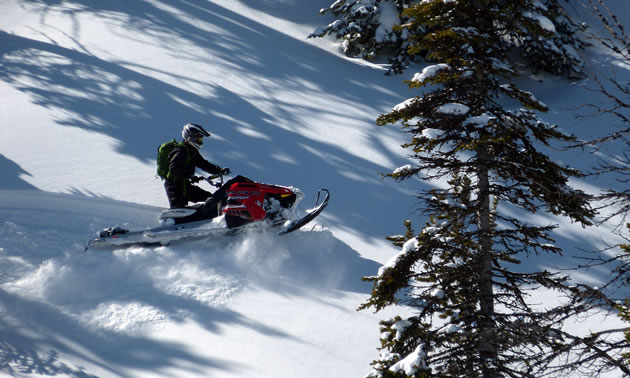 All too soon, the weather took a turn for the worse (or better, depending on which way you look at it) and we had to leave sledderland. Our fuel gauges were dangerously low, too, and it was on reserves that we made it back to the truck.
A fantastic day, indeed. When it comes to sledding, it might be that the best adventures are those taken on a whim.