In order to have the best day ever while sledding in Valemount, you'll want to head to the vast expanse of Allan Creek. Be sure to travel with someone who knows the area—like Marshall Dempster, avalanche educator and guide for Frozen Pirate Snow Services. Dempster encountered his best sledding day ever last April while escorting a group of Edmonton snowmobile salesmen for a group outing through the Valemount region.
"This particular group doesn't get out too much," Dempster said. "It's their one 'hoorah' for the year—a 'thank you' for their hard work by sending them out here to have fun with us. It's a special day when you have a group that's not doing it every weekend."
There's no I in team
On this eventful day, Dempster was able to guide alongside Frozen Pirate Snow Services' owner/operator, Curtis Pawliuk. "It's pretty rare for both team members, myself and Curtis, to be out riding together," said Dempster. "Those kinds of days stick out in my mind regardless of where we're going and what the snow is like. It's fun to get out with Curtis and be together."
The Frozen Pirate duo and their riding companions from Edmonton made their way to Allan Creek, an immense riding zone. Although it is popular, not many folks end up venturing into the far back regions, which is exactly where Dempster and his crew were headed. The optimism of a bluebird day faded to uncertainty as the ensemble unpacked at the staging area.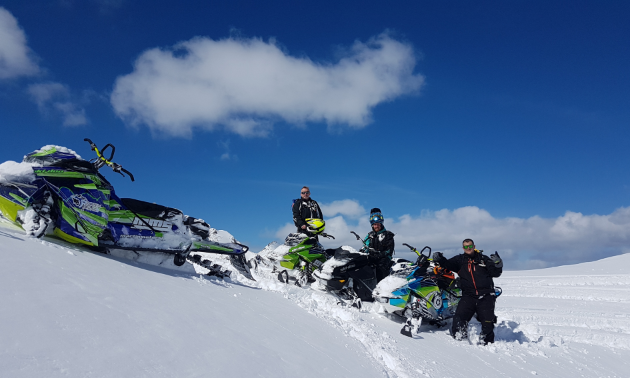 "We look up to where we're riding and go, 'ah shoot, it's socked in,' " Dempster said. "We get up there, it's foggy, hazy, yucky. The forecast is for it to be sunny. We're a bit disappointed. The snow is OK but heavily tracked. It's still a good time for these guys, but not quite what we were anticipating or hoping for. Where we were planning on going, you really need to be able to see and you need the right snow conditions in order to get through the crux point. We waited it out and then the sun poked its head out. The group consensus is that we should push through the crux point to get through to the rest of the riding zone."
Calculating the crux
Due to a caribou corridor that runs through the valley bottom, the crux point is a necessary evil for sledders to trek through if they want to experience all that Allan Creek has to offer. "The easy way is to go around through the trees, but that way is not open to snowmobilers," said Dempster. "You have to go through the alpine.
"That particular spot sucks. It's a benched feature. You drop down through this drainage and you have to go back up the hill through a landing. There's a big rock face on the left-hand side and then it falls away down to another creek draw on the right-hand side where you get a 50- to 60-foot (15- to 18-metre) landing pad where you get up to and then drop down the other side safely. You're very exposed while you're doing that. If you go right or left, it's going to end poorly. You'll hit rocks or fall off a steep cliff on the right-hand side."
Once the squad had enough visibility to see the top, they carefully made their way up the incline one at a time as a cohesive team.
"Curtis goes first. He seems to be the sacrificial lamb a lot, ha ha," Dempster said. "He makes it and gives a 'woo-hoo!' at the top."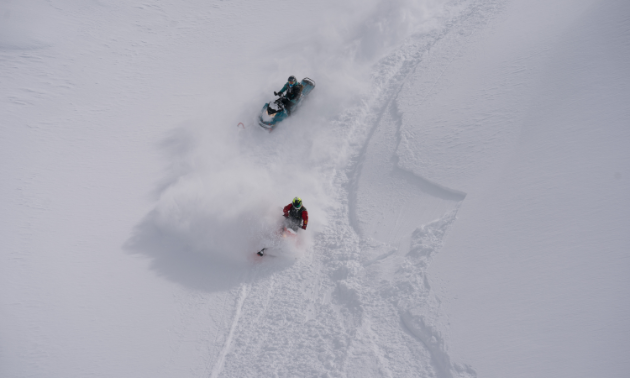 Awaiting Dempster and his crew on the other side of the crux point were flowing meadows mixed in with enchanting tree riding.
"As I come down at the other side of that feature, it's a sledder's dreamland back there. It hasn't been touched. No tracks. The sun's out. Perfect light. About thigh-deep blower powder. It felt like January. It was -15 C (5 F) in the alpine. It was phenomenal. Unbelievable. I'm getting goosebumps just talking about it. It was a highlight of the season and I ride a lot. I'm hoping I can get back into that zone next season."
Pain in the gas
When it comes to fuel usage, Dempster lives by the rule of thirds: spend a third getting out to where you're riding, a third riding it and a third getting home. It's a wise formula to use, although it can be altered in extreme circumstances.
"It gets chucked out the window when the snow is really good," said Dempster. "This was more like three-quarters getting out and riding and then holy (smokes) a quarter home. If you're in thigh-deep snow and you're having yourself a time, wide open throttle everywhere you go, you're burning the fuel fast. We made it all the way back. I ran out of fuel in the parking lot, trying to load the sled in. It was closer than what I would've liked it to be. But I did end up getting fuel from the truck to put the sled on the deck, ha ha."
Dempster noted that the group had a contingency of extra fuel—just in case.
More than a feeling
Remarkable conditions are one thing, playing in the snow with a group of guys acting like kids is fun on a whole 'nother level.
"The highlight for me was the looks on these guys' faces," Dempster said. "The mind-blowing look of 'I can't believe we're standing here now . . . 24 hours ago we were in the city grind and now we're in the middle of nowhere with perfect snow conditions.' That moment of watching those guys have that same feeling that I'm feeling inside. That feeling is why we're doing what we're doing—riding mountain machines. But it doesn't happen all the time. To have that personal feeling and then to watch that feeling go through the group . . . you know you're having a good time when you can hear the guy screaming over the top of his machine but you can't see him because he's buried in snow. You can hear the muffled scream of the snowmobile running where its wide open and then nothing. It's still running but you can't hear it because it's buried under snow. Then the head pops out and you hear the hoot and holler. That's what I try to chase every time I ride a snowmobile. That's what it's about."