Stories of a distant, almost mythical land covered in glaciers, colossal mountain peaks and snow so deep you could bury a five-storey building have trickled down into Western Canada. The source is Valdez, Alaska, and the rumours of this city's elite snowmobiling status could be true.
Located on the coast of southeastern Alaska, Valdez is a small port city that is fronted by the Bay of Valdez and flanked by the Chugach Mountains. Winter usually arrives in late October and when it does, Valdez becomes the snowiest city in North America—with an average of 827 centimetres (325 inches) per year.
Thompson Pass, which is one of the most popular snowmobiling areas around Valdez, can see up to 2,286 centimetres (900 inches) of snow. Here, the riding season can last into the month of June, but it usually wraps up in late April.
Coastal snow characteristics
Valdez also benefits from a temperate rainforest-like climate and this affects the density of the snow.
"Our snow, compared to the interior where it's dry and sugary, will pack down and it almost feels springy," said Scott Benda, an executive member of the Valdez Snowmachine Club. "But it sets up so good that you can ride a lot of places that would be dangerous in other places of the world because the snow doesn't stick to stuff as well."
That being said, avalanche conditions are still prevalent in the Valdez area and riders must always be vigilant. The terrain itself is not for the faint of heart.
"The mountains here are really steep so you look for places where you can get into the mountains and find areas to play," said Benda.
Big mountain riding
Most of the riding around Valdez is above treeline where huge, glaciated terrain and wide open bowls lead to hours of play and exploration.
"If you really want to go places, you are going to end up riding over the glaciers," said Benda. "And there are people who have ridden from here to Eureka."
Benda also spoke of a ride that starts at Thompson Pass and takes sledders over Marshall Pass and along the Copper River to the historic Million Dollar Bridge, which is 80 kilometres (50 miles) outside of the town of Cordova.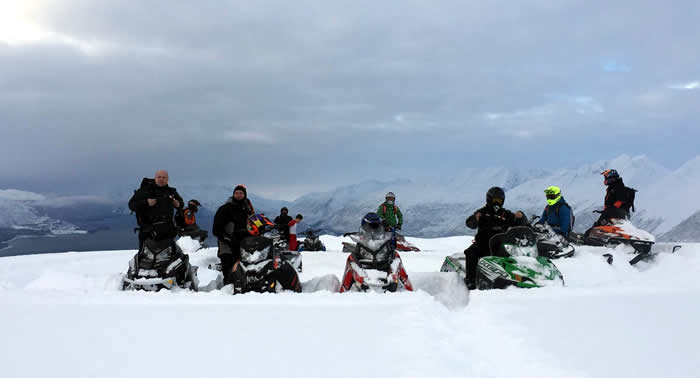 "It's the bridge that fell in during the earthquake and you can actually go across it," he said. "That's like 70 miles (113 kilometres) there and 70 back. It's quite a ways."
The best months for sledding Valdez
March and April are usually the best months for riding Valdez as there is more sunshine and longer daylight hours. But spring is also a time when the glacier-fed creeks in the area start breaking open, so extra caution is needed.
Other terrain features that may present problems to a visiting snowmobiler are the many crevasses; therefore, to get the full Valdez snowmobiling experience, Benda suggests riding with someone who knows the area. There are a couple of tour operators in Valdez that offer guided snowmobile trips, and members of the Valdez Snowmobile Club can also help out.
Groomed trails starting at the edge of town lead to other popular areas, such as Hogsback. Valdez is also one of the few cities on the road system in Alaska that allows snowmobilers to ride on the streets.
"Even if you live in a neighbourhood in town, you can ride right from your house," said Benda.
Visitors to Valdez typically choose to trailer their sleds to the riding areas, but even so, Valdez is one of the few mountain riding destinations where sledders burn more fuel in their machines than in their trucks.
"It's gotta be one of the best places to ride in the world," said Benda.
Endless potential
Much of the snowmobiling around Valdez remains undeveloped in terms of signage and mapping, although that is starting to change.
"It seems like we're getting more and more trails around town, which is pretty neat," he said.
For now, Valdez could very well be North America's last great snowmobiling frontier. The only way to know for sure, though, is to see it for yourself this winter.