Hailing from Valdez, Alaska, Ashley Chaffin knows how to spend a day playing in the mountains in the endless pursuit of challenging terrain.

She said she can't give away her secret spots, but when it comes to riding in Valdez, you can't go wrong with Thompson Pass. It's easy to see why—the area sees 1,524 to 2,286 centimetres of snow each year and attracts riders from all over the world with steep slopes and events like the Mountain Man Snowmachine Hill Climb and Tailgate Alaska World Freeride Festival.

"Valdez is an amazing place to ride," said Chaffin. "The area is huge and it's easy to rarely ride in the same spot. The terrain has lots of jumps and big open mountains, the views are amazing, and when it's bluebird and fresh powder there's nothing else that compares."

And she would know, having jumped on her first sled around the time she mastered kindergarten.
"My dad really wanted to have a son and I was the youngest of three girls, so I instantly became the tomboy," she said. "He raced in the Iron Dog when I was a little kid so I have always been around sleds. My parents bought me my first one when I was five years old and have been hooked ever since."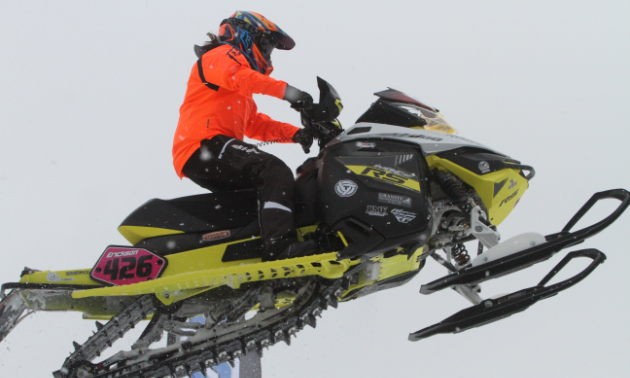 Seeking challenge
Chaffin rides about 140 days a year and expects to be at it even more this coming season.
"Starting off the winter in Wyoming and ending in Alaska lets me get in some really early season riding," she said. "(In Alaska) we ride so late into the year. I have the best of both worlds."
She is always on the look out for all types of terrain, but her absolute favorite is re-entry jumps—a passion inspired by Christoph Von Alvensleben's segment in Frontier Films' Two Stroke Cold Smoke 10.
"(I love) a face that looks steep and demands speed, something the wind has blown in just perfectly, a really soft landing and something with a beautiful background," she said.
It's no wonder, given her aggressive riding style and extreme drive to attack jumps and stay open to trying anything new in the backcountry.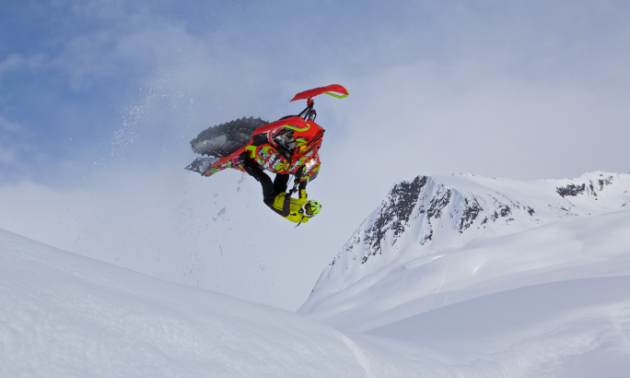 "You never know what your fully capable of until you try," she said.
Chaffin stays on her game by setting aside two types of goals each year—a small group she knows she can tackle and another set that raises the bar for herself.
"My first set for this year is to attack the trees in Wyoming more, be able to hit some crazy terrain, find a solid re-entry jump on my Summit 154 and have fun," she said. "Raising the bar for myself would be to learn a hop over in the trees."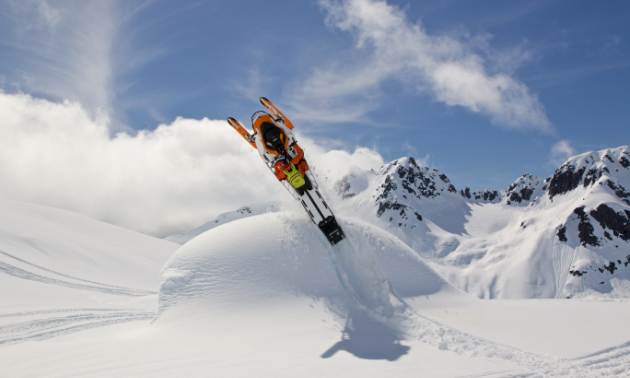 Gear essentials
She'll have plenty of opportunity to chase her goals this season when she gets her hands on the 2017 Ski-Doo Summit X 850 154 and the 2017 Ski-Doo Freeride 137.
"These two sleds are unreal," said Chaffin. "The Summit X has the 850 E-TEC engine, and the new chassis makes this sled effortless. The Freeride 137 is a solid jumping sled and is perfect for spring riding in Alaska."
She prefers riding in smaller groups and recommends the buddy system for safety, not to mention carrying all the essentials. Her backpack has the makings of a great day out—shovel, probe, first aid box, survival pack, tow rope, basic tools, extra gloves and goggles, lip balm and, of course, something yummy to eat.
Off-season delights
When Chaffin isn't exploring the mountains, she is killing it at ping pong, which she could easily make a day of. "I could play for hours on end," she said. "I'm a pretty competitive person, so this game makes it all that more fun."
She owns two coffee shops in Valdez, where she spends a great deal of time in the summer, but she makes time for dirt biking in Alaska and riding her horses in Wyoming.
No matter what she gets up to in the off-season, she'll always head back to the mountains first chance she gets because nothing beats the rush, fun and excitement she feels on her sleds.
"There's nothing like being in the backcountry sitting on top of a beautiful mountain and seeing what these sleds are capable of," she said. "The amazing memories I have made with friends and the pure joy are what make this sport so addicting.
"There is no better feeling I get than riding sleds in the backcountry."