The brand-new Red Bull Sledhammers track ran competitors through eight elements that challenged head-to-head riders and delighted spectators. The 550-metre hillclimb was constructed on the Chute Libre at Ski La Reserve in Saint Donat, Quebec. This race, these elements, this way . . . it's a climb that is brand new, and the first one took place on April 14, 2018.
"Forget all you know about previous races this year," said Rene Caza, course designer and builder from Today's Parks. "We tried to re-invent some features that have never been done before in a snocross event, mixing motocross elements into the course."
Watch the digital video overview of the race course here: https://www.redbullcontentpool.com/international/AP-1USCJM8BD1W11
"In a dual-mirror course, each rider will have their own alley and their own features," said Caza."We really wanted to get motocross-style snow jumps and tried to reinvent this type of competition. We need multi-disciplined riders who can master all types of riding."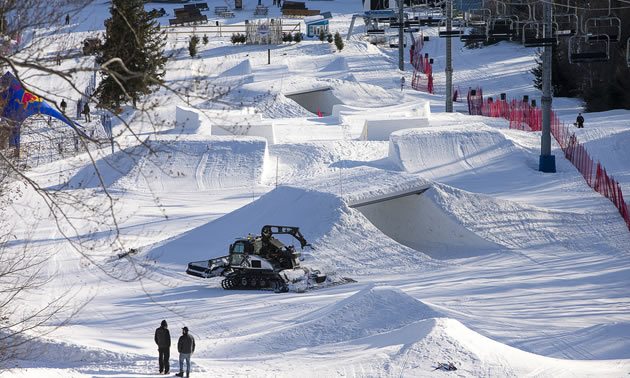 Right out of the gate, snowmobile competitors will find themselves in a double set of rollers nearly two metres (six feet) deep. When they reappear, one sled will take a bridge, while the other takes a tunnel. Then it's through a 45-metre (150-foot) elevated curve. While the belly of the snake is nearly two metres (six feet) wide, entrances are constricted to just under one metre (three feet), testing riders' skill to stay on track.
The fastest way through the transfer jump is to take big-air risk––the chicken route will cost riders time. Next is an opportunity to make up time on a classic banked slalom section before hitting three successively more difficult jumps. The second-to-last feature is about perfect speed and control. Timing is critical to hit the rhythm element just right. The final jump requires a two-and-a-half metre (eight-foot) vertical leap to cross the finish.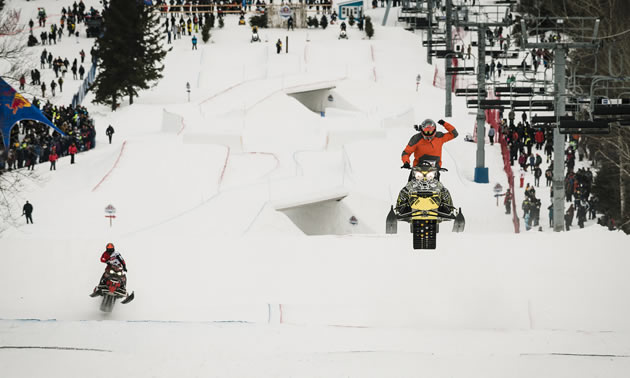 "We have 64 riders for this sold-out event, about half of the competitors are amateur snowmobilers, and 30 are professionals from across the U.S. and Canada; there's even one from one of the Nordic countries," said Caza. "The race is only for snowmobilers. Sixteen snow bikes will take part in the exhibition show. We will explore having snow bikes for the next edition, if Red Bull Sledhammers returns—and we hope they do.
"I think it will be really exciting––gladiator-style––like the first time to climb the hill. Some of the features will be brand new. 'The snakes' will be super challenging and exciting for spectators to watch."
When the whine of wound-out machines stops and the engines wait cooling, the celebration starts.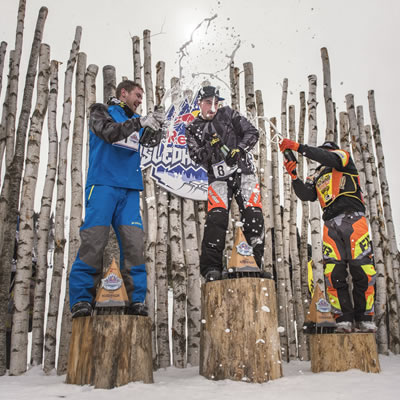 Max Taillefer, a Saint-Donat native, took home the top prize. In a press release from Red Bull, the winner said, "I put my all into this competition with the firm intention of winning. The event was really cool . . . and it's great to win at home."
The results
Third place: Éric Boudreau-Bélanger, age 29, Ile-Perrot, QC
Second place: Evan Loschiavo, age 29, Vermont, U.S.
First place: Max Taillefer, age 29, Saint-Donat, QC
The fourth-place winner was motocross amateur Jean Robert, who had never competed in a snowmobile race before.
For the Sledhammers event, Red Bull built a challenging course of elements never combined before in a motocross-style snowmobile event. Racers stepped up for the challenge and then onto the podium——can't wait to next year.