While we often think of snowmobiles as recreation vehicles — primarily used for weekends of surging up powdery mountain slopes or powering along smoothly groomed trails — we often forget that many individuals depend on snowmobiles as day-to-day working machines. Machines that support their employment and means of livelihood.
In fact, Bombardier recognized this fact when they first started to commercialize the snowmobile back in the early 1960's. For example, a promotional brochure for the Ski Doo Tin Cabs stated, "Bombardier offers you a thrilling winter sport as well as a pleasant and economical means of transportation with the incomparable SKI-DOO."
The brochure for the 1960 models went on to say, "Pleasant and healthful hours for young and old…elegant, comfortable, efficient, safe, easy to drive, sturdy construction and easily transported. Ideal for… sportsmen, trappers, missionaries, prospectors, surveyors, game wardens and public utilities — exciting excursions, enjoyable for all ages and ideal for linesmen and patrolmen."
The concept of the working snowmobile really struck home recently when I was reading the current edition of Uphere magazine, published out of Yellowknife in the NWT. The magazine bills itself as, "The Voice of Canada's Far North."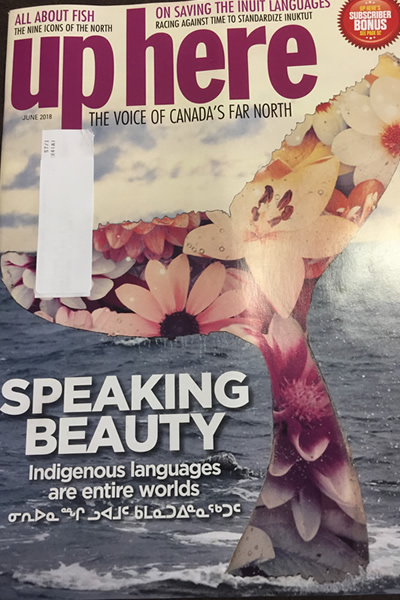 One of the magazines feature articles was entitled, Like Ataata, Like Irni (like Father, like Son). It is a first-person account written by Steven Lonsdale, in which he tells his story as an Inuit father teaching his young son how to hunt seals.
The opening photo shows Irni perched on a Ski-doo Expedition, a true working man sled and attached is a traditional Inuit wooden sleigh called an qamutiq.
Here are some article references to the essential role the use of their Ski-doo Expedition plays in the hunting life of this father and his son:
"In a place lacking roads anywhere beyond municipal borders, the sea ice is our highway and our snowmobiles and qamutiqs are our vehicles…this sea ice highway may remain open into July."
"Irni and I saw the seal from a distance as a black dot and we slowly drove towards it on our snowmobile…you must watch its movements in order to get close….As we got closer to the seal, we turned the snowmobile's engine off. I took out and assembled my taluaq…it's a small white sheet resembling a small sail and it's used as camouflage."
Upon the capture of the seal Ataata writes, "Part of our family tradition is to drive around town delivering meat after a successful hunt….it gives me great pride to be able to provide much cherished country food."
Ataata sums it up, "No culture has ever stood still in time. Although we may use boats, snowmobiles, guns and even cellphones, my traditions remains…I make no apologies ever for the food I catch or share."
The ultimate working snowmobile, in this case, the Ski-doo Expedition pulling a wooden qamutiq continues to offer traditional hunters like Steven Lonsdale (Ataata) and his son Nutaralaaq (Irni) access to a highway of sea ice in the far Arctic and their tradition of hunting seals.
Do you have a story about your snowmobile as a working sled? Share it with us at [email protected]
For more information about Uphere magazine or to subscribe visit their website at www.uphere.ca