Although 3,100 kilometres doesn't seem that far when you say it fast, that's the length of the Cain's Quest snowmobile endurance race. It happened in March this year and covered most of Labrador. Drive from Vancouver, British Columbia, to Nipigon, Ontario, and you cover the same distance Cain's Quest is start to finish. Except there is no trail. First place is worth $50,000 of the total $100,000 purse.
Now say it more slowly––thirty-one-hundred-kilometres. And imagine running your sled over every kilometre of unmarked territory around the clock. Think about what it takes to just make that circuit, let alone win.
What makes the race?
Cain's Quest was dreamed into existence by Labrador sledders who love the land and wanted to create a world-class event to show what Labrador has to offer. The name Cain's Quest comes from the reference to explorer Jacque Cartier, who is reported to have said, on seeing the land for the first time, "The land God gave Cain." This is the biblical reference in the book of Genesis to Cain being banished after killing his brother Abel. It is a barren and sometimes brutal land. The goal of Cain's Quest is to conquer the land––on a snow machine. The race is the only one of its kind in the world.
The pilot year was 2006, with 15 teams travelling 1,200 kilometres. In 2018, 41 teams sledded 3,100 kilometres for a shot at $100,000 in prize money.
Competitors pound over rough open country, broken ice and ancient Canadian-shield woods stunted by short growing seasons and wicked cold. There are few marked trails. Temperatures can be as low as -40 C and the race takes up to seven days. The race course will thrash your machine and brutalize your psyche. People, tasks, parts and equipment must come together in perfect unison to win the endurance race.
Cain's Quest is brutal. Not everyone who leaves the start crosses the finish line. But Andrew Milley and Rob Gardner, Team 22, crossed the finish line in record time with more than an hour lead on the second-place team. They ran even faster than their last first-place win in 2016.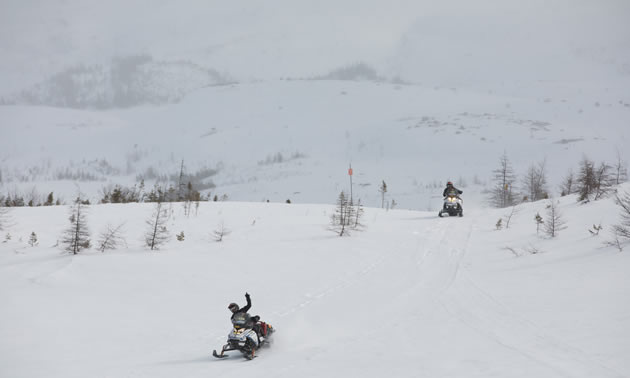 Milley said, "The toughest part of the race is different every year. In 2016, the hardest part of the race was having to take a marked trail at speed limit 50 kph. I had the toughest time keeping my eyes open. This year my arm was numb from the lock-to-lock steering required to manoeuvre part of the course.
"We may not be comfortable, but we're going to survive. If you're comfortable in your head, you can physically do the job."
About the final leg of the race, Milley said, "We weren't running to our potential. We were trying to run safe but quick enough (to win) and conserve our equipment. The last leg of the course crosses the road many times. We had lots of opportunities to check the distance between Rob and me and the following team."
What makes a winning team?
"Hundred percent the team. Me and Rob are only the guys on the machines; the whole team planned places, parts, hotels so I didn't have to worry about any of it. There is no way to emphasize how important the team is," said Milley. "That's why your team members are so important––you have to trust them with your life."
Milley packs his race snowmobile with an extensive tool kit, selected parts and bolt on stuff: hose clamps, spare nuts and bolts and duct tape. He and Gardner carry multiple goggles, and each of them has two GPS units set up in different formats to save fiddling with settings on the trail.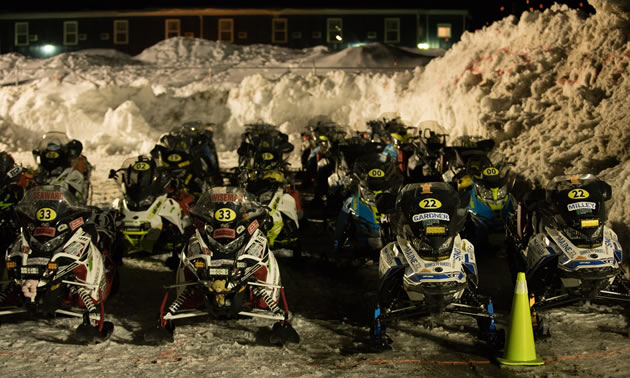 "This is an endurance race. You have to hold your equipment together for five or six days. Use your brain. You can't go all-out all the time," Milley said.
And as Bill Boisvert, third-place winner of the 2008 race, said to Milley, "You finally took a smart pill." (And eased up on the throttle.)
What makes a winning racer?
Every time Millie heaves his leg over the seat of his sled, every time he packs and unpacks his bags, every time he reaches for his goggles in the dark while the snow is blowing sideways, every time he warms up his sled for the trek to the cabin, he is training for the next race. That is why he keeps his goggles in the same place, packs and unpacks his gear the same way. He takes the same equipment to the cabin he takes on race days. Every time. He found the throttle sweet spot on the trail. He has learned by experience when to push the FREERIDE, when to coax it gently and where to take it easy.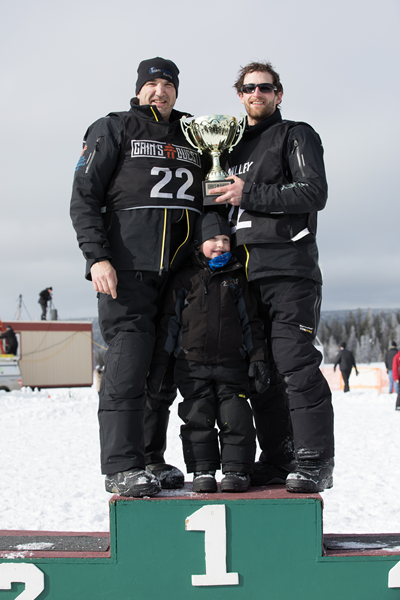 Milley and his teammate have earned the equivalent of master's degrees in snowmobile racing. Malcolm Gladwell says it takes 10,000 hours of practice to become an expert in anything. In his book Outliers, he defines the 10,000-hour rule. Top professional athletes, entertainers and even computer nerds all hit expert status about the time they cross that magical line of 10,000 hours. That's typically five years of full-time work or study––think master's degree.
Milley logs hundreds of hours sledding every year over the same variable terrain and in weather Cain's Quest tosses up on race days. His riding journal shows he put 1,050 kilometres on his second sled, a 900-cc four-stroke utility machine, since crossing the finish line just over three weeks ago. Most of that was logged with his five-year-old son, Gracen, who travels with Milley across the snow-covered rock and tundra to the cabin. It is 80 kilometres each way. Add to this some riding with friends, and the total hours in the saddle add up.
Milley has trained for this race since he was a kid. At nine years old, Milley and his family moved to Stephenville, Newfoundland. The men at the church where Milley's dad was minister spent Saturdays snowmobiling. Senior Milley took his son with him, and by 11 years old junior Milley had his own machine and was spending the money he earned on fuel and parts. He still spends his money on fuel and parts. In fact, Milley said that his $50,000 prize doesn't even cover his team's costs.
Milley has this advice for new racers: "The biggest enemy is yourself. And don't get married to these suggested routes."
Guys like Milley and Gardner win because they earn it. They did the work. They learned to ride and dealt successfully with multiple hurdles, emergencies, setbacks and disappointments along the trail.
And when they go home, they are covered in glory.