Clowns. Some people find them delightful, others are fearful, and some think they're just for kids. Regardless of your stance, they always elicit a reaction. Raymond Marak understands that, which is why he has adopted an alter ego: The Powder Clown.
"I'm the only one in the world who does costume riding—have you ever heard of that?" asked Marak. "I'm the Powder Clown."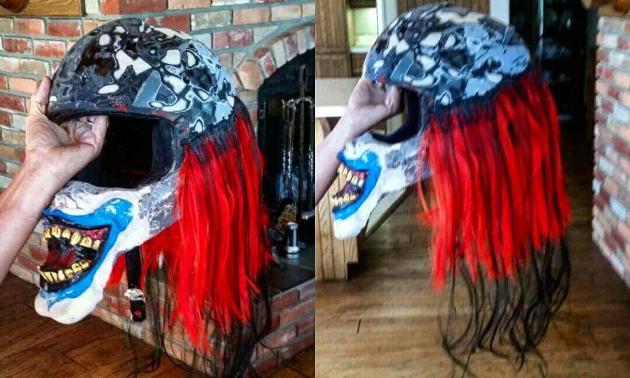 You may be asking yourself, "What possessed this man to portray himself this way?" I was thinking the same thing so I had Marak explain his logic. "I did it mainly for photography," he said. "I grew up as a photographer. I wanted something different out in the mountains. What's more different than a crazy clown on a sled?"
Photography isn't the only motivation Marak has for dressing up as a clown on the mountain. Being unique played a part in coming up with the Powder Clown. "I noticed everyone looks the same," said Marak. "I looked around the mountain and noticed this guy looks like that guy. You can't mistake me on the mountain."
You can check out Marak snowmobiling as his alias, The Powder Clown, in this video.
You'd think most people would see a sledder dressed as a clown and either chuckle or shrug their shoulders and continue riding. That's not always the case though. "Some people think it's too much," he said. "A lot of people think the costume is about 'oh, look at me.' It's not. This is just about having fun."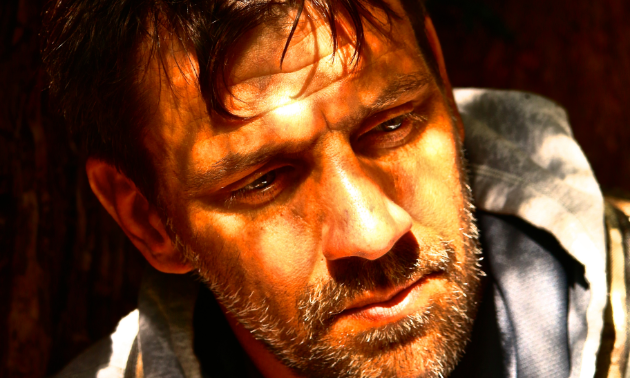 Having fun and getting a reaction out of people is something Marak does best. "The very first time I introduced Smithers to the clown was on the Microwave trail," he said. "There were a couple of guys riding ahead of me and didn't notice me. I came up beside them, dove into the ditch and did a wheelie right beside them. They both slammed on the brakes—dead in their tracks. They had no idea what they just saw. I caught up with them later on at the cabin and they said I scared the sh** right out of them."
Notoriety has been growing about the legend of the Powder Clown. Word of this enigma has spread across the country. "I've been asked by the Western Canadian Hillcross Association to come out in the clown suit and do hillclimbs," said Marak.
As much as the self-described freerider speed demon enjoys the attention that his clown suit generates, his passion for photographing other riders on the trails is equally great. "My ability to see things before they happen, that's where I shine," he said. That's not an innate trait either. Developing a keen eye for the perfect shot takes years to master. "My dad taught me photography," said Marak. "I was in a dark room at five years old. It's all about the picture or the video."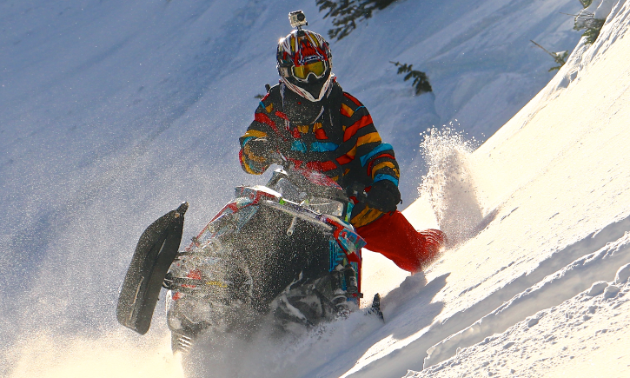 Photography took its place in Marak's life at an early age; snowmobiling came about years later when a co-worker introduced him to the world of sledding and shredding up mountains.
Since that time he's been able to master a few techniques. His favourite is the Hammerhead. "I can do it anytime now," said Marak. "It takes practice. It's where you stand the sled up on its tip and look over your shoulder which automatically brings the sled over and you do a 180, essentially turning the sled and coming up the same path."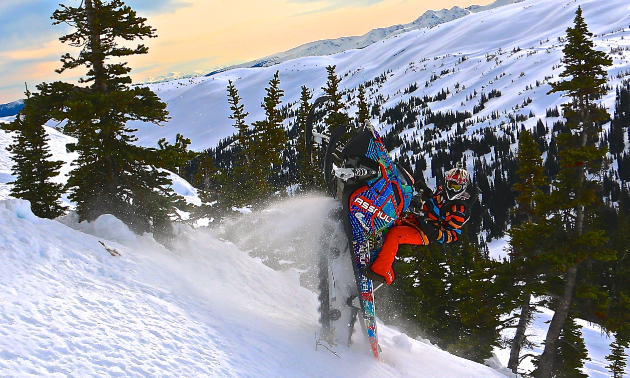 Marak's love of clowns and photography is matched only by his love of Smithers, his newfound home. "When you're raised in a city of towers and concrete (St. Albert, Alberta), and then you come up to the mountains . . . five years ago I found heaven and that's why I'm staying in B.C."
Marak has nestled into Smithers bosom like a pig in mud. "The closest mountain to me is about two kilometres away," said Marak. "Smithers has 20 riding zones all within a 45-minute drive."
Marak gushed about all the potential trails riders can hit up for a good time "There's Onion, The Dome is more of a beginner riding area," said Marek. "My favourite area is Microwave because I can access 10 different mountain ranges right from that area. From beginner riding to advanced, big drops, crazy riding—a lot of people like Microwave. There's some pretty gnarly stuff out here. It's all fun."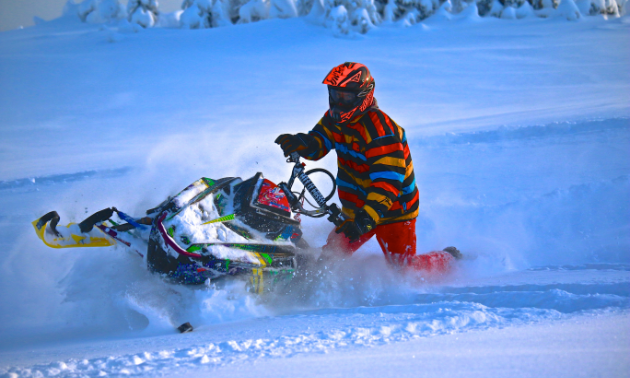 From fun with clown costumes to eye-popping photography on thrilling trails, it all comes down to one thing for Marak. "The beauty," he said. "I live here because I want to be here. Smithers is heaven for me."