"I can't believe you can do that and you're a girl."
It's a phrase Hannah Dehoog has heard many times throughout her life, whether it be while popping a wheelie on a motorbike, climbing craggy cliffs on a snowmobile or setting an example as an efficient feller buncher operator in the forest industry. Whatever challenges this rad rider encounters, she tears it up, leaving a track in her wake.
Out in the sticks
Dehoog was born in Smithers, B.C., and raised on the outskirts of the town.
"My stompin' grounds are in the boonies in a little place you've never heard of just outside Smithers called Telkwa," Dehoog said. "I currently work in the middle of nowhere—somewhere near Terrace, B.C., which is about a three-hour drive from home, so I stay in camp."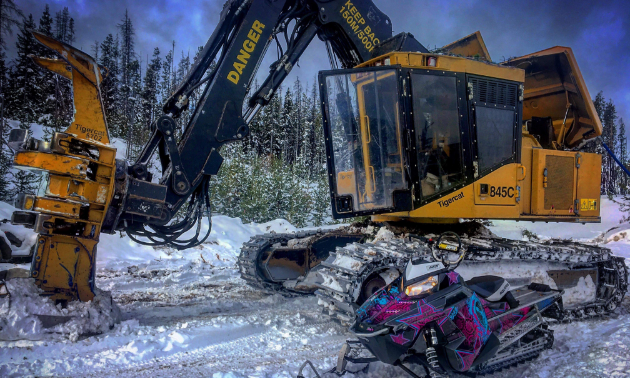 Dehoog works for Matt Hromatka Contracting Ltd. as a feller buncher operator, running and maintaining a variety of equipment. Her primary machine is a Tigercat LX870C. It has a heavy duty diesel engine that powers eight high-pressure hydraulic pumps on a track machine that tilts and levels the cab to carry its weight up steep slopes. It has a giant spinning saw on it and grab arms to collect trees as Dehoog cuts them down and lays them in bundles in a tidy, precise pattern.
Outnumbered
Since Dehoog is the only woman on the crew, she faces several unique challenges.
"There is a physical strength disadvantage," she said. "It's more difficult for me to use heavy wrenches that are as long as my arm, but I still do it. Then there's hygiene. Some days I get covered in grease and oil. We all have limited access to showers while living in the bush. It can be extra challenging for me over someone who just has a buzz cut.
"There is a lack of acceptance I've encountered from time to time. For the most part, everyone is skeptical when I am new to a crew. I put my head down and go to work, quickly earning my respect. I've been used to set an example by showing new guys or those who need a little boost of motivation to step it up. I help set the expectations without meaning to—just because no guy wants to be outshined by a girl. I've been told by every employer in one way or another that having a girl on the crew is refreshing."
Throttle therapy
Despite working 12-hour shifts, Dehoog makes the most of every opportunity to go out for a ride.
"As soon as I get home, I hit the mountain the next day," she said. "Quite often, I bring my toys to camp with me. At the end of a 12-hour-day, it feels so good to unwind by winding the throttle. There are always awesome new places to explore wherever we're logging. I spent one summer almost entirely in camp because it was just as much fun as days off. There were seven of us on the crew with dirt bikes and we had a blast. I rode my sled to and from my buncher all last winter, which was awesome on pow days. That's the way to start the day off right!"
When Dehoog is home, she has the good fortune of having several different mountains to explore within a 20-minute drive. Her favourite place to go sledding is the Telkwa Microwave, the closest trail to her home.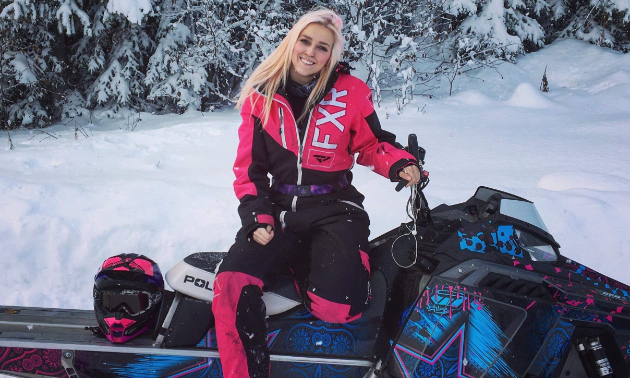 "I could ride from my shop if I wanted to," she said. "That's my favourite because I know my way around so well that it's practically my backyard."
When it comes to dirt biking, Dehoog chooses challenge over convenience, opting to ascend Hudson Bay Mountain in the Smithers area near Silvern Lakes.
"That's a tough one," said Dehoog. "I know plenty of grown men that can't make it to the top. I couldn't either my first try. That's why it's my favourite. It challenged me to go back again and again to grow my skills and master that trail. It's steep, narrow and covered in huge boulders. At the top is the most breathtaking view! The ride up overlooks a glacier and waterfalls. The beauty is truly indescribable."
When it comes down to it, Dehoog isn't an adrenalin junkie just for the thrills. It's a positive lifestyle choice that sees lasting benefits.
"All of life's baggage, it's just gone," she said. "Some people try to feel alive and find that rush by using drugs or dealing with life's hardships in destructive ways, but I've always been a big believer in throttle therapy. It's good for the mind, body and soul. That's what makes me feel alive."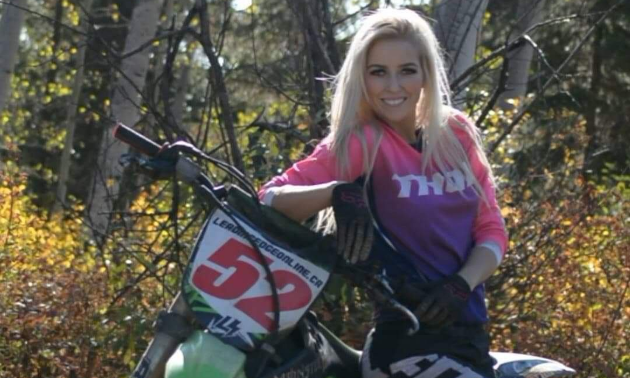 Introduction to adventure
Dehoog was introduced to high-octane machinery at a young age when her father bought her a dirt bike.
"I grew up a little motorhead on a 640-acre ranch surrounded by Crown land," she said. "Riding became my favourite pastime."
The youngster took to the bike with eager enthusiasm, teaching herself how to ride, and even took part in competitive races at a now-defunct nearby race track. As you might expect, these experiences left their mark on the avid student of the sport.
"The worst was on my 17th birthday years ago," said Dehoog. "I was raging down a narrow trail by myself in the middle of nowhere. I collided head-on with another rider. I left on a spine board in the ambulance. The doctor said, 'The X-ray of your face looks like a spider web.' I had five fractures in my face and still feel the nerve damage to this day. I was pretty proud of my badass-looking black eye though. I also ended up with 18 stitches in my left knee and a fracture on that same leg. I was screwed up for a bit but didn't take long to get riding again that same summer."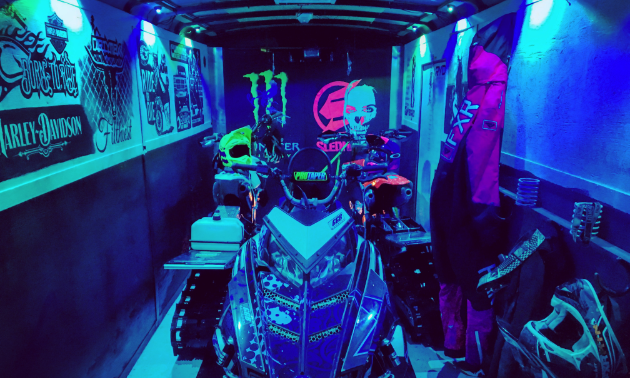 Thanks to Dehoog's determination to push her limits and prove her ability, she's positioned herself as a trailblazer who's wise beyond her years.
"I'm a big believer in putting myself around people that are better than me and trying to keep up because that's how you grow," she said. "I ride with the boys and either keep up or pass them."
Multi-talented
Dehoog doesn't just have an affinity for machinery, she's a talented artist too. She's painted the interior of her toy hauler for some extra inspiration. Inanimate objects aren't the only thing Dehoog is making permanent marks on either. The wunderkind recently bought tattoo equipment and—unsurprisingly—has managed to teach herself how to ink beautiful tatts into her own skin.
"The feeling I get from tattooing myself is similar to the adrenalin rush I find riding, climbing machines around steep slopes and cutting huge trees down," said Dehoog. "I feel that I've been blessed with a natural ability to apply myself to pretty much anything I set my mind to. That's how I got to where I am."
If you want to see more of Dehoog's wild life, or her pitbull wearing sunglasses, check out her Instagram page @loggergirl_hanimal.