Jeremy Hanke is one of the most passionate snowmobilers and avalanche safety instructors in the field today, and he—along with partial quadriplegic Jeff Scott from the Live It! Love It! Foundation—have embarked on a new mission: to help sledders get the tools and knowledge they need to safely access those secret powder stashes deep in the backcountry.
It's called The Hunt for Zipper Mouth Creek, and the idea to is create a series of free, web-based videos that will feature a combination of avalanche safety instruction, backcountry riding tips and input from avalanche professionals throughout North America.
Filming will take place in five or six key locations, such as Utah, Colorado, Montana, B.C., Alaska and the Sierra Nevadas in California. At each locale, Hanke and Scott will be testing the Skanke Pit—a unique snow pit they developed to better understand how a snowmobile affects the snowpack.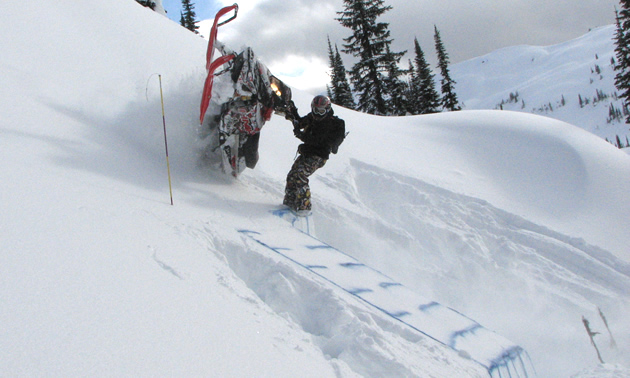 The goal is to empower sledders as well as other avalanche professionals who may not be sledders themselves.
"We want to plant a seed in their minds that hey, we don't understand how much a snowmobile affects the snowpack and that maybe we should put a little more effort into that," said Hanke. "We are doing that with the snow pits that we designed and hopefully, we can work with other avalanche professionals and motivate the growth and knowledge."
The Hunt for Zipper Mouth Creek is a community-based project and it needs corporate and individual support to get going. Therefore, Hanke and Scott have launched a Kickstarter campaign to raise the $144,000 they need to bring this project to fruition. Including verbal pledges, Hanke said they've received about $50,000 so far.
"We've had a lot of great feedback," he said, "and lots of great organizations throughout North America wanting to get involved."
For more information, visit the campaign page. Keep in mind that none of the funds will go through unless the goal is reached by November 30, 2015.