Tearing through the pow on a snowy day is what snowmobile riders live for. Cruising along at high speeds without a care in the world is simply the best. You accelerate your sled as you approach a hill thinking, "Wheeeee! I'm going to get some sick air on this one." But instead of flying through the sky you come to a jarring halt from colliding with a hay bale. You let out an "Oomph!" as your body lunges into the handlebars. You pull yourself back and catch your breathe while assessing the damage your body just withstood. To your relief, everything's all right. Good thing you were wearing your chest protector.
A similar incident happened to Erik Foster while sledding through a Saskatoon field on his way to a friend's house, except he wasn't wearing a chest protector. "I took all the force to my chest," said Foster, "broke a few ribs, got pretty hurt. From that day forward I decided to wear a chest protector."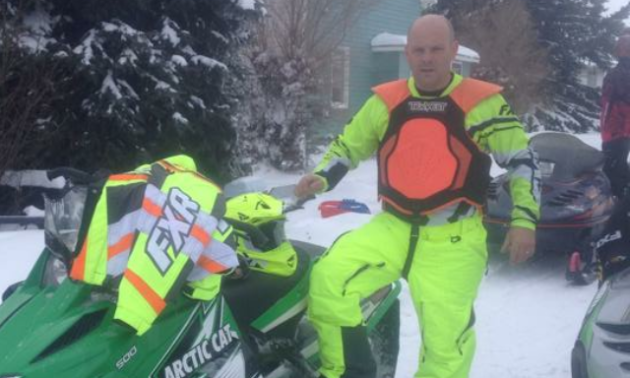 Not only has Foster armoured himself with a chest protector whenever he rides, he tells anyone and everyone about the importance of protecting yourself and passengers on your snowmobile. His conviction stems not only from his own experience—his family had a scare involving one of his children.
"My wife was driving with my son when he was a bit younger," he said. "She hit a culvert and pushed him into the bars. He didn't get any serious injuries but he did get a little hurt. It was a wake-up call to us."
The Foster family was fortunate to get through these ordeals with wounds that heal. Foster has seen his share of pain as a volunteer firefighter and said other families have suffered a much more horrific fate. "I've heard of some collisions where parents have actually killed their child when they ride with them in the front of the snowmobile," he said. "That child is an airbag. You're going to push that child right into the bars. All the sleds have the risers now—it's changed the dynamics of where these injuries are happening. In the old days the handlebars were down so you'd just fly over top of them. Now you fly into them."
Foster isn't the only one trying to get the word out about the value of harnessing yourself with a chest protector. Aaron Seminoff is one of the owners of Main Jet Motorsports in Nelson, B.C. He endured a near-backbreaking accident a few years ago on a hillclimb that resulted in him having to be airlifted off the mountain for treatment. "The sled cartwheeled and hit me in the back," Seminoff said. "I ended up breaking 12 ribs. I wasn't wearing a chest protector and I normally do. If I would've worn my chest protector I would've been way better off than I was."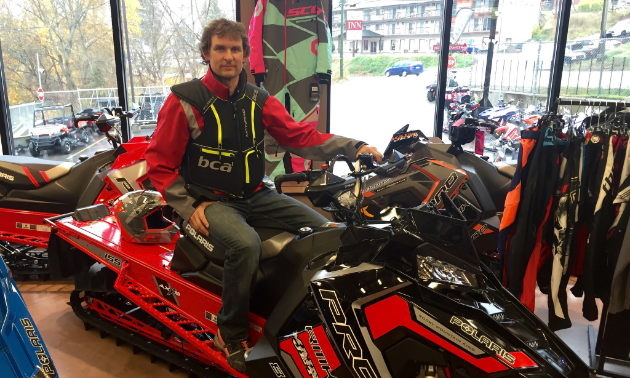 There are a variety of options when it comes to chest protectors, unless you're a woman. "None of these chest protector companies have gotten on board yet for the ladies," said Foster. "Only one company—Fox—has made a dirt bike-style chest protector that's meant for a woman's chest."
Both Foster and Seminoff agree that a motocross chest protector is useful for snowmobiling, but not ideal. "TekVest is optimal," Seminoff said. "It's got a little more padding around the sides, (compared to a motocross chest protector). TekVest is around $400. You're riding a $16,000 snowmobile—what's 400 bucks? Get the gear, man."
From a man who had to endure two months recovering from 12 broken ribs, his plea makes a lot of sense.