Hometown pride goes a long way. Take Stan Langley, for example. The born-and-raised Rocanville, Saskatchewan, resident has put his town on the map on a national scale thanks to his success with his business, Universe Satellite Sales. The company has been awarded the 2019 Canadian Council of Snowmobile Organizations' (CCSO) Excellence Award for Outstanding Snowmobile Dealer in Canada. The reasons for Universe Satellite Sales picking up the prestigious hardware are plentiful.
"Customer service is one of our big things here," said Langley. "We do a lot of courtesy deliveries. A lot of people don't have a trailer to haul a side-by-side or a snowmobile. We'll deliver it for them.
"I live right above the shop, which is pretty convenient for parts. If somebody needs a part in the evening, I can come downstairs and sell the part."
Langley's passion for snowmobiling and the sledding community is evident.
"I love selling stuff to people and meeting up with them on the trail," he said. "Everybody here loves snowmobiling. The biggest problem is that when you work every day, you don't have a lot of time to play. You can't shut 'er down for snow days."
Provincial pride
Langley's hometown pride extends beyond Rocanville. He takes pleasure in propping up other organizations within his province. Last year, Schraders Honda, Yamaha, Suzuki in Yorkton, Saskatchewan, won the CCSO Award of Excellence for Snowmobile Dealer of the Year. Having dealerships from Saskatchewan winning in back-to-back years is no fluke, according to Langley.
"That speaks a lot about the prairies and proves that dealers are very much behind the Saskatchewan Snowmobile Association," he said.
Group effort
Langley may be at the forefront as owner of Universe Satellite Sales, but it isn't as though he's the only dedicated member of the team.
"Most of us are related in this group—it's almost like a big family," he said. "The ones that aren't related are part of the family too. I work with my son in the dealership. I've got three girls working here that keep everything running smoothly. I've got mechanics in the back shop who are quite dedicated. Everybody cares about their job and the people they're looking after. It's nice to be recognized for all the things we've been doing over the years."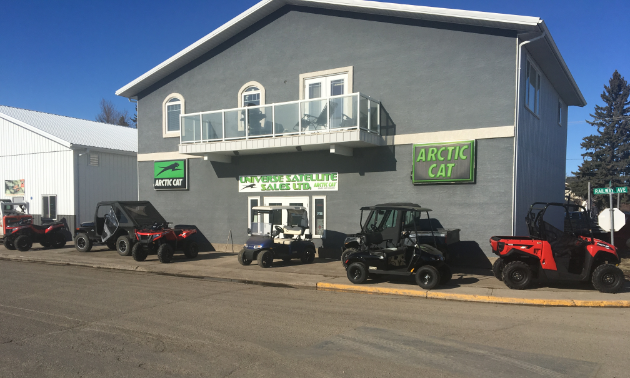 Much of the crew at Universe Satellite Sales is heavily involved in the Tri-Valley Trails snowmobile club as well. Langley is the president of the club and a couple of his employees run the groomer.
"It's tough to find volunteers these days," he said. "We've done a lot of signing, setting up trails. The signs are stored here during the year. They park the groomer here in the winter months. We're involved in a lot of different things."
The starting point to adventure
Universe Satellite Sales also serves as a staging area for local trails in and around Rocanville.
"The trail starts right here at the shop," Langley said. "You just head out of town and you're into Scissors Creek, which turns into the Qu'Appelle Valley. We've got some really nice valley and bush trails with lots of wildlife. We're fortunate here. You can head to the valleys down to Tantallon. Everything's joined up. It's just nice to get out and ride and meet up with people. It's always good to stop and visit."
Langley recommends touring through the trails and stopping at the nearby warm-up shelters, such as Bear Creek Hilton, Fin Shack and Mooseman.
Even outside of the winter sledding season, Universe Satellite Sales is the place to converge for all riders.
"The quad trails start here at the store too, which is something a lot of places don't have—a quad trail out in the prairies," Langley said. "The rural municipality of Rocanville took over the Canadian Pacific rail track and we have trails right down to Scissors Creek right through to Tantallon and up to Esterhazy. It makes for a great snowmobiling and quadding area."