If you see caribou tracks in the snow in your favourite riding area, what do you do? Mark Aeichele, president of the Arrow Lakes Ridge Riders (ALRR) in Nakusp, B.C., faced this dilemma weeks before his club's big poker run was set to roll through the area on February 6, 2019.
Aeichele could've looked the other way—as some in his club wanted to do—but instead he chose to address the situation head-on. He closed popular riding trails and rerouted the poker run to a different, less accessible location in order to steer clear of the potential caribou habitat.
As it turns out, the difficult choice was the correct one, as the ramifications spread throughout B.C. and extended all the way to Ottawa. If your club is ever faced with a situation similar to the ALRR, do yourself and your fellow riders a solid by following Aeichele's example.
How it started
The ALRR poker run begins at Box Lake Mill then goes through the Wilson Lake Valley and ends up in Harlow Creek on Harlow Mountain, to the east of Nakusp. In preparation of the poker run, Aeichele was making his annual trip to a meadow on top of the mountain by creating an ice road path with the club's groomer. That's when he spotted the caribou tracks. In the previous 20 years of snowmobiling in the area, Aeichele had never seen signs of caribou. Even so, Aeichele made the decision to close the area for a minimum of two weeks and relocate the poker run across the lake to an inconvenient area to reach that is only accessible via ferry.
"It was such short notice and a decision had to be made," Aeichele said. "Some of the rednecks said, 'Screw that. It doesn't matter to us.' We called an emergency meeting and made a decision. We respect the backcountry. That's what our club is all about."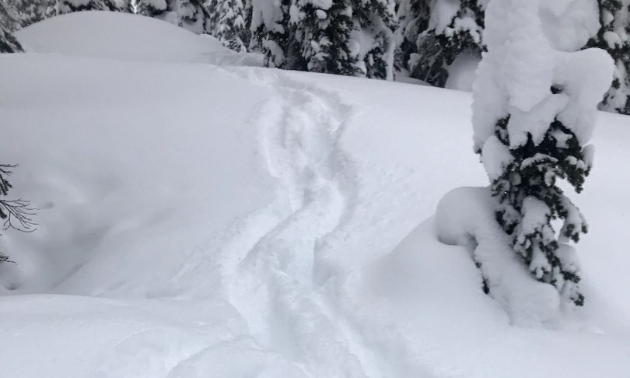 The Arrow Lakes Ridge Riders' quick resolution had an impact that reverberated well beyond Harlow Mountain.
"Doing what we did set a huge precedent in government," said Aeichele. "I didn't realize it was as big of a decision as it was until after the fact. It went to our provincial government and they talked about it in legislation, saying 'There were caribou sightings and this is what the small club did. They managed it from their end without hesitation.' That's what it came down to. From there, it went to Ottawa. A lot of environmentalists were watching us as well. Eyes were on us for this closure."
An avalanche of support
A windfall of goodwill swept over the ALRR for their wisdom in handling the caribou track sighting. Many snowmobile clubs passed along their thanks and kudos for doing the right thing.
"They knew it was going to be an eye-opener and it was," said Aeichele. "It set precedents for all clubs and everything that goes on with the caribou."
Even members of the community were vocal in their approval of how the caribou situation was dealt with.
"They'd come up to me in the grocery store where I work and say that they'd seen it in the newspaper, that it was a good thing that we did," Aeichele said. "We got lots of positive feedback. That outweighed what the few members of our club didn't like about it."
Unfortunately, the reality of relocating the poker run at the last minute had some negative consequences as well. As expected, fewer snowmobilers showed up to the event.
"The reason we have the poker run is to get funding for all of our proceeds for the grooming society," Aeichele said. "It helps us pay for fuel. That's basically why we do this. There's less revenue now."
Despite the loss of funds, Aeichele remains staunch. When asked how he would advise other clubs to take on the challenge of relocating trails due to caribou, his response was firm.
"Do the right thing," he said.