What does it take to win SnoRiders' Best Sled Wrap Contest? Creativity, imagination, a love of snowmobiling and, of course, a tricked out sled.
Kadie McCallum from Prineville, Oregon, recently won SnoRiders' 2020 Best Sled Wrap Contest thanks to her entirely customized blue and green 2018 Ski-Doo 850. Voters across Canada and the U.S. vaulted McCallum to first place where she received 43 per cent of the votes and 593 votes in total.
"Thank you, everyone, for your votes!" McCallum said.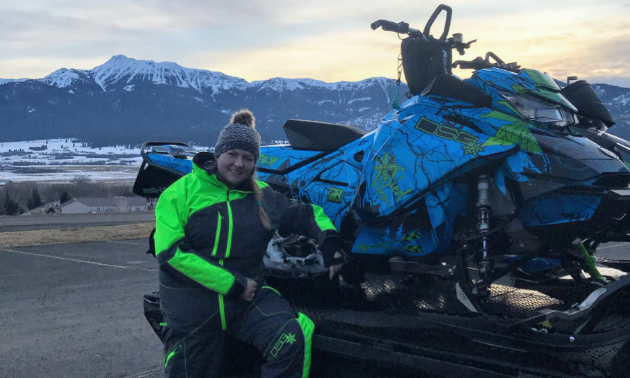 Not long ago, McCallum wasn't even aware of sled wraps. From the first time she spotted a wrapped sled out in the wild, she was enamoured.
"I saw a sled that was wrapped out on the mountain and fell in love with it," she said. "I honestly didn't know that you could do something like that. I went on to a lady's chat group and asked for more information about sled wraps. It was shocking how many people had them and I had no idea. I got hooked up with Jessica, owner of Extreme Realities, and we chatted for a few months and I decided I wanted to customize my sled. Five years later, I have now wrapped four sleds and my sled deck. It's awesome to stand out and customize your sled."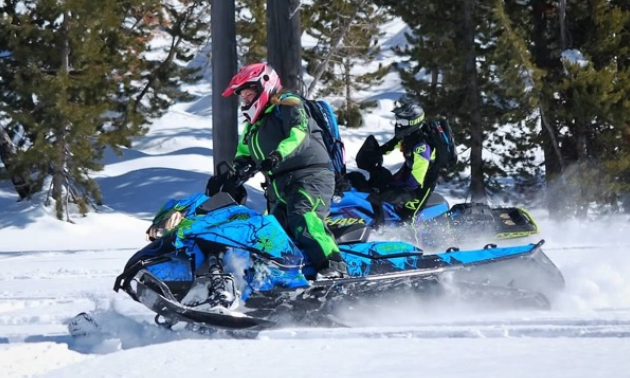 Wherever McCallum goes, she and her wrapped Ski-Doo turn heads and capture other riders' attention.
"Attending She Shreds clinic in Pemberton, B.C., was such an amazing experience," said McCallum. "The yearly ladies rides that I attend are always a hoot, too. You get nothing but laughs and encouragement."
McCallum has heard all kinds of positive comments about her sled wrap, such as:
"Oh my gosh. I love it!"
"Pictures don't do it justice."
"Your sled just stands out in the trees. All I have to do is look and—BAM—there you are!"
If you'd like to know how to install your own sled wrap, check out our start-to-finish instructions for a successful DIY sled wrap experience.