Last year, SnoRiders gave its readers the chance to win a free ride to the most popular areas in Western Canada. All they had to do was fill out the contest form and cross their fingers.
In March 2013, when the winners were drawn, it was Chris and Dallas Skayman from Hamiota, Manitoba, who had won a snowmobiling trip to Prince Albert, Saskatchewan.
After receiving a letter from the Skaymans a year later, expressing their gratitude for the trip, we decided to give them a call to see how it went.
Before we got into the details, though, we asked the Skaymans to tell us a little bit about themselves.
"(Dallas) is a welder—that's his occupation—and then he does fire and EMS (services)," said Chris. "I'm from Brandon (originally) and I'm a full-time paramedic here in town."
They both grew up around snowmobiles, and it's a lifelong passion that has been passed down to their kids and grandkids.
"We've got the kids involved so everyone has to have a sled," said Chris.
And with seven kids, that's a lot of sleds.
Whether the whole family comes or not, the Skaymans hit the trails nearly every weekend. By the end of each season, their sleds usually have another 2,500 miles on them.
As active members of their local snowmobile club, the Skaymans help maintain the trails around Hamiota. When it comes to riding, they mainly stick to their local area, but they have ventured further afield in Manitoba. Never have they ridden out of province, though—until February 2014.
The adventure
Chris and Dallas drove to Porcupine Plain, Saskatchewan, on February 16 to start their winter adventure. They spent three days exploring Greenwater Lake Provincial Park and the Hudson Bay area. Then it was off to Prince Albert.
With the Prince Albert Winter Festival and the Prince Albert 2014 Saskatchewan Winter Games taking place that weekend, the town was a flurry of activity, but the Skaymans didn't have any problems finding a place to stay or getting around town.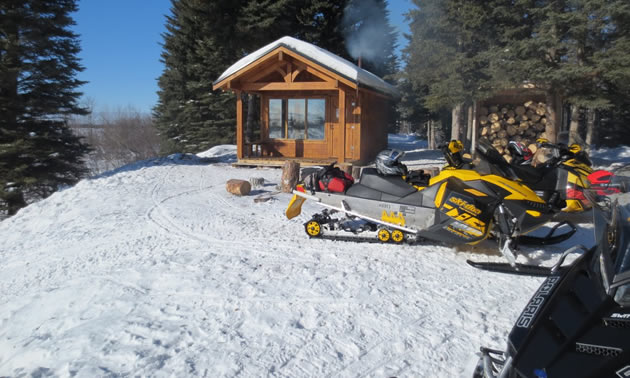 "Jayne Remenda from Prince Albert Tourism & Marketing did an excellent job on finding us rooms," said Chris. "Also, Prince Albert Tourism & Marketing provided us with parking passes, transportation, Winter Games passes, tickets to the Country North Show and an excellent meal at the Ramada Inn."
The couple spent their days riding the Candle Lake snowmobile trails, which are northeast of Prince Albert.
"The trails were in excellent condition and likely the most snow we had seen all winter," said Chris. "The warm-up cabins were in great shape with everything you could need."
They'll be back
The Skaymans are already planning to explore the Candle Lake area again this winter.
"We definitely have plans to go back," said Chris. "Actually, this summer we are going camping up there to see what the world looks like up there without snow."
SnoRiders would like to thank the Skaymans and everyone else who entered the contest. A big thank you also goes out to all the contest sponsors.
To find out who else won, see Winners Of The Ride On Sled Adventure Contest.