Nothing beats the high-octane, adrenalin-fuelled intensity of snowmobile drag racing. Revving engines. Mouthfuls of exhaust. Speeds exceeding the hundred-mile-per-hour mark. It's enough to get your testosterone cranked into high gear.
Insert Tim Allen grunt:
The rules for snowmobile drag racing are pretty straightforward. Three or four people line up at the starting line. When the light goes green, racers take off to see who can reach the finish line first. The drag race track is 500 feet (152 metres) with at least 1,000 feet (305 metres) of shut down. There are three different classes for the sleds: stock, improved and outlaw, where anything goes. Races are held once or twice a month depending on snow conditions. There are usually between 50 and 60 participants who race during any given event, with hundreds of spectators watching.
Extreme estrogen
The breakneck sport isn't just for hardcore guys either. Women are carving a niche on this competitive track as well.
"I love competing against the guys and being one of the only girls that drag race in my area," said Courtney Fender, a decade-long snowmobile drag racer. "I love being a role model for other girls that are thinking about getting into the sport of snowmobiling (via) trail riding or racing."
Representing her teams of Twisted Princess Racing and the Stilson Racing Team, Fender doesn't just compete in drag races, she excels at them.
"I have confidence and good reaction time," Fender said. "I'm very good at getting off the starting line fast so my competition must run me down on the track.
"In some races there are rankings. I have also raced for points. The season I raced for points, I was the high points champion."
True grit
Another of Fender's strengths on the race track is her toughness to gut it out no matter what.
"I was practising for a race on a ski hill when I hit a bump and came off my sled," she said. "When I came back down, my foot rolled under the sled and I hit my chest on the handlebars. I bruised my ankle and cracked a couple of ribs. I sat out the rest of practice. When they called my class, I made sure I was up at the starting line."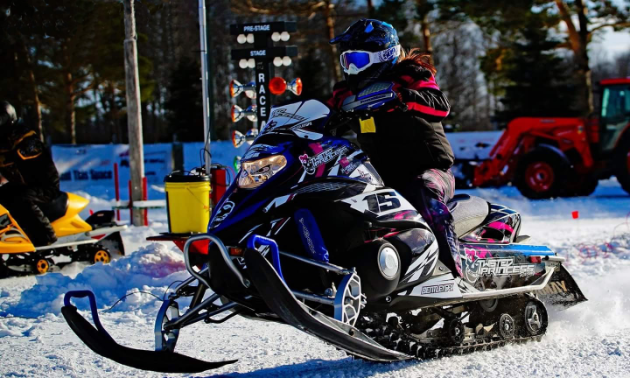 Fender races all over her home state, Michigan, and crosses state lines to compete from time to time. When she's close to home in East Jordan, she's an active volunteer in the snowmobile community, helping out her local snowmobile club by getting the trails ready in the fall, serving breakfast on Sundays during snowmobile season and organizing fundraisers.
"I have always wanted to participate in a bikini radar run, so I thought this would be a great opportunity to host my own," Fender said. "Since we will be wearing bikinis, I made it a fundraiser for breast cancer. That's how I came up with the name TNT's Ride Like A Girl to Save The Girls Bikini Radar Run. All of the money raised will stay in East Jordan for people going through breast cancer treatments. I'm very passionate about my sport and giving back."
Bikinis for everyone
The event will be on February 23, 2019. The rules are similar to traditional drag races, with the exceptions being that it's more of a time trial race against the clock instead of racing at the same time as other competitors and, of course, racers will be wearing bikinis.
To avoid frostbite, girls and guys waiting to race will be wearing winter coats and snow pants. When it's their turn, they race down the track in a bikini. When they get back to the starting line, someone hands them their coat back so they can warm up.
Fender has set up three prize packages for the winners in the following categories: fastest speed, most money raised and best breast cancer decorated snowmobile.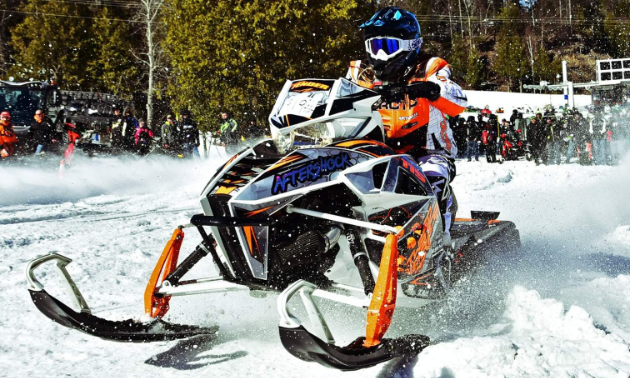 There's little wonder why Fender is so ardent about snowmobile drag racing. In her mind, there's nothing else quite like it.
"When I'm at the starting line, I have so much adrenalin running through me," she said. "Knowing that you're going to hit speeds that could be in the upper 90s to 100s (miles per hour)—it's the best feeling in the world."