The heart this guy has for sledding is ridiculous. Many say they eat, sleep and breathe snowmobiling but Ryan Thorley truly does. It's his full-on, 100 per cent passion in life.
For two and a half years, he was president of the Powder Mountain Snowmobile Club (PMSC) in Whistler, B.C. It's a volunteer position that requires you to be level-headed and even-tempered but also, when done properly, requires time—lots and lots of time.
There is no off-season when you're the pres; it's like volunteering for a full-time job. Everything Thorley did was done with one thing in mind: improving the sledding experience in Brandywine and the Sea to Sky Corridor. After a controversial annual general meeting a little over a year ago, Thorley chose not to run again, which was a real loss for the Whistler snowmobile community, but a decision that would give him more time to actually ride, something he'd been sacrificing.
Just givin'r, eh
Like almost everyone in the Whistler area, Thorley is a transplant. An Aussie by birth, he made the move over a decade ago. He'd been hitting the snow as much as possible in Oz, with weekend trips to the resorts, urban rail missions and just generally loving the snowboarding life, so moving to B.C. just made sense.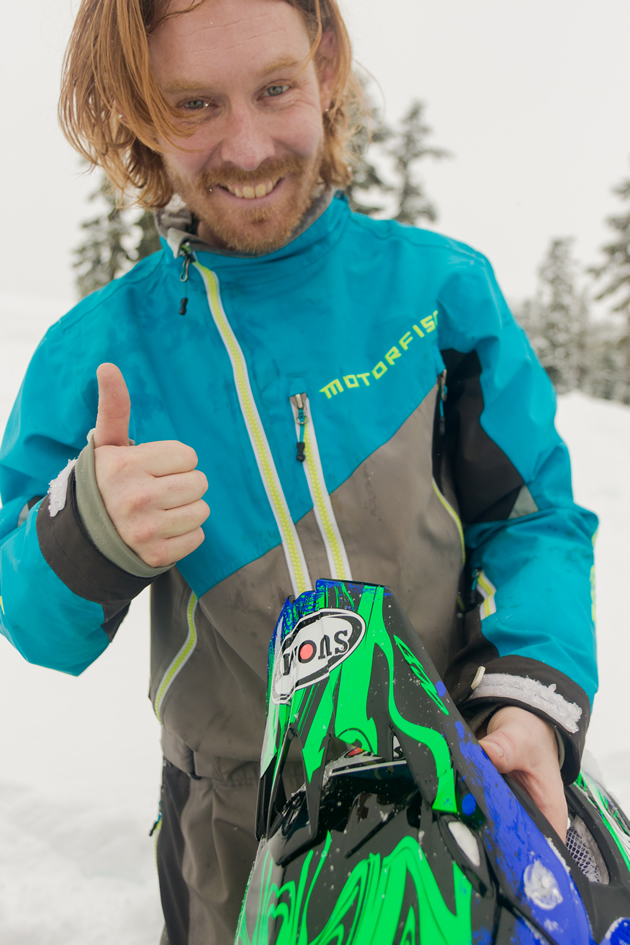 Riding Whistler/Blackcomb mixed with a frontline customer service job is a surefire recipe for burnout and that's exactly what happened. The burnout-on-tourist factor is nothing new in the Sea to Sky Corridor and it's probably the most common reason people get into backcountry snowmobiling, to escape the crowds.
Thorley's first ride was a disaster. Making it about three kilometres up Boulder Mountain while on vacation in Revelstoke, the motor seized—but after that, a day of tandem riding with a bro and it was game on. For a few seasons he rocked a REV that was under constant modification, then a Cat and now a Ski-Doo XM.
Losing the place Thorley and his girlfriend had been renting for several years necessitated a move to Squamish. This has required a little more of a commute to the riding but he still gets out regularly. With a style that encompasses everything—from alpine missions to sidehilling through the trees, exploring to days working on his jumping—he really loves it all.
With a go-for-it mentality that carried over from snowboarding, Thorley isn't afraid to cartwheel or, in the case of his XM, take the headlight/console out two years in a row due to close encounters with trees. In the first month and a half of this season, he managed to run himself over several times, leading to a dislocated thumb, a busted-up visor and some wicked swelling and bruising on his arm from a re-entry attempt. Working on his Canadianisms, he's just out there givin'r, eh.
Rallying the local sled community
Opting out of the 40-minute drive to Whistler every day just to make a living has seen Thorley take on the parts position at No Limits Motorsports in Squamish. It would seem you just can't keep Thorley away from sledding. Whether it's on his days off or at work, the guy is addicted. Even though he hasn't been the PMSC president for a year now, you can't keep a good man down, and with potential threats on the horizon for one of the more popular (and very awesome) riding areas in Whistler, he has started rallying for the local sled community again.
Last summer, he started investigating complaints of riders rooping into the Whistler watershed, a no-go zone. This led to him wondering what the results were from the water quality studies and how much effect snowmobiling was actually having on it. The cries from ski-tourers and hikers died down but have again resurfaced and, with renewed vigour, Thorley is back.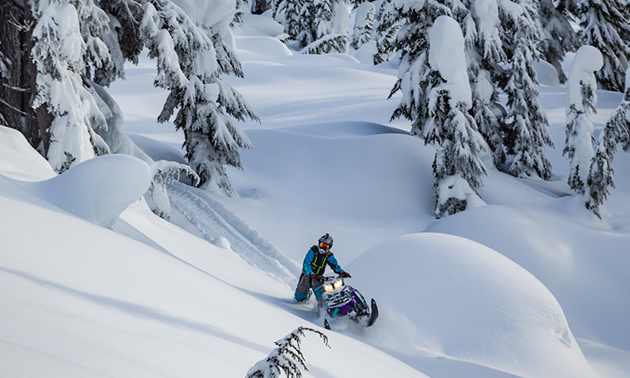 His intention is to find backers so that independent water tests can be performed with a worst-case scenario of not losing Sproatt Mountain for motorized users, and a best-case scenerio of opening up some incredible, mouth-watering riding terrain. Any Sea to Sky sledders, either locals or people who travel to ride here, please watch out this spring because Thorley will be looking for input and help in getting the water study done.
The spring is still a long ways away so for now, Thorley will be slugging away behind the counter, immersed in snowmobile parts and getting out shredding as much as possible. The Sea to Sky Corridor is known for its long seasons, and this will mean that as long as there is snow to get his track into, he will be out riding through the spring and more than likely into the early summer.