Take a gander at the history of Nelson, B.C., and you're likely to come across the work of Art Stevens. A professional photographer who freelanced for CBC, Art documented the Doukhobor community of nearby Krestova and the protests that ensued in connection with the Sons of Freedom. During his life (1926 to 2013), Art captured everything from Kootenay Lake scenery to major industrial projects, and some of his photos appeared in Beautiful British Columbia. Art's former wife, Alice Stevens, was a photographer as well and the pair ran a studio in Nelson.
That's great, but what does any of this have to do with snowmobiling? Well, the apple doesn't fall far from the tree—with the apple being prolific Nelson shredtographer Billy Stevens.
Born and raised in Nelson, Art's grandson, Billy, grew up searching for slopes to slash with skis or a snowboard strapped to the back of his snowmobile. The now 37-year-old organizes his life so that he can sled 60 to 70 days a year. He also traded in his bindings for a DSLR—ideal for capturing crew members Cody Lumax and Brandon Koritar.
The trio own Alpine Addicts, a high-end apparel company based in Nelson. But on social media, the business page is more of a platform for showcasing local riders.
"This year, we are going to start producing little video clips and hopefully try to put out a whole video," said Billy.
Behind the bars, Billy is a technician who spends the majority of his ride time in the trees. Unless Lumax is around—then it's a huckfest.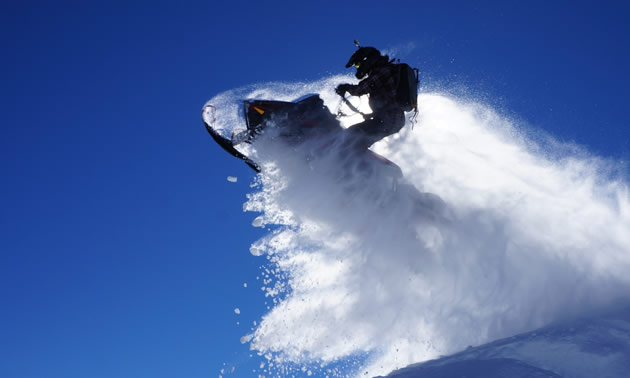 An advocate for safety
Billy chooses his riding buddies carefully because he knows all too well what can go wrong.
"I actually got buried in an avalanche last year," he said. "I was under for about four-and-a-half minutes. It took my buddy that long just to climb over the debris to get to me."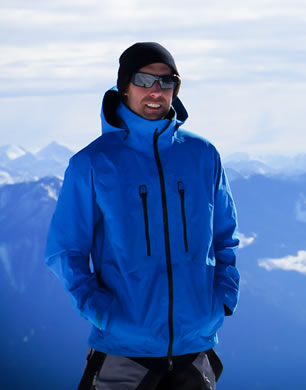 As a local ski guide, Billy's friend practiced weekly with his gear, so he knew what to do. But in a real-life situation, there are a lot of variables.
"When he was using the transceiver to get to me, he said he kind of flailed a bit," said Billy. "He thought I was two metres from where I actually was, but I had gotten my fingertips out so he turned around and saw my fingertips sticking out. So you're mind goes crazy (in a situation like that). It was quite the experience for both of us."
Where it happened was ironic as well.
"It was a very local place out of Nelson," said Billy, "like where you take your family . . . I was on a road, wrong place, wrong time, and the tailing mine slid. It pushed me off the road and buried me two feet under."
After that, Billy's riding season was pretty much over for it took him almost a year to gain back his confidence. But the incident made him an even stronger advocate of avalanche safety.
"I've probably taken the AST 1 six times in my life," he said. "I usually try to take it every three years just to keep fresh."
In December 2016, Billy helped bring a sledder-specific AST 1 course to the West Kootenay.
"Around here, there isn't anyone who teaches an avalanche course for sledders," he said. "So this year, I got ahold of Amber at Trigger Point Snow Services (in Golden). She said if you can get 12 people together, I can put on a course, so that's what I did."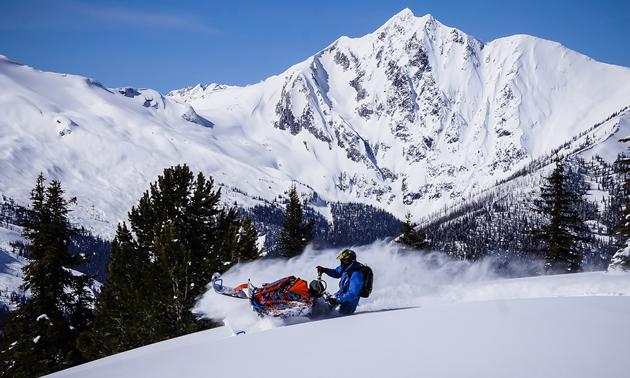 This winter, Billy also became the vice-president of the Nelson Sno-Goers. With the local sled scene growing, he wants to keep the momentum moving in the right direction. Getting more youth involved is a goal.
"Within the last five or so years, seeing sleds in the backs of trucks has doubled, if not tripled," He said. "It's crazy—everybody has a sled now."
Like many living in the West Kootenay, Billy is tight-lipped when it comes to local ride zones—which is tough when you're a budding photographer. Share a great photo and immediately people want to know when, where and how to get there. I pressed him a bit during our interview, but he didn't budge.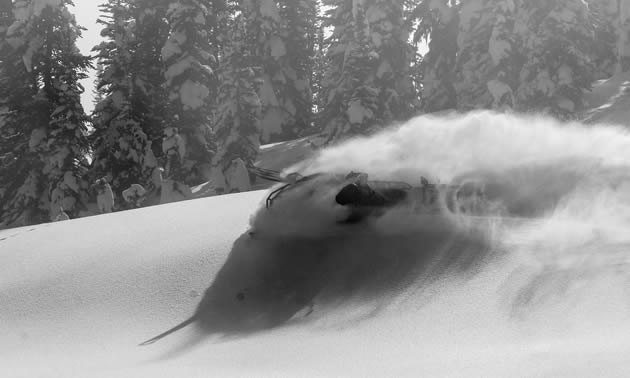 From what I can tell, Billy's not looking for monetary gain from sledding and it would be just fine if his inherited passion for photography were to remain a hobby.