It's a funny thing how the Whistler area isn't really on the sled radar as far as destinations go. Looking at most surveys and the social media hype, it would seem that Valemount and Revelstoke are tops for B.C. But if you look at the heaviest Canadian influences as far as riding goes, the Sea to Sky corridor takes top spot.
Home to a deep talent pool of serious rippers, it has had an undeniable hand in the state of Western Canadian mountain riding. Rob Alford cut his backcountry sledding teeth here, as did Geoff Kyle, Dan Treadway, Chris Brown and KJ Johansson—and that's just to name the rock stars.
Simmering below the big names is an undercurrent of peeps out killing it and redefining what is possible on a snowmobile. One of those guys is Andrew Munster, a mellow, soft-spoken dude who lets his riding and eye for innovation do the talking.
Passion for snow sports
Thirty-one years ago, Munster came into the world, and the years since have been spent living in the bosom of the Coast Mountains. Schooled in the Whistler backcountry, he has seen the place go from being a quiet mountain town to a large resort/destination, and though there have been significant changes over the past three decades the people who choose to live here still carry a passion for sports and the outdoors. In Munster's words, "I couldn't think of a better environment to grow up in."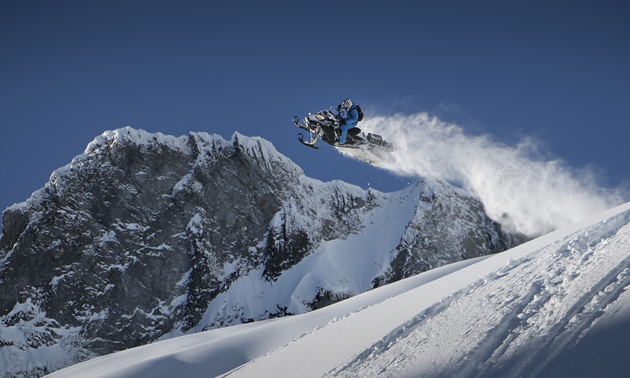 Like many, he started out with skis strapped to his young feet, moved onto snowboarding and then to snowmobiles. From Slednecks 2 on, he's seen all the films, stoking his desire to own a snowmobile. In the winter of 2005, Munster and Steve Wheeler jumped in with both feet, purchasing sleds. Considering where it has taken them, you could say neither has looked back. Wheeler eventually bought a sled shop, No Limits Motorsports in Squamish, while Munster went on to start Munster Innovations.
Having always loved science, Munster studied engineering before switching over to get his business diploma. With an eye for detail, a thought process that understands numbers and physics, and hands that through their dexterity can produce prototype parts that improve our snowmobiles, Munster's path was set.
Awesome inventions
Following in the footsteps of riders like Dan Treadway and KJ Johansson, Munster started using a finger throttle by flipping around the stock flapper. Realizing the stock throttle, which was intended to be used by your thumb, was an inferior design for use with the finger, he started working on what his company has become known for—the Munster Finger Throttle. His first prototypes were tested in the 2013 season and in 2014, he started selling them to the rest of the world.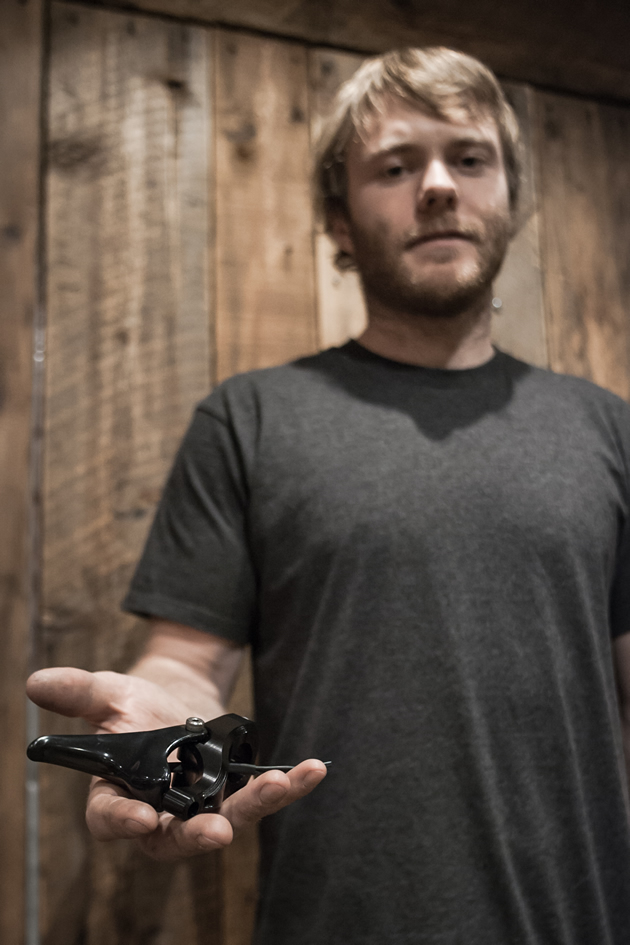 A short three years later and Munster Innovations has a lineup of products that solve common issues and improve the riding experience. Along with the finger throttle, there's the Kill Switch (a moto-style momentary design that doesn't stop the engine every time you tap a tree branch or your body lurches into it), the Reverse Switch, Ski Bushing Savers, Ski Bushing Stiffeners, Rail Braces, an Arctic Cat Brake Lever, the Throttle Guard and, new for this season, the Munster Bar Riser. All are well thought out, quality snowmobile products.
Munster's experience with custom metal work, which he was doing before switching to sled products, finds him occasionally building sweet aluminum flat decks—a product that he would like to eventually roll into the Munster line.
You'd think someone who does so much designing, building prototypes and custom metal work would run away from this stuff as fast as he can in his free time, but you'd be wrong. This past summer, he started on his dream truck build and like Munster Innovation products, he started from the ground up with a heck of a lot of custom work.
"My sled truck project is a 1969 Chevy," said Munster. "The chassis is a 1998 Dodge 2500, 12-valve that I fully rebuilt top to bottom. The engine and tranny were built to last. It is twin-charged with a supercharger and a turbo. The truck has full air-ride suspension front to back and King Shocks all around. The cab was stripped down to bare metal and fully rebuilt. I did as much rust proofing on the cab as humanly possible. Next to build is a custom Munster flat deck to finish it off."
Smooth operator
Munster's big brain and natural inclinations toward problem solving make for a very unique and talented rider. He makes the handling of the sled smooth, like it's an extension of his body, and when looking at lines you can see his brain working through the math, angles, approach and physics of what needs to be done.
"I've always loved snow more than anything," he said. "Snowmobiling allows me to have access to a large amount of terrain and explore like nothing else. Also, once I was able to play and jump on a snowmobile just like I could on a snowboard, it was obvious which one to choose."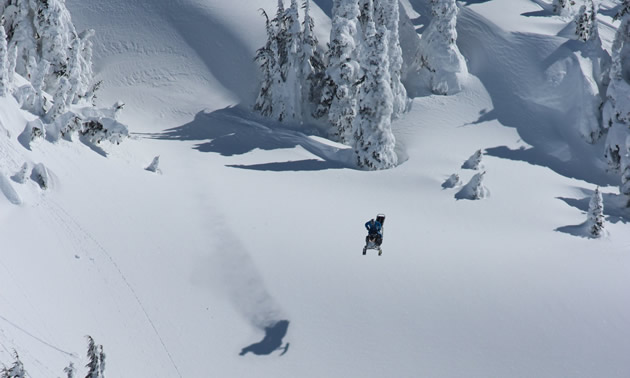 While most of the photos and video footage you see of Andrew could make you think he's usually shredding the alpine and subalpine, his favourite riding is in the trees. They offer the chance to explore, find areas no one has laid a sled track and challenge his riding.
Over the years, he's had some scary experiences pushing his limits on the machine. The scariest was a large drop into a gully with a short transition. Overshooting the postage stamp size landing, he ejected for a 100-foot free fall.
Walking away from that changed his approach. Risk assessment is now as much a part of his repertoire as any other riding skill. Learning to pay attention to his mental state and how he is feeling on a particular day has helped keep Andrew relatively injury free. Outside of some whiplash and shin bangers he hasn't had any significant injuries while sledding.
Quantum leaps
One of the moves Andrew is becoming well known for is his ridiculously huge whips. These aren't your everyday moto whips done on the ramps with a short track but long, drawn out and inverted on his 165" Gen4 REV. A true backcountry whip on a backcountry weapon.
In the beginning, there were a lot of bails but he persevered, pushing things a little more each time and slowly, whip by whip figuring it out.
"It wasn't until I grasped the physics of how the gyro of the track works before I really got comfortable pushing the machine to see what it's capable of," said Andrew. "Luckily, I find whips to be one of the safest moves to eject from as long as there's soft snow to land in."
With a regular crew of riding bros—consisting of Sam Standing, Cody McNolty, Steve Wheeler and Wilson Prewitt—Munster is hanging in some solid company. These guys are out doing what they do on a regular basis and what that includes is searching out new hits, drops, deep pow and exploring new zones. While the alpine is staggering and endless in the Coast Mountains, it's the trees that really pull Munster in.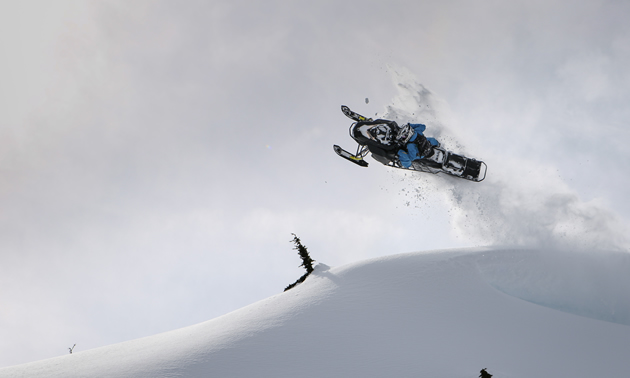 This only makes sense if you think about it. Here's a guy whose brain is wired for problem solving, exploring and route finding. Lines in the trees are just another equation for him to piece together and this year is going to just get more interesting in Munster's world since he bolted a turbo onto his new eight fiddy.
Epic episodes
Last season wasn't just exciting for the return of a regular winter to Whistler, with deep pow stacking up, but also another title under the Munster name: Munster Films.
Operating on a limited budget, the Munster Films crew gets out and films when the conditions and timing line up. Last season saw them drop two episodes, which proved to be a breath of fresh air in a segment that is feeling old, methodical and worn out. It would be amazing to see how a full-length movie would turn out since the two Munster Films web edits were the most entertaining and unique pieces of sledding since the Fourcast series wrapped up a few years ago. With a step up in the budget department, the plan is to continue on with more episodes this coming season.
Being able to push the sport and understand quantum physics is a trait that isn't really seen in too many sledders but they embody Andrew and colour his riding and business. With a solid group of friends like Sam Standing, Cody McNolty and Wilson Prewitt who've got his back and push his riding, Munster's future is so bright he's gotta wear shades.