The sound of sleds ripping by his countryside house sparked a love for the sport at an early age—a love that still beats so strongly that he found a career in the industry. Now, Peter Schlief works as Grande Prairie Honda's sled mechanic and spends every spare minute he can chasing the best snow across the nearby mountain ranges.
"I grew up in the country, so I'd always hear sleds going by in the ditch or in the fields in the distance," he said. "The sound is very contagious. I've just been interested from the first moment I ever heard one."
As a country kid, Schlief grew up drawing circles with the family sleds in the yard. When he was old enough to leave the yard, he and his friends took to the fields around Grovedale, a hamlet just south of Grande Prairie. "My friends and I would cruise for hours after school . . . until we ran out of gas," he said. "We couldn't afford any gas so we would have to go ask our parents for more gas money and continue on."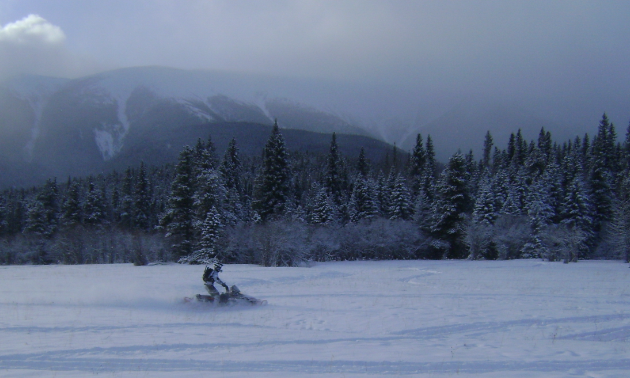 Schlief still spends hours on sleds, but now it's for work, testing driving and tuning until they hum like he wants them to. In town, he's built a few special supercharged and turbocharged sleds for clients over the years. On the mountain, he's the first rider to stop to help a friend with a broken-down machine.
Mountain slopes and summer sledding
The search for that one good day when there are beautiful skies, great weather and good snow keeps Schlief hitting the slopes year after year. "It usually only happens once or twice a year, so I think that's what keeps all of us going back for more," he said.
Mountain riding is Schlief's favourite terrain. "There's just something about being out where nobody else has been that is way cooler than ripping across a field," he said. Luckily, Schlief has Big Mountain Trail System and Kakwa Wildland Park both nearby to enjoy when the snow falls. His favourite spots are Surprise Pass, and Mount Sir Alexander in Kakwa Park. "But it's all fun," he said. "You can't really knock any type of terrain."
Schlief means it when he says that he will ride any type of terrain. "I've even gone out in the summer with the sleds on the river," he said. "As long as you have water or snow, you're good to go!" The nearby Wapiti River is a favourite spot to take the old sleds out for summer fun runs across the water. "It just skips right along like a Sea-Doo would," he said, if you're going fast enough, that is.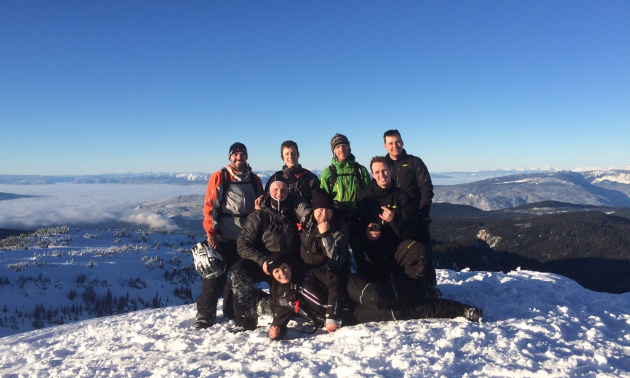 This is a normal summertime activity for Schlief, when he isn't dirt biking, at least. "Once, we took the seat off and duct-taped the hood and attached a little float—milk jugs basically with a rope tied to them—so if it does sink you can grab the rope to pull it out again, drain the water out and keep going," he said. "It's a little bit of work but it's a lot of fun."
Take a ride to "Peter Town"
"I'm just the average Joe that loves riding," Schlief said. However, after listening a little more, his winter (and summer) rides sound a lot more exciting than "average."
Schlief's winter adventures have resulted in minor scenarios in the past. He's even been stranded in the mountains a couple times. Once, he lost track of time; the second scenario was a bit more slippery, with snow piling up too quickly for him to return to camp. "Now I carry a tin cup, fire-starting gear, a heat blanket and a bunch of food packets just in case I'm stuck out there for a night or two, or three or however long it takes to get help," he said. Luckily, his extreme adventures always end on a positive note. He's a sled safety advocate among the local riders.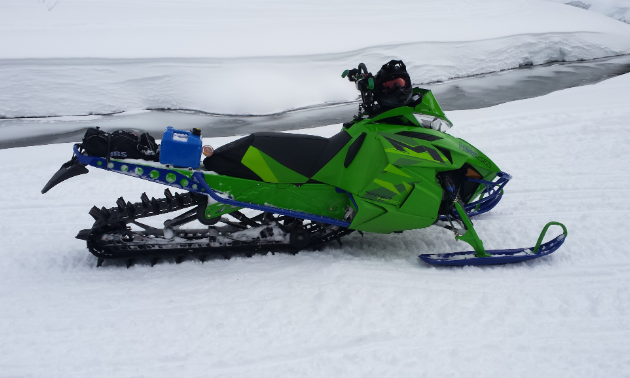 "I'm fairly adventurous, a little bit aggressive, and what I lack in skill I make up for in a trying attitude," Schlief said. "I'm definitely not afraid to try something, even if I fail." He typically spends his time riding in smaller groups of two to four riders so that he can really experience the terrain. Last minute trips with his friends often end up full-fledged adventures complete with new discoveries.
Last winter, Peter Schlief's friends dubbed one of their discoveries his new namesake. "I don't even know what it's called—a couple of friends and I headed to an area that we had never really been before, and we weren't even sure if we would make it or not," he said. The group did make it through the trees and snow, but never found the name of the area. "We called it 'Peter Town' just because it's a fun place to go," he said.
Riders can ask Peter for directions to "Peter Town" if they're heading out on a good day. Prime conditions are necessary to find the fun that waits in his special mountain basin.