Warning: snowmobiling is a highly contagious sport and Gen Byl's got the bug.
Born and raised in Dawson Creek, B.C., Byl was introduced to snowmobiling a year ago by her better half.
"My boyfriend, Brennan, got me hooked on it," she said. "He's so passionate about the sport that it really rubbed off on me."
Doubling on the back of his sled wouldn't suffice, so after only a couple of rides, she bought her own—a 2015 Ski-Doo Summit 600 that she dubbed Little Boo.
Since then, Byl and Little Boo have spent the majority of their ride time exploring Dawson Creek's vast and varied terrain.
"Dawson Creek is awesome in the sense that we are right smack dab in the middle of so many spectacular riding areas," said Byl. "If anyone feels like cruising the trails, our club (the Paradise Valley Snowmobile Association) maintains a large network of trails south of DC."
For the backcountry addicts like Byl, there is Core Lodge, Hasler, Powder King, Beaver Creek, Old Friend and The Calazon.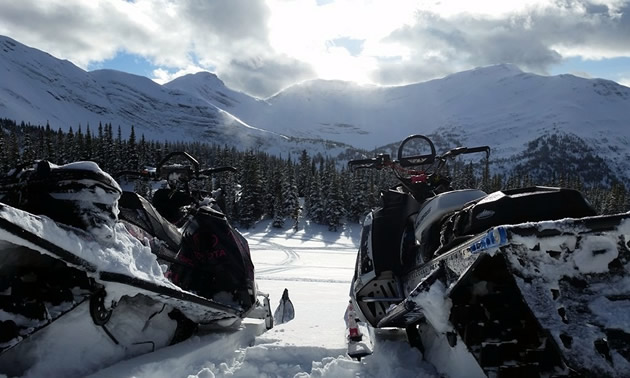 "All these areas offer a diversity of terrain," she said. "But each one has its own special quirk! The best part is these areas don't get crazy, stupid busy so there's always fresh to be found somewhere."
One of her all-time favourite zones is Powder King, which is in the Pine Pass between Dawson Creek and Chetwynd.
"There are lots of meadows to bash, tons of fun, natural features to hit and some sweet tree riding," she said.
Ripping with the "Squad"
When asked to describe her riding style, Byl said that it's still evolving, but judging from the crew she rides with, I have a sneaking suspicion that this solitary she-shredder is just being modest.
"Riding with the guys is pretty awesome," said Byl. "We have a really good group so it makes things easy."
Despite the zany name, Byl's crew, the Stump Humper Squad, is serious about promoting the sport in a safe and responsible light. The Squad has been praised by the Paradise Valley Snowmobile Association, and in April 2016, they received a BCSF Excellence Award for the Outstanding Promotion and Development of Snowmobiling.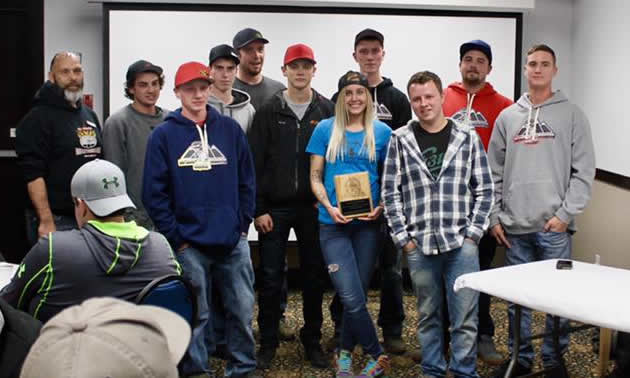 "These young adults embrace safety and reach out actively in the community to their younger peers," wrote BCSF administrative assistant, Crystal Durnin, in the federation's November eNewsletter. "They support their local club and they help promote Avalanche Canada's Mountain Information Network (MIN). They do all of this with no other motivation other than giving back."
The North Rockies is a big forecast region with a relatively small population of snowmobilers. Data is scarce here so the MIN reports are invaluable to Avalanche Canada.
"We encourage any and everyone who rides up here to submit one," said Byl. "This season, the Squad is going to continue to push safety and smart riding."
Collecting footage for their next sledding video is also on the agenda. As is attending the annual snowmobile hillclimb in Vernon.
Shredding happy
Riding with the boys definitely keeps Byl on her A-game and it's her positive attitude that drives her progression. Rather than getting frustrated when she does get stuck, Byl maintains her happy disposition.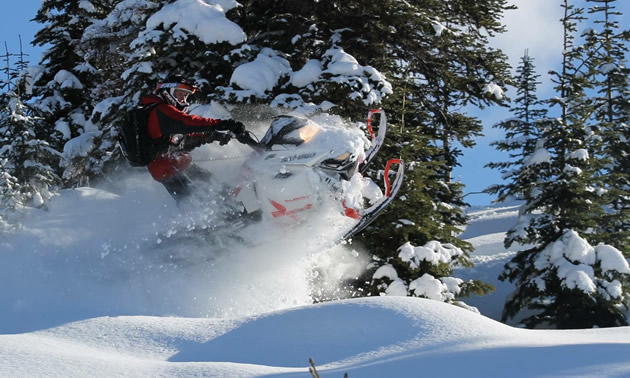 "Don't give up," she said. "A good attitude makes a world of difference when you're loser stuck and a buddy comes over to help you. Instead of complaining, try getting hyped up about what you're going to do different to nail that same line the second try . . . Everyone gets so pumped when you finally nail it after X amount of attempts. Even if you screw up, laugh about it. It's 1,000 times better than sitting there and pouting. No one likes riding with a Sour Sally."
Like the very nature of this sport, a positive attitude is highly contagious, and for that there is no cure. Nor is Byl is looking for one.