Sledding in Crowsnest Pass, Alberta, is always an adventure, with over 1,200 kilometres of trails, 250 of which are groomed. Opportunities are numerous for playing in the powder and taking in some spectacular mountain views.
Andrew Bokkel is the activities director for the Crow Snow Riders club and is based out of Calgary. In just two and a half hours, Bokkel can make it from his door to the trails.
The trails here are for everyone from novice to expert riders and are family-orientated. This is also a great place to meet new people. It's a very friendly community, and a passion for snowmobiling is shared.
Bokkel recommends that riders check out his three favourite loops in the Crowsnest Pass area.
Window Mountain/Spoon Valley
A great route to take is from the Atlas staging area which is northwest of Coleman. You can follow the pipeline, with a clearcut 30 metres across, or you can get off it and play in the powder. You can also follow the trails through the Western Adventure Centre and then continue through Deadmans Pass. You can then cross the road and connect to the pipeline, or just follow the trails to go up to Window Mountain and for the adventurous . . . do lots of playing in the trees.
If you decide to stage from McGillivray, there's a trail that follows the creek up into Spoon Valley, which is a nice scenic ride and takes a bit longer than from Atlas. Once you're up in Spoon Valley, you can go north to the cabin or come back through Window Mountain then back to Atlas. The cabin has a wood stove and is a great place to warm up, eat some food and rest.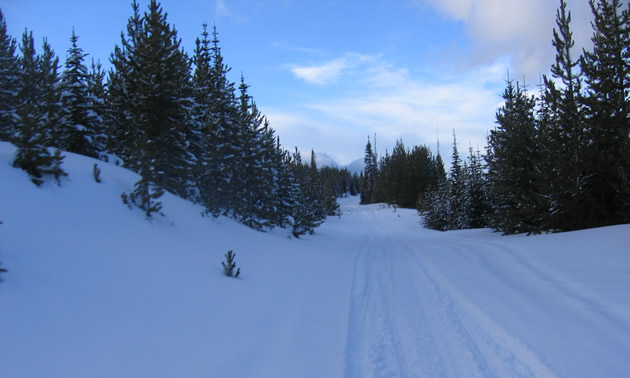 The terrain here is varied. Spoon Valley offers some steeper trails for more experienced riders but Bokkel said beginners can be found on either loop. It's valley riding at its finest with great scenery and views.
Getting there: To find Atlas, head west of Coleman on Highway 3 until you see a sign that says "Chinook Lake Recreation Area." To find McGillivray, travel west through Coleman until you see some winter highway closure gates and a sign that says "McGillivray Youth Camp." Turn north and wind your way through the end of Coleman, then travel about six kilometres. When you come to a huge powerline and a sign that says "Forest Reserve Boundary," you've arrived.
North Fork Pass
Once again, stage out of Atlas and go north all the way to North Fork Pass. Do a loop and come back down on the B.C. side through Elkford and Sparwood or come back the way you came. Because of the length—140 kilometres—this trail is for more experienced riders as it will take a full day. The north cabin can be accessed on this loop although it's a little out of the way. There is a cabin along the way that is maintained by the Sparwood club. This is a great ride for the adventurous with lots of trees and opportunities for powder riding.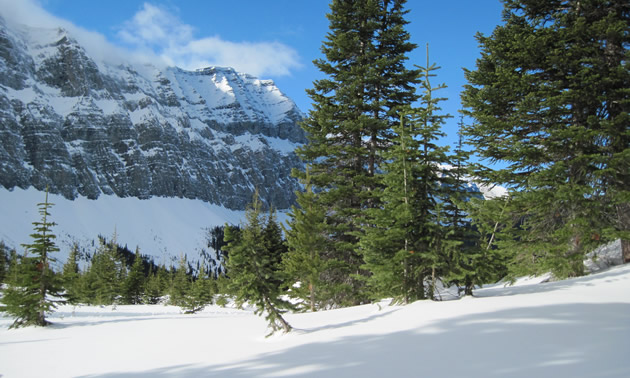 Getting there: To find Atlas, head west of Coleman on Highway 3 until you see a sign that says "Chinook Lake Recreation Area."
York Creek
The south trail system on York Creek is a great ride. On the east side of Blairmore, there is a staging area called Satoris. From there you can access the south trail system and follow the trail down to the South Cabin. You can do a loop here and come back towards Coleman. There's a connector trail between the York Creek staging area and the Satoris staging area that runs behind the ski hill. It will take about four hours going at a decent pace. There's also a famous Second World War plane crash site, which offers some great off-trail powder riding.
Getting there: The York staging area is located south of Highway 3 and is the closest staging area to the plane crash trail. To get to it, drive south through the town of Coleman, cross the railway tracks and look for a road that heads south out of town.
All staging areas are well marked along the highway, and trail passes and maps are available at most gas stations in Crowsnest Pass.