Southern Alberta's Crowsnest Pass has been on many a snowmobiler's destination radar for years. With ease of access and the perfect combination of fluid trails and alpine riding, it can satisfy both the keen mountain addict and the family out for a leisurely cruise.
Speaking of variety, York Creek is one of the primary zones for trail riding, boondocking and hillclimbing in the Pass. Although there are a couple of different ways to get there, many choose to unload at the York Creek Staging Area west of Coleman. From here, it is just a 15-minute ride on a wide, groomed trail to the York Creek Basin.
With fresh snow, you can enjoy some pow carving in the basin or put your technical skills to good use in the trees. If conditions permit, hillclimbers will also find it impossible not to make their mark on the steeper slopes.
From the York Creek Basin, you hop on a groomed trail and venture over to Lost Creek where you are likely to meet up with other riders who are having a fire and lunch at the Crow Snow Riders' south shelter. Firewood is supplied and there is ample room in the shelter to hang your gear.
Dropping into Lost Lake
Not done riding yet? Well, if you're an intermediate to experienced rider and you've made sure the avalanche conditions are not sketchy, you can go over the mountain and drop into Lost Lake, which happens to be Kelsey Poelt's favourite area.
"On a bluebird day, it is beautiful in there," she said. "You can highmark or there is a meadow you can go play in."
At 26 years old, Poelt is one of the youngest snowmobile club presidents out there, but her enthusiasm for and lifelong sled knowledge of the Crowsnest Pass no doubt make her an asset to the Crow Snow Riders.
Good to go
Annual snow levels fluctuate in the Crowsnest Pass, especially in recent years, but according to Poelt, on a good year, it can stack up to 25 feet in the alpine.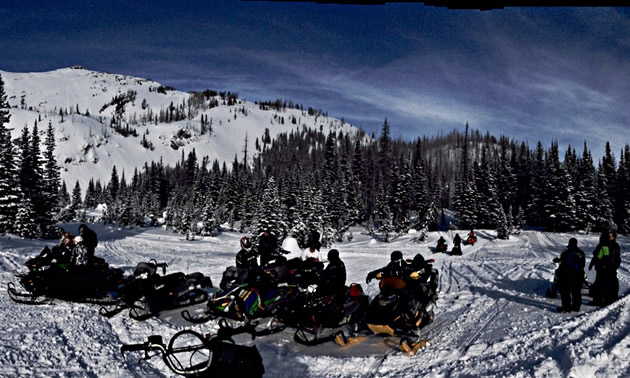 "As long as we have snow to ride on, it's a good day in my books," said Poelt.
The south trail system, which includes the York Creek Basin and Lost Creek area, are groomed regularly, so the club appreciates riders who stop by any of the supporting businesses (Esso, Husky, BCMInn Coleman, The Kanata Inn and Top Gunn Mechanical/Motorports) to purchase a trail pass or an ASA membership before they head out. Each of these businesses has trail maps available as well.
Getting there
Turn off Crowsnest Highway 3 and drive south through the town of Coleman. Cross the tracks and follow the signs to the York Creek Staging Area. There is a large parking area here with a big turnaround for trucks with trailers, as well as a loading ramp.
The York Creek Staging Area also provides access to the Plane Crash Trail. Here, riders will find another large basin to play in. Depending on how much wind the area has received, however, there may be quite a bit of sidehilling required to get in. If you're an advanced rider, the basin is also accessible from the York Creek Basin.