For most, the first day of spring is about fresh flowers and new beginnings. For Kelsey Poelt, president of the Crow Snow Riders in the Crowsnest Pass, Alberta, the best day of sledding took place at the dawn of spring with a foot of fresh snow and untracked trails to sled through.
"I woke up to a beautiful, warm, sunny first day of spring," she said. "I received a text from Dennis "Tweeter" Zacharuk and Alana Plaza, telling me to hurry up and get my stuff together and come for a ride in Castle. After a little convincing and needing throttle therapy, I quickly loaded my sled, threw my gear in the truck and headed for the gas station.
"The weather in the Pass was sunny and warm, it felt like summer compared to the long cold winter we had. On my drive to the staging area, I was rocking a tank top and snow pants with the music cranked and drinking my Timmy's coffee, of course.
"Castle Mountain Ski Resort is the staging area. It's a good 40-minute drive from The Pass. I was pumped to ride that day, thinking it would be a bluebird first day of spring ride. The farther south I went, the cloudier and colder it got, looking like it was snowing where we were headed. I came barreling down the road to the staging area—doing the speed limit, of course. Tweeter and Alana were all unloaded and ready to ride when I got there. I jumped out of my truck before it was even in park with Volbeat blaring—always need good sledding tunes to get ya goin'. We quickly unloaded and geared up. Then we were off."
The location
Middle Kootenay Pass, the trail Poelt rode that first day of spring, borders Alberta and British Columbia. It also sits on the Continental Divide. Middle Kootenay area has a little bit of everything: boondocking, steep and deep, meadows and tree riding. The trail is not groomed or maintained. It is intermediate and difficult, depending where you ride and what kind of riding you are into.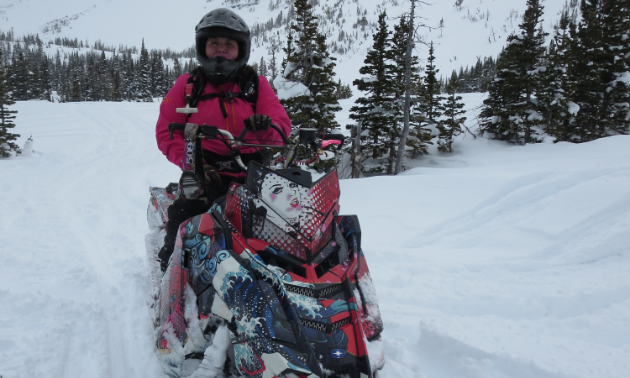 "On the way into Middle Kootenay, the non-maintained trail was rough with three-foot moguls for the first 20 to 30 minutes. I felt beat before the day even started. We weaseled our way through the trees to an open meadow and started to play in all of the fresh pow. We stayed out of the basins due to avalanche conditions and the massive cornices hanging above. We would ride for awhile and then stop and chat about how beautiful it is back there.
"We spent all day in the Middle Kootenay area. Fresh snow and only the three of us tracking it up. It was amazing. We got to see a very snowy first day of spring with untouched fresh snow. It was just waiting for us to play in. We heard a lot of braaping off in the distance but did not run into anyone the whole day. It felt like we had the whole area to ourselves. Not many people ride the area anymore because they think they're not allowed to in the winter."
Conflicting emotions
Despite the fun times—and it truly was Poelt's best ride ever—there was a nagging thought that weighed on Poelt and her riding companions.
"I felt a lot of mixed emotions," she said. "I was happy that we were still able to sled in the Castle Provincial Park/Castle Wildland Park and enjoy the beautiful backcountry scenery. I also felt a bit worried about the government not allowing winter OHV use in the future. Unfortunately, you can no longer access the Castle area with summer OHVs. Luckily, we are still able to access it in winter on sleds. If the government does make the area OHV-free, that not only takes our scenic adventures away but also sharing the beautiful backcountry with future generations. They would never be able to see the area that older generations grew up exploring."
If you would like to know about the riding status in the Crowsnest Pass due to the Provincial Park and the new Public Land Use Zone (PLUZ), please contact the Crow Snow Riders for more information.
Next best day
Oftentimes, people will attempt to recreate wonderful memories by going out and doing the same thing they've already done, hoping to attain the magic of that first jovial experience. As Poelt explains, that's not a recipe for success.
"I never try to recreate a day," she said. "If you worry about recreating a great day of sledding, you miss out on all of the new adventures and memories. Just go out and ride. Have fun. Be safe. Enjoy every minute like it's your last."
That sounds like the right approach to encounter your next best day ever.