If you don't know Darren Berrecloth, let me introduce you: he's the guy who has the life you dream about. Berrecloth gets paid to play––has for 18 years. Don't get me wrong; it's not that he doesn't work hard. If you have ever manhandled a sled on a sidehill of deep mountain powder, you understand what kind of work he does––like long days wrestling 250-kilogram turbo-charged alligators.
Is a dream job really work?
My heart pumps hard just watching this dude shred mountain powder with his snow bike and jump gaps as wide as canyons on his downhill two-wheeler. I admit that I am an adrenaline junky. Lust and adrenaline. I want a job like this and the juice that comes with it. Guilty as charged.
But still, can you call it work?
Berrecloth easily transitioned from sled to snow bike
Berrecloth is that airborne guy in the Red Bull videos of downhill mountain bikers and snow bikers. When the snow gets so deep it clogs the mountain trails, he puts away his downhill bike and transforms his 450 Husqvarna motocross to his new favourite snowmachine with a Yeti SnowMX kit.
"I will learn every day until I die," said Berrecloth. "My friend's first day on a snow bike, he kept up with the snowmobiles. It took my crew 15 years on a snowmobile to do what I could do snow biking in one day." Berrecloth said. "Eighty per cent of sled riders are going to love the snow bike. Twenty per cent will never give up their high-marking. Snow bikes are not for high markers.
"The power is there when you want, giving you more manoeuvrability. With a bit of momentum in the trees, I can go anywhere a sled can and then some. Momentum is your friend.
"It's really quite easy to get the hang of a snow bike, unlike snowmobiling which has a large learning curve.
"The snow bike is really easy on your body. I'm tired at the end of the day, but not like when I was on a sled. That was like alligator wrestling, constantly throwing something designed to be stable. At the end of the day, I don't have a lot of fun on the snowmobile anymore so I sold all my sleds."
Red Bull Sledhammers is a new kind of race course
Last week Berrecloth's work took him to Saint Donat, Quebec, nearly two hours northwest of Montreal to Ski La Reserve where the Red Bull Sledhammers course was set up on the Chute Libre run. While the event is designed for amateur snowmobilers, Berrecloth was there on April 14, 2018, as a pro, demonstrating snow bikes with other members of the Red Bull team.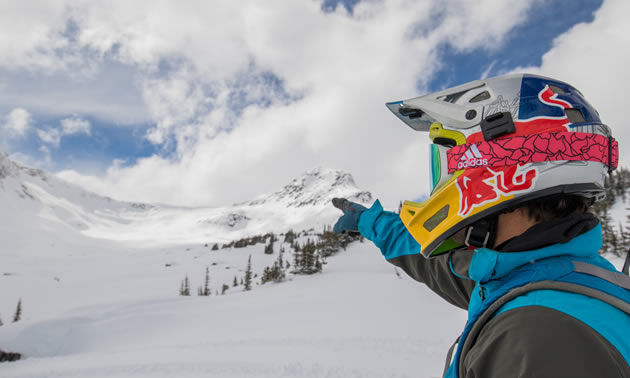 "The hardest part of Sledhammers is multiple disciplines," said Berrecloth. "Timing of the jumps on the courses is pretty technical."
Who will do well at Sledhammers? "Well-rounded athletes, hill climbers, flat trackers and snocross, blending all elements––challenging for athletes and interesting for spectators," he said.
Ryan Dixon, sales manager with Argyll Sports in Edmonton, described the snow bike ride like this: "Riding a YetiMX feels like riding a Yamaha WaveRunner in water. It's like riding a cloud."
Dixon said, "One quarter (of our purchasers) are motocross conversions, three quarters are converted from sleds; (age) 60-plus guys love it, especially on the sidehills."
Berrecloth admits, "I get to play for a living. Red Bull is flat out the best sponsor; they support me in so many ways. It's a dream company. There isn't a weak link in the whole crew."
Berrecloth's advice for sledders considering a snow bike: "Just do it. The sooner you do, the sooner you can join in the fun and see the light."