Located in the Upper North Thompson Valley, Blue River is known as the "Jewel of the Yellowhead." This snowmobiling destination is halfway between Edmonton and Vancouver, and has trails for every level of rider . . . and great mountain vistas to boot.
The area is known for its deep, dry powder, advanced single-track trails and impeccable snowmobiling opportunities. We talked to the president of the Blue River Powder Packers, Albert Venor, to find out what gives this area the potential of being your best ride ever.
About Blue River's best snow
"The thing with Blue River is that every day here can feel like your best day ever," said Venor. "For me, my favourite thing about sledding is finding an area no one has been before . . . the exploration and the adventure. Here in Blue River, if you're ambitious enough, you can do that every day."
Venor strikes out on his sled each year with the aspiration of finding a new and exciting area to ride. Blue River, overall, is mythical in B.C. sledding circles. This could be partly due to the difficulty of getting to some remote mountainous areas.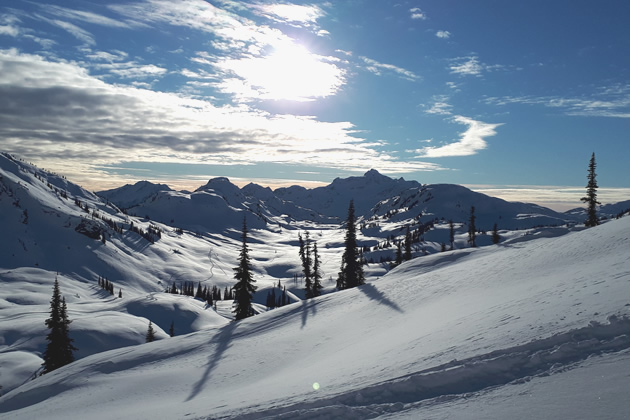 Many areas in Blue River seem like they were hand-sculpted for sledding. While some places in Blue River are not for the faint of heart, there are riding areas to suit every ability level and weather conditions. Here, riders can get everything from old growth tree riding and tree-lined meadows with no avalanche risk to high alpine adventure.
The surrounding Monashee and Caribou mountains receive huge amounts of dry powder snow during the winter months. This makes the area a haven for heli and backcountry skiers, alpine snowmobilers, cross-country skiers and snowshoers.
"Ask anyone who has been here, they will tell you we have the best snow," Venor said.
The Blue River Powder Packers maintains and grooms over 60 kilometres of snowmobile trails that ribbon Blue River during regular riding months, creating a vast wonderland for snowmobilers.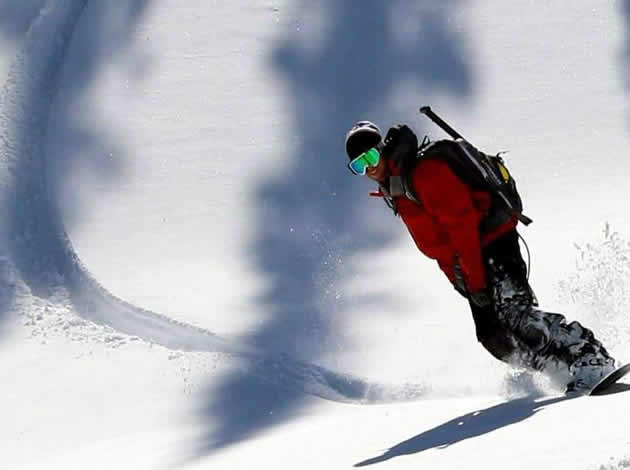 Venor's most memorable day
"On one particular day my friends Andy, Dougy, Chris and I ran into Tony Parisi, a Valemount snowmobiling tour guide and local legend (now deceased), at a staging area," Venor said. "We all headed up to the end of a valley, 20 kilometres of groomed trail then another seven kilometres of single track followed by over one metre of powder when we got to the back."
He had never seen snow like that before. It was the kind where you have to circle on your sled before stopping or risk becoming royally stuck.
"Tony was already doing the climb to get in by the time we got there," said Venor. "His sled looked like it was held together with chicken wire, but he was still out-sledding everyone."
Venor had brought his noboard (snowboard without bindings) with him and was thrilled when Parisi took time out of his day to double him up for a few runs. He's confident that he was one of the first people to ever noboard that spot. The scale of that zone made him feel very small. It was a humbling yet inspiring experience.
"To get a chance to ride with a legend like Tony is something I'll never forget," said Venor.
Sledding in Blue River is so phenomenal that Venor left his six-figure corporate career to drive a plow truck and ride his sled every day. He took over as president of the Blue River Powder Packers last year.
Blue River has many spots that go unexplored. You can visit its website to download the closure and riding area maps to start finding your new favourite zone.