Everybody loves a good photo of themselves but not everyone has the ability to capture the perfect picture, especially when there are moving parts involved—like during a snowmobile race, for example. When stud sledders discover a stellar photographer, they typically want to stay within shooting distance of the photo pro.
Enter Darryl Gershman. For the past decade, Gershman has been the track photographer for the Canadian Power Toboggan Championships (CPTC) Raceplex in Beausejour, Manitoba. His photos speak for themselves (keep scrolling down if you need further proof). But this expert snapshot artist didn't just roll out of bed with this exceptional ability. It took years of honing his craft by snapping a plethora of pics of disparate subjects. If you'd like to compile a portfolio of prolific photos, follow Gershman's example.
Capturing diversity
Gershman's photography background is eclectic. After purchasing his first SLR camera in the 1970s, he focused on nature and travel photography, photographing Indigenous communities, people and historic sites throughout northern Canada during his work as a travelling dentist, which he still does (although he is "almost" retired).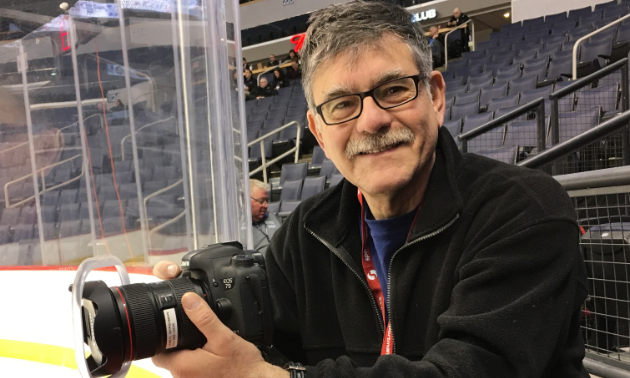 He began photographing sports when his children were participating in swimming and baseball. His experiences led him to snap ringette, boxing and rodeo photos as well. His introduction to snowmobile racing came in March 1997, his family's first winter in Beausejour.
"We heard the sounds of snowmobile engines from our kitchen," Gershman said, "so we bundled up the two kids and went to see our first ice oval races. We planned to stay for an hour but we stayed for five hours."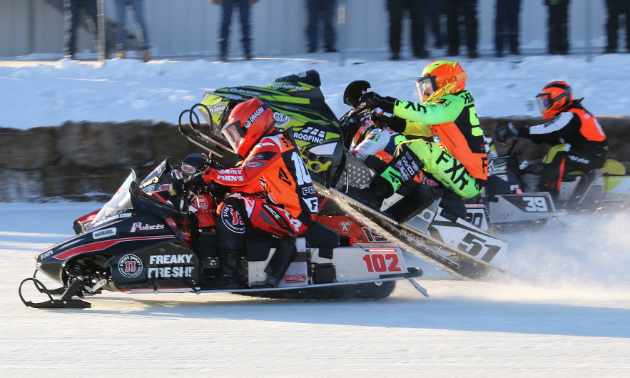 Gershman's home is just down the road from the CPTC Raceplex and its grandstand is visible from the backyard. A year after their introduction to ice oval racing, Gershman and his wife volunteered to work in the grandstand canteen at the CPTC track. Gershman began by flipping burgers as a cook for a few years before moving on to operating the track radar.
"With my wife and daughter helping me with radar, I would sneak out of our 'radar van' parked on the berm at turn one to take some photos of the races from behind the fence and in the pit area," said Gershman. "These were all print photos for my personal interest.
"Then in 2006, armed with my first digital DSLR camera, the CPTC allowed me to go on the track and work with a couple of professional photographers who shot the races for CPTC. These photographers were very generous in sharing their photographic techniques with me."
The best of the best
Gershman's favourite snowmobiling photo that he's taken himself came on the first Friday night under the lights in March 2017. The moment happened on the first lap of the first race. The Pro Champ 440 sleds were coming around the first turn when Jordan Wahl lost control of his sled.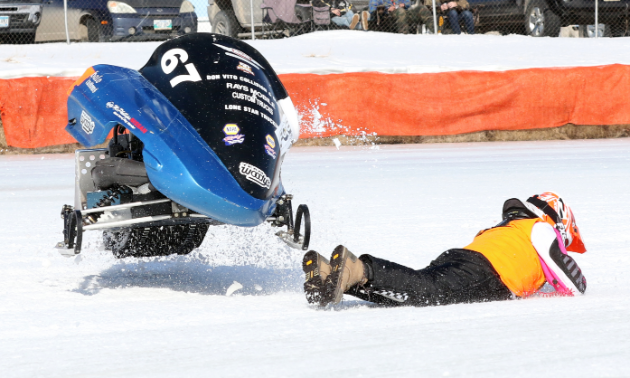 "Jordan went up and over his sled and disappeared from view and his sled headed straight for me," said Gershman. "Jordan caught a ride on Glen Hart's sled and ended up in the bales around turn two. Fortunately, Jordan was able to continue racing the rest of the weekend. I think the photo looks dramatic."
You're not likely to find Gershman riding a snowmobile or leaning hard into a turn at the CPTC Raceplex. As enjoyable as that would be, Gershman is content to take in the sport from behind the lens. Besides, he's not about to give up the best view at the track.
"The thing I love most about ice oval racing is what spectators may never experience—when I'm photographing from the inside of the track and watching the sleds race by me a few feet away," he said. "That's when I really see the speed of the sleds and the incredible skill of the drivers."