The Athabasca River Runners have over 300 kilometres of groomed trails for riders to rip around. With so much to pick from, how is a rider supposed to choose just one spot to enjoy for the day? Lynn Olson, the club's communication co-ordinator, gave us a rundown on what riders can expect from Athabasca's snowmobile trails.
First off, the area usually sees a couple feet of snow. "We don't get snow like the mountains," she said. "But we get enough to ride and enjoy the sport." Second, all of the trails are family friendly: "I've taken my six-year-old driving his own sled on them!" Third, the club has created a few new additions throughout their trail system to make the whole area more accessible to riders coming from all directions.
"There's lots of places to play on our trail system," said Olson. Lucky for you, she pinpointed areas riders can zero in on for hours of family fun out on the trails.
Riding the Spotted Horse Lake Loop
"We have a nice trail that's very popular and goes out to Spotted Horse Lake," Olson said. "We built a new section of trail just last year so it could complete a loop." This specific loop extends an existing trail from Spotted Horse Lake, back around to the original main trail. Heading west from the staging area marked No. 10 on the map, riders originally had only one route to and from Spotted Horse Lake. The Athabasca River Runners continued this loop to create an off-centred figure eight between the warm-up shelter along the lake, and the main trail in the centre of their system.
The new trails creates a scenic loop where riders can enjoy new surroundings, rather than having to double back the way they came. "It's a mix of boreal forest and rolling hills," said Olson. "It's actually quite forested." This new trail is groomed, but riders are not limited to sticking between the treelines. "There's a couple lakes you can hop on to play if you want," she said. "This is all Crown land, so there's lots of cutlines and places people can zip around."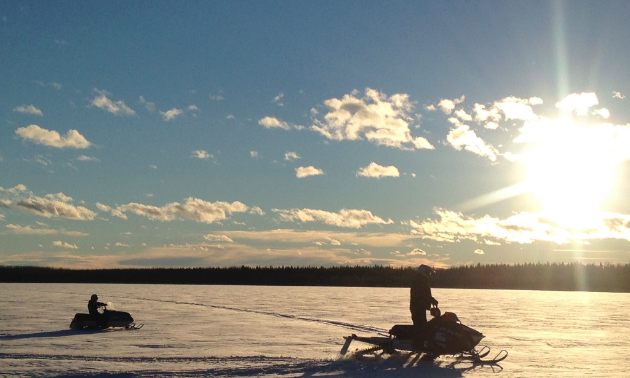 "There are two warm-up cabins on that loop," said Olson. The first, newer cabin, is one kilometre off the main trail, nestled next to September Lake on the west side of the loop. The second shelter is located on the island at Spotted Horse Lake. Both stops are equipped with firepits "for people to stop and warm up if they need to, or have a wiener roast," Olson said.
Getting to Athabasca's snowmobile trails
The main staging area is labelled No. 10 on the Athabasca snowmobile trail map. This staging area is located just west of Baptiste Lake on Township Road 670. Leaving from Athabasca, head west for 23 kilometres,, initially taking Highway 2. Continue straight onto Baptiste Drive, which takes you around the lake. Turn left on Township Road 670 and continue three kilometres up a gravel road to the staging area.
Athabasca River Runners club events
The Athabasca River Runners annual poker rally will be held on February 25, 2017. "We will start out at Forfar Hall, which is southwest of Athabasca," said Olson. "It's family friendly—our kids ride it. We are hoping to incorporate some of our new trail in the rally in this year's route, but we will offer a short run and a longer run."
Registration is at the Forfar Hall in the morning from 9 to 11 a.m. Pre-registration is at the same hall the night before from 7 to 9 p.m. The rally costs $10 per hand, plus $20 for a day trail pass for non-ASA members.
Disclaimer: The Athabasca River Runners are experiencing issues with logging in the area. Riders are reminded to ride carefully and watch for debris and logging trucks along the trails.
Click here to see the Athabasca trail map.