The Athabasca River Runners is a very active club with a strong, unified voice in the Athabasca region. It has received two excellence awards for outstanding club of the year. The club has also been proactive in expanding its trail system and keeping members engaged with work parties, fundraisers, photo contests and the main event—an annual rally that attracts riders from around the province.
Must-try Athabasca snowmobile trail
The Spotted Horse Lake trail is becoming an increasingly popular ride. In 2015, the club added a new section of trail to it so that riders don't have to retrace their tracks. More recently, the club installed a new warm-up cabin along the way.
See our destination article to learn about other snowmobiling trails near Athabasca.
Where is the staging area?
Riders wanting to try the Spotted Horse Lake ride can start from the #10 Staging Area, which is located west of Baptiste Lake at the end of Township Road 670. It's about a 20-minute drive from Athabasca. Visit the club's website to get the GPS co-ordinates.
Where to get trail passes for snowmobiling in Athabasca
To ride the trails in Athabasca, you will need an ASA membership trail pass, which can be purchased online. ASA memberships and day passes are also available at Athabasca Outdoor Products.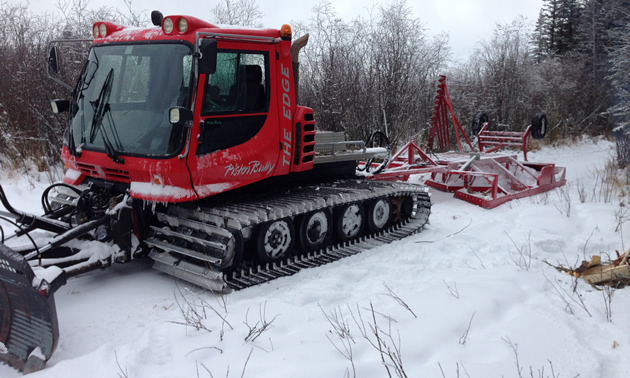 Groomer
The club has a Piston Bully Edge with a custom-built drag to groom its 300-kilometre-long trail system.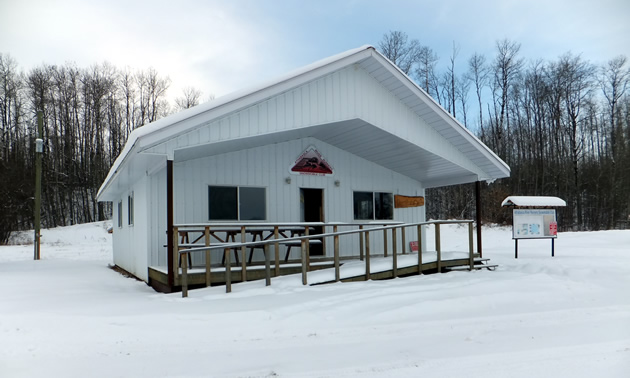 Cabins
There are three well-equipped club cabins located along the Athabasca trail system, along with a privately owned cabin that is open to snowmobilers. The club also has firepits and picnic tables at Banana Lake, Grassy Lake and Spotted Horse Lake.
Club meetings
Meetings take place at the clubhouse, which is just west of Athabasca, on the second Wednesday of every month (September to April) starting at 7:30 p.m.
Annual snowmobile event for Athabasca
The Snowmobile Rally, which usually takes place in February, brings out the local snowmobilers as well as riders from other areas of Northern Alberta. There are two different routes to choose from and lots of prizes to be given away at the end.
How to join the Athabasca River Runners
There is no fee to join the club. You are automatically a member when you purchase an annual ASA trail pass. But if you want to get more involved in the local scene and perhaps do some volunteering, feel free to attend one of the club's meetings or contact club rep Lynn Olson by email or phone 780-675-2154.
Connect with the club
Club start date
1990
Average number of members
150 to 200
Current president
Jim Olson (2015 to 2016)
Have you gone snowmobiling in Athabasca? Got photos? Share them with SnoRiders and be entered to win cool prizes in our Hotshots contest.