Tumbler Ridge may be a small town, but it's got some swagger. Don't blame the community members for walking with a strut in their step—they're the reigning SledTown ShowDown champs, after all. Locals and visitors to the area are fully aware of how spectacular the setting is.
The Tumbler Ridge Ridge Riders Snowmobile Association's trail system encompasses more than 300 kilometres of trails. In addition, there are more than a dozen other sledding areas around the region that are only a short drive away. There is rugged backcountry terrain to please those with more advanced skills and groomed trails with easy riding for families or those just starting out. With alpine conditions bringing foot after foot of fresh snow and a sledding season that goes for six months of the year, it's no surprise that snowmobilers gather here.
If you'd like to experience this award-winning locale, here are a few of the top places to check out first.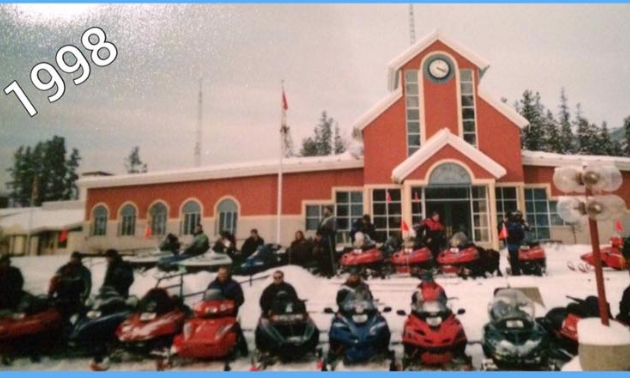 Babcock Mountain
Babcock Mountain in the Core Lodge riding area is described by locals as the most beginner-friendly, or family-oriented, place to ride. There is a cabin at the parking lot, and from there sledders can follow a wide trail that takes them right into the alpine to an area where hillclimbing events used to take place. Here, they can find a warm-up shelter and follow trails leading into popular play areas—such as the Super Bowl, Arctic Cat Meadows, Roman Mountain, Hidden Valley and the Back Meadows.
Driving directions: Drive south of Tumbler Ridge for about 30 kilometres towards the Peace River Mine Road and turn right off the highway. There is a place to park about 14 kilometres up the road at the lodge, which is on the right-hand side of the road.
Difficulty level: Easy to moderate
Bullmoose riding area
Visitors may also check out the Bullmoose riding area on their first visit to Tumbler Ridge. Bullmoose is about 45 minutes from town. Trails in the Bullmoose area are not marked, however, and it takes about half an hour to reach the main area from the spot where other sledders usually park and unload their sleds. Family riding can be found in the Bullmoose area.
Driving directions: Drive 30 minutes along the highway to Chetwynd and turn left towards the old Bullmoose Mine. From there, it's about 15 to 20 kilometres to the parking spot.
Difficulty level: Easy to moderate
Wolverine riding area
Wolverine is a large sledding area that offers spectacular views and a variety of challenging opportunities for advanced alpine riders. According to the locals, it takes about 40 minutes to get from the parking lot to the warm-up shelter and another 10 minutes to gain access to numerous cutblocks and scenic vistas. Albright Ridge is a popular destination for sledders in the Wolverine riding area.
Snowmobiling in the Wolverine riding area is not recommended unless you are accompanied by other riders who are familiar with the terrain.
Driving directions: To reach the Wolverine riding area, head out of Tumbler Ridge towards Chetwynd and then hang a left and go towards Western Canadian Coal's Wolverine Mine. The trails aren't marked, so it's up to you to find a place to unload and ride into the area.
Difficulty level: Moderate to difficult