Our childhood experiences shape much of who we become as an adult in society. Family dynamics and life experiences are fundamental building blocks for childhood development.
Recently, I came across a video produced by Nature Valley that sent a wave of fear and concern through my body as it did many of those who watched. A simple question was asked to three generations of family members: "What did you do for fun as a child?"
The grandfathers and grandmothers in the video clip reminisced about their nature-filled adventures, their eyes sparkling with excitement as they shared their life experiences. The mothers and fathers in the family shared the same line of thought, with time outdoors being the most fun and exciting aspect of childhood.
The children's answers, however, were quite alarming.
Each child described a life behind video games, television, computers and their cell phone expressed as the most fun and important things in their lives. "Like, I would die without my phone," was an alarming comment coming from a six-year-old girl.
When Polaris released the new INDY EVO™ snowmobile, I thought to myself, "Cool! This 550-cc-fan-cooled snowmobile is the perfect in-between machine for teens and tweens to enjoy." Little did I realize that the INDY EVO™ is so much more than simply a youth machine as I had first thought.
A little Indy EVO freeriding
In February 2018, a hand-picked group of us arrived at a secure location in Montana to test ride the new 2019 Polaris snowmobile lineup.
While our primary reason for our attendance was to try out the new mountain snowmobiles, most of us were eager to see the INDY EVO™, especially those of us with children.
Uncontrollable laughter could be heard from miles away as we each took our turn. The laughter increased exponentially when Chris Brown and Geoff "Phatty" Dyer were doing the dangle side-hilling and jumping drifts on the INDY EVO™.
When it came to my turn, I was instantly transformed into a little kid, whipping donuts and laughing hysterically. We were all surprised that we fit! The INDY EVO™ is the most versatile snowmobile on the market for those who want to get out and enjoy life with their family as well as new riders who are intimidated by big horsepower machines and, of course, youth riders! It has the capability to grow with a rider in both suspension setup and horsepower.
The speed is governed electronically at 50 miles per hour (80 kilometres per hour), but with an accessory kit, you can increase the horsepower as the rider grows, if needed. Having tried out the INDY EVO™ with the stock setup, I can confidently say anyone can have a ton of fun with this machine right out of the box.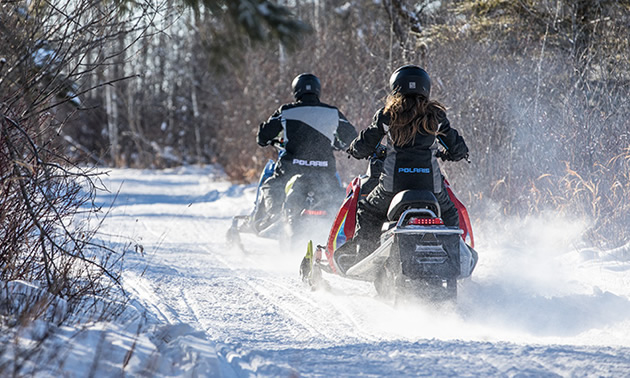 The handlebars are narrow, low and flat, giving excellent, predictable leverage. The adjustable-stance Independent Front Suspension (IFS) allows the sled to evolve with the rider. The Easy Throttle Flipper is designed to be comfortably and effortlessly controlled by smaller hands, with a smooth, predictable response that inspires confidence in a new rider (or pure joy in the Sledmomma whipping donuts, giggling hysterically)
Fun and versatile
Whether it's for a scenic trail ride, a hot-dog roast, bird watching or ice fishing, the INDY EVO is absolutely fine governed at 50 miles per hour (80 kilometres per hour). It's perfect for winter life around the farm as well.
While you may not be climbing any chutes on the INDY EVO™, you will be creating lasting memories and family bonding time, unplugged from technology and plugged into nature with this snowmobile. Do you have grandkids? If the answer is yes, think of the practicality of being able to enjoy days on the trail with your significant other while also having the ability to share winter adventure with your grandkids.
Warning: Allowing grandchildren to ride the INDY EVO™ may result in them refusing to leave.
For more information, see Polaris' website or visit your local dealer to start customizing your perfect family snowmobile.