Excitement and anticipation filled the room as we awaited a sneek peak of the new 2019 Polaris snowmobile lineup in West Yellowstone, Montana. We were amongst the greatest minds in the snowmobile industry. Big things were expected and so many of us were eager to learn more.
The all-new Polaris 850 Patriot™ engine—a powerful new member of the Liberty family that includes the 600 Cleanfire and 800 H.O. Cleanfire engines—was unveiled. It is the most powerful Polaris snowmobile engine ever. Proven through extensive and demanding testing, this engine is incredibly durable and reliable, and it is backed by a standard four-year warranty.
The Polaris 850 Patriot™ is all-new. The only parts used on any other Polaris engine are the spark plugs, two sensors and some common fasteners. This includes the new Patriot™ strategic engine mounting system that was designed to integrate with the Axys architecture. Minimum vibration is delivered to the rider and belt life is maximized.
First ride impressions
Preparing to head out into the West Yellowstone backcountry, the very first thing I noted on the new 850 Patriot™ was the ease of pull when starting the machines. A one-armed pull from a cold start was smooth and easy, and quite surprising.
The handlebar warmers were quick to warm because the new electrical system delivers peak efficiency, with its power-boosting regulator that ensures quicker starting and helps deliver maximum electrical power at idle and low RPMs. Toasty hands right from the get-go—I love it!
We were off to a great start. As we headed out on the trail, the new React front suspension was noticed immediately. While we had hoped for groomed trails, this was not the case, which may have worked in our favour. The React front suspension was incredible and smooth for a mountain sled, soaking up the bumps while creating a very true and predictable ride, even around corners.
Another contributor to the smoothness of the ride was the implementation of the Patriot™ strategic engine mounting system, which minimizes vibration. I initially thought, "what vibration?" as I compared the feel of the 2019 Patriot™ 850 Pro-RMK to my 2018 Axys 800 Pro-RMK.
You'd be surprised at the difference when jumping from the 850 Patriot™ back to the 800 chassis. The new 850 Patriot™ feels much smoother and predictable with zero extra movement or vibration.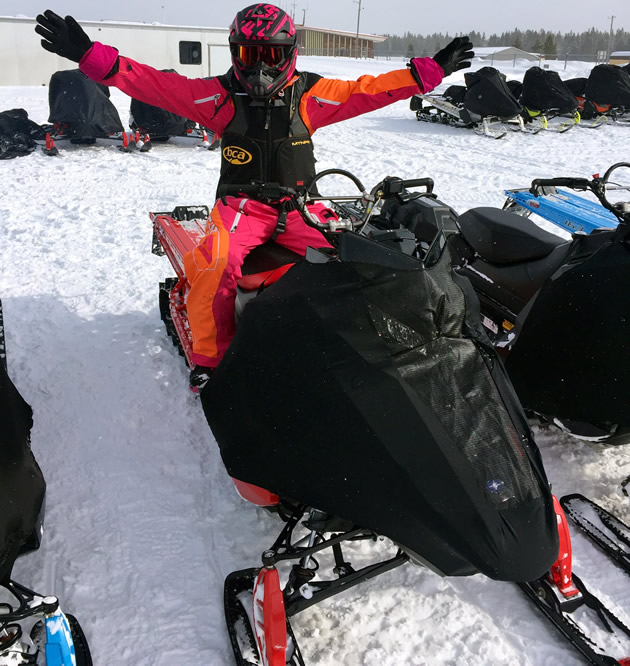 Off-trail in the deep snow is where the 850 Patriot™ truly shone. It is intuitive and forgiving, reacting to every adjustment of your body. The acceleration is smooth and true with no lurching or arm-stretching surprises.
Yes, the 850 Patriot™ has class-leading power, but it isn't a hard-to-harness rodeo type of power. It is a smooth transition, giving you power when you want it with no surprises—power exactly when you need it.
You can depend upon this sled in every way, shape and form right down to the running boards. The running boards are angled at the back to give more clearance on edge to prevent drag when on a sidehill.
Pushing the boundaries
I ended up top in some trees, not anticipating the deep windblown tree well in front of me. Marty's voice from orientation rang through my ears: "Must not hit trees," one of my infamous skills. I scoped out my little predicament. There was an out if I nailed it just right and popped between the two trees on the other side.
"Instantaneous lift, please be with me," I thought to myself. I know we can do it. I easily popped over the edge, landed on a sidehill in the deep well, then peacefully carved up and around the two trees that were standing in my way between freedom and flop. Wow! I was in shock and disbelief.
Looking back and observing my line I had to grin and think to myself, "Yeah, I totally did that." If you think it, you shall nail it with this 850 Patriot™. It completely read my mind, and I trusted this machine to do so. Already, we were one!
The Polaris 850 Patriot™ isn't just a snowmobile that gained some horsepower; it is an entirely new way to navigate the winter backcountry.
You can ride smarter, with less effort, on the 850 Patriot™, leaving ample energy to have fun with your day and push your boundaries.
Who is this Polaris 850 Patriot™ for?
Some feel advanced riders will be able to up their game with the 850 Patriot™. While this is true, I see another market simply because this snowmobile is so incredibly intuitive, smooth and easy to ride.
Beginner and intermediate riders will absolutely up their game, developing more skills with confidence and ease. Being on a forgiving, predictable chassis can only enhance their skills repertoire. For many terrain choices, there is no need to do the dangle because most manoeuvres can be done in a neutral position, once again conserving energy and boosting confidence.
The new front suspension compensates for any bumps and ruts you may encounter while sidehilling, giving you a much more true and predictable ride. When you want to unleash the beast it is at your will, and believe me, the 850 Patriot™ has got a lot of jam under the hood—big power when you want it, how you want it.
If you are looking to up your game with class-leading horsepower, effortless handling, durability and smooth, predictable power in a snowmobile, the new Polaris 850 Patriot™ Pro-RMK will be the machine for you. And it comes with a four-year warranty!
Contact your local dealer or visit Polaris' website to build your snowcheck-only Polaris 850 Pro-RMK today.