It is no wonder riders speak highly of the snowmobiling in Swan Valley, Manitoba, with more than 800 kilometres of trails, nearly a dozen warm up shelters and two clubs to take care of it all.
"This valley we have here is just a little gem," said Brian Sutherland, president of the North Mountain Riders in Swan River.
And Sutherland's no stranger to snowmobiling, either. He's made tracks all over Western Canada, from southern B.C. to the Northwest Territories, and he is still partial to Swan Valley.
"Between the two clubs, it's phenomenal," he said.
The North Mountain Riders take care of the trails north of the town of Swan River and the Swan Valley Snowmobile Association looks after the ones in the south. Both clubs have some shelters that you'll want to make a point of checking out this season.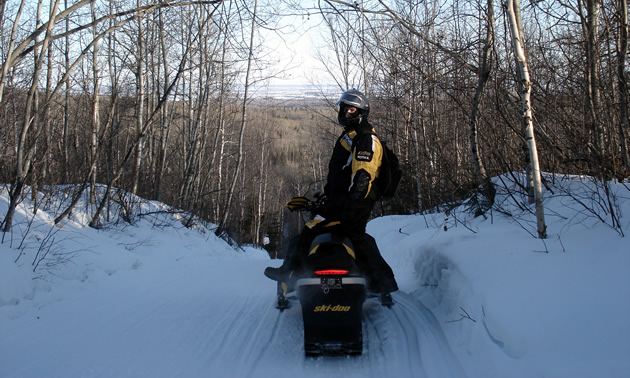 One of the best views
The Faye Corbett Warm-Up Shelter is one of the North Mountain Riders' largest shelters and from the front step, it offers a bird's eye view of the expanse of forest and farmland that is the Swan Valley.
"You get up there on a clear day and it's beautiful," said Sutherland.
Like all of the club's shelters, the Faye Corbett Warm-Up Shelter is equipped with a table, chairs, a wood stove, firewood and solar-powered lights. There is an outhouse as well and an outdoor fire pit, making it a great place for families to stop.
To get there from Swan River, head north on Trail No. 2, turn at the Bin (an old grain bin that has been turned into a shelter) and take Trail 556 to Trail 550 and then head north. Or you can follow Trail No. 2, go past the Bin and then take Trail 554. Both routes will take you to the Faye Corbett Warm-Up Shelter.
A pretty spot to play
Pete's Cabin is located on Bubble Lake and it was built in memory of an avid snowmobiler named Pete Reimer. It was his favourite spot and for good reason. According to Sutherland, it is very picturesque and if you get there before anyone else, there could be a foot or two of virgin snow on the lake, ready to be smashed.
From Pete's Cabin, it's only 12 kilometres to the Moose Range Lodge in Saskatchewan where there is fuel, food and lodging. Because Swan River is so close to the border, sledders from the valley often ride into Saskatchewan and vice versa.
There are many ways to get to Pete's Cabin, but the easiest may be via Hart Mountain Road or what is now known as Trail 558.
Scenery and a bit of history
Another great view—this time of the Little Duck River southeast of Swan River—can be seen from the Cowan Trail Shelter. This shelter, which is in the Swan Valley Snowmobile Association's trail system, is located about 11 kilometres from the community of Cowan.
To get there from Swan River, take the No. 1 trail heading south and then follow Trail 6, also known as the Cowan Trail, east to the shelter. The Cowan Trail is, in fact, a historical route that was originally blazed in 1897 and over the years, it has brought many a settler into the valley. For sledders, it offers a scenic ride on a nice, wide trail through the bush.