The Elk Valley, nestled in the heart of the Rocky Mountains, has gained a reputation among snowmobilers as having incredible snow depths and terrain that will please just about every rider out there.
One of the most popular snowmobiling areas in the Elk Valley is Coal Creek (located about 30 minutes south of Sparwood). Here, sledders will find a spacious parking lot, which is maintained by members of the Fernie Snowmobile Association, and a family-friendly trail that, starting this winter, is groomed four times a week.
Venturing up the main trail will take sledders to the Rolling Hills Cabin. Only a couple of years old, the cabin is a great spot to warm up, re-group and map out your plan of attack for the day. From there, sledders can gain access to the popular Rolling Hills where they can shralp some pow without having to worry about high avy risks. Past the Rolling Hills is where the Wrangler's Cabin is located—another great place to rest after working up a sweat in the snow.
Snow. Let's talk about that for a moment. The Elk Valley has notoriously been known for its deep, dry snow. It's the reason why skiers, snowboarders and snowmobilers flock to the area each winter. And compared to other places in the southeast corner of B.C., the Elk Valley is usually the first to see winter arrive and the last to see it leave.
Now, back to the sledding. Another spot that is popular in the Coal Creek area is the Notch. The Notch features an easy ride along a pipeline into wide open riding where you can really hang it out.
If you're more of a tree rider, though, there's no need to despair. The Coal Creek area has plenty of that, too. Even when conditions are less than ideal—and yes, the Elk Valley is not immune to drastic temperature changes and bouts of drought—there is always fluffy, fresh snow to be found in the Coal Creek area, if you know where to look, that is.
"We can have bad conditions, but we always seem to be able to find really good pockets of snow," said a Fernie local named Andy Weir. "Coal Creek is good for that because there's such a variety of terrain. It's a really nice, easy place for us to go and teach."
Weir and his wife, Shantelle, are the owners of Weir Boondocking, and they spent the vast majority of their winters teaching riders how to improve their skills. Their clinics are tailored to the individual needs of each rider in the group, so they run them not only out of the Coal Creek area, but throughout the entire Elk Valley.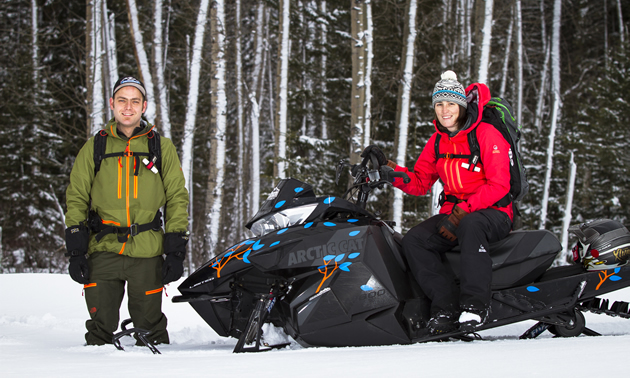 "Knowing your way around here really does pay," said Weir.
Whether you hook up with a guiding outfit like Weir's or just decide to poke around the Valley on your own, one thing's for certain: you're sure to go home with an empty tank and a smile on your face.