Andy Kroll—who is the marketing manager for Polaris Industries' snow sector—is not only passionate about riding, but for the company he works for as well.
"Polaris listens to what our riding consumers want, and each year we try to meet and exceed their expectations," said Kroll.
On an exciting path forward, Polaris Industries' snowmobile lineup continues to push boundaries, helping their riders to reach new levels of skill and terrain. Some argue that not many changes were made to this year's Pro-Ride chassis.
Well, if it isn't broke, don't fix it! Quite often manufacturers get caught up in reinventing the wheel, but holding true to what is working, this mountain chassis continues to blow the mind of riders who enjoy their time in the mountains. Novice or experienced, the Polaris Pro-RMK lineup creates a ride experience that inspires.
Lightweight and agile
Polaris's mountain lineup continues to be the favourite among technical tree riders for many reasons. The lightweight nimble chassis is the core foundation for its popularity.
The weight and agility help riders to avoid fatigue, which can lead to epic stucks and crashes. When the mind and body are exhausted, decision-making and reaction time can be affected. Responding to every rider input, this lightweight chassis allows for longer ride times.
The Pro-RMK gets up and stays on top of the snow. This flotation not only creates fun and a bit of grace time in the trees but it also helps riders to get out of predicaments with ease. A ski pull is quite often all that is required to unstick a sled and then, of course, there's the rollover.
Tried and tested—by yours truly—I appreciate the ability to roll myself out of a stuck, on my own. This is huge, not only from a safety point of view, but for the ever-persistent sense of pride all riders have. Nobody wants to be "that guy" or "that girl" in a torrential stuck, requiring a major intervention from all your shred friends.
Rigidity is another huge bonus for Polaris riders. While some manufacturers are focusing on flexibility of the track and skid, Polaris—while maintaining lightweightedness—feels that the rigidity of the skid, and track help riders to really dig in when it counts. Sticking a sidehill while instantly responding to the rider's every input creates a very predictable, agile chassis that is made for technical terrain.
"If you think of a snowboarder carving down steep powder-filled terrain, the leading edge of the board needs to be rigid, not flexible, to be able to carve deep and sharp into the snow," said Kroll. "Snowmobiles handle quite the same. You want to be able to dig in, and truly connect with the snow."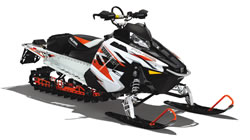 Rigidity helps to transfer and transpose rider movement directly to the machine to help navigate the terrain with certainty and ease.
Ride impressions
Riders who have experienced mentoring from the likes of Chris Burandt and Dan Adams have similar feedback. If they have come from a different brand of machine, within hours they start feeling at home. They are able to excel to new dimensions of riding, because of the machine's agile chassis and to push their own boundaries beyond what they thought was possible.
Kroll explained that new riders become technical riders quickly, once used to the chassis dramatically accelerating the speed at which they learn. Confident in their ability to navigate technical terrain, newbies become skilled quickly.
"After riding the new 2015 Polaris Assault RMK, I realized one thing," said Adams. "Polaris snowmobiles are still the easiest, lightest and most fun sleds to ride, period."
Mountain freerider Ryan Nelson—who is one of the key riders in the Boondockers team—witnesses this skill development phenomenon often.
On a demo ride with his Polaris rep, who is a self-described flatlander, Nelson noticed his level of apprehension. This flatlander was unsure if he had the skills to navigate terrain in the mountains. But knowing the merits of this Pro-RMK chassis, Nelson had no hesitation taking his rep on a mountain adventure.
Through creek drainages, where technical sidehilling was a must, this flatlander effortlessly became a mountain rider in the blink of an eye. He handled the terrain and had a great time bouncing back and forth across the creek bed. He handled all the challenges thrown at him like a boss. He rode exceptionally well. Later Nelson found out that it was his rep's first time in the mountains.
Feedback from Snow Shoot 2015
Nelson also participated in Snow Shoot 2015, where riders get an opportunity to test the latest and greatest of technology from all the manufacturers. At the end of the week, Nelson breathed a sigh of relief when he jumped back onto the Pro platform.
He purposely avoided riding the Polaris snowmobile initially to give the others a fair shake as his personal snowmobile is a Polaris Pro-RMK. Upon reuniting with the 2015 Polaris Pro, he realized how effortless this chassis truly is.
Nelson had this to say about it: "The Pro sidehills better than all the others—in my opinion. (It) sticks the sidehill without even a question. It is easy to manoeuvre, (offering) almost effortless navigation in technical terrain, (thus) giving you confidence. It gets back up on the snow faster, which I noticed mostly when getting stuck. A ski tug on the Pro gets you out, where the other sleds took much more effort to get unstuck and back on top of the snow. The biggest advantage, in my opinion, are the running boards. They are stiff! When you put your weight on them, the sled carves like being on a snowboard or skis. The traction and lack of snow buildup make a huge difference as well."
So for those wondering why Polaris stuck with the same tried and tested Pro chassis for its 2015 RMK lineup, the answer is simple: Polaris is dedicated to meeting the needs of their riders, and truth be told, sometimes what we think we want may be a little different than what we actually need.