Tanya Vogt is a long-time snowmobiler who now shares her passion with her young family. They make their home in Lloydminster, a city that straddles the border between Alberta and Saskatchewan. "I remember riding around my grandpa's farm when I was little," she said. She remembers taking his old snowmobile around the property before her parents bought their own sleds.
"My dad stuck me on the front of the sled and said, 'Drive it.' I took him for a ride, and when I was done he said I was awesome," she said. "That's the first time I remember. No direction, just take it for a ride." Through her early teens, her whole family rode together. Her first sled was a 1993 Arctic Cat Lynx.
Vogt stopped riding for a few years, but fell in love with the sport again with her husband. "Now that I have my own family, we got back into it," she said. It's normal for her husband and their three kids to put on 400 kilometres in a day. The kids are always eager to join them on the trails. "No complaints," she said. "We tell them we are going out for the day, they gear up, and away we go!"
Exploring Saskatchewan and Alberta by trail
Vogt's family loves days on the trails. "We pack lunches and stop along the lakes and meadows we find. We play around and check out the scenery," Vogt said. Her family loves being able to get outdoors, soaking up the scenery of Saskatchewan and Alberta. "They're good with being out all day, so that's what we do!"
Her home in Lloydminster lets her family choose between the forests of northern Saskatchewan and the Rocky Mountains in the west. "The Saskatchewan trail network is huge!" she said. "There are so many places to go and explore." The well-groomed trails extend across the province. There is clear signage on the trails and well-kept shacks to warm up in. Vogt's family, of course, has a SaskSnow membership. "Help keep these amazing trails maintained!" she said.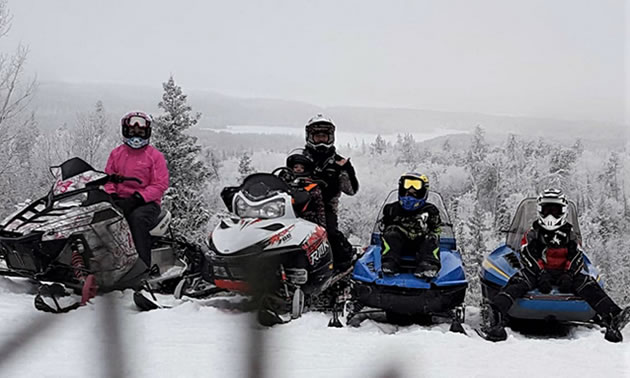 As for the scenery, "It's awesome. They are beautiful trails," Vogt said. When there is snow around Lloydminster, her family likes to stick to the Northern Lights division, which includes Meadow Lake and Turtle Lake about an hour northeast of their home. If there's less snow, they will drive a few hours to rip around the northern boreal forest. There are lots of hills and lookout points, but Vogt loves the flat areas the best. "I like speed, so I like flat, open areas where I can really go."
Planning to take on the mountains
Vogt is always looking to improve her own riding. "I'm motivated to try new things," she said. "I want to broaden my horizons. I strive to do the best I can at it." One of Vogt's goals for the year is to learn new techniques to ride in the backcountry. "I would like to learn more carving and technical riding because I would like to get out to the mountains some day. My husband has been teaching me. It's slow going because we don't have snow at the moment, but I am trying to learn more."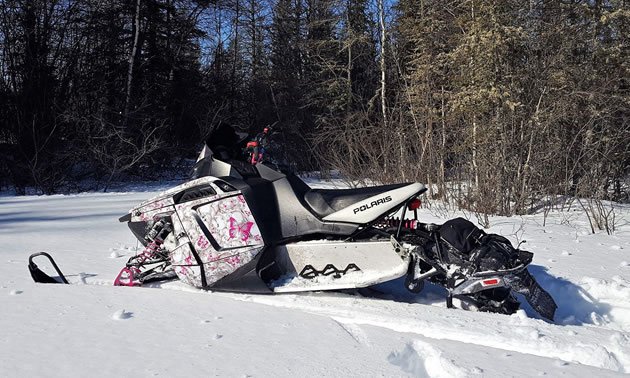 Even though the mountains will have to wait, Vogt is excited to explore new trails with her family. "While we don't have any trips to the mountains planned yet, we are going to travel to Cataract Creek outside of Calgary this February to check out some new countryside terrain. Should be a good learning curve for the kids!"