Snowmobile club members don't always live in the area they ride. For some, their snowmobile destination is an oasis far away from everyday life, full of new experiences, encounters and possibilities. Even though Teena Rumak lives and works in Calgary, Alberta, her sledding paradise resides within the open alpine above the treeline. Through tight tree riding to open bowls and lakes, Revelstoke, B.C., has everything Rumak can't find at home.
"I've structured my life to be able to go snowmobiling," she said. "I work hard in the summer and get 30 to 40 days of winter in Revelstoke by driving out every second weekend."
For the past six years, Rumak has been commuting the interprovincial 400-kilometre distance that separates her and her snow haven. Although Rumak has friends who live in Revelstoke, she enjoys exploring the vast playground with a host of unfamiliar faces.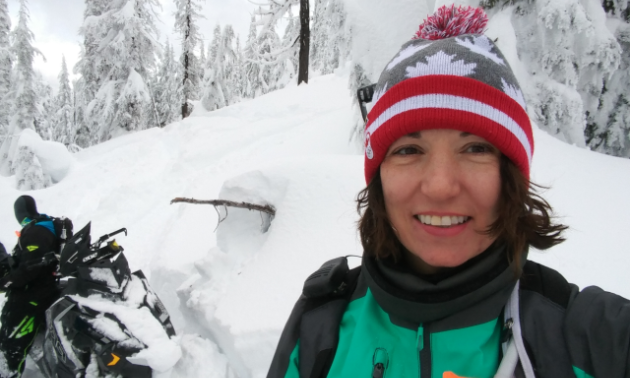 "I got into this sport on my own," she said. "A friend lent me his sled one weekend and I instantly fell in love with the sport. As soon as I could, I bought my own sled and truck and have been going out there by myself, meeting people."
Best day ever
Rumak's favourite day on a snowmobile involved meeting a whole lot of new folks in Eagle Pass, south of Revelstoke. When Rumak and her convoy of 15 unfamiliar riding companions reached their target, the Area 51 trail, idyllic conditions greeted the party of eager snow-goers.
"It was bluebird—not a cloud in the sky," said Rumak. "There was probably three feet (one metre) of fresh powder. It's not often that you get a bluebird powder day like that in Revelstoke. Usually if there's that much snow, it's socked in. It was just one of those days. Perfect timing. It had snowed for a couple days. We broke into that area and it was untouched.
"It was a fabulous riding area. I hadn't been in there before. Learning a new riding area is always cool."
Eagle Pass is a technical, advanced riding area with ungroomed trails. Some backcountry logging roads are accessible by breaking trail up through the trees.
"We rode in an area that had a burn so that was fun. Burn areas are always interesting to ride because the trees are charred and you can see really easily. There's no tree wells. It's a unique experience."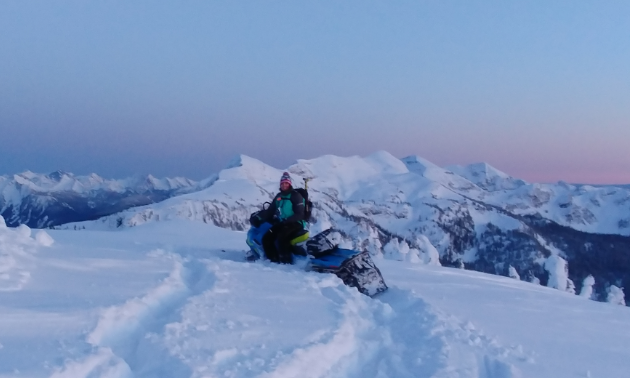 First impressions
If it's true that you shouldn't judge a book by its cover, then Rumak learned the lesson not to judge a snowmobiler's skills based on first impressions.
"There was one funny moment where, not knowing these guys, I came up to this meadow where a guy had fallen over on his side," said Rumak. "I rode up to him to help him get his sled upright. I thought 'What have I gotten myself into? This guy can't ride very well.' Ha ha. I look and the whole group is gone. I thought, 'Darn it, I'm stuck with this guy!' He and I tried to catch up to the group by weaving around trees and crossing each other's paths. The terrain was bumpy. We were climbing up through the pillows in the trees, cutting across the tracks. That was really cool. He ended up being a wicked rider. He's a really great guy to ride with, but my first impression was, 'Oh, god, I'm gonna get him unstuck all day.' "
Just as Rumak made an inaccurate snap judgement of a fellow rider, she's been the subject of unfounded scrutiny. Fortunately, that skepticism is often quelled in a matter of minutes.
"I was the lone girl joining the group by myself, which is often the case," said Rumak. "Some groups are a bit nervous about having a female rider tag along. One group was worried about me coming along because I might be a liability. Then they realized I could ride and said 'Oh, it's good you're here because you're getting us unstuck.' They can tell quickly that I can get around OK.
"The men in the community are so welcoming of a female coming into the group. They treat me like their sister or daughter."
Reflections
Rumak's eventful trip was capped off with a relaxing evening watching the sun set.
"We roasted hotdogs and smokies over a fire," Rumak said. "When these guys go up, they build a bonfire and have a nice, chill day. It's not about adrenalin or anything to prove or hitting the jump. Sometimes I just have to stop and take a deep breath and take it all in. What makes the day isn't necessarily the day or the snow or the terrain, it's the people I'm with."