Last year, for the first time in race history, the U.S. national snocross race circuit made its way to Route 66 Raceway in Joliet, Illinois, on February 20 and 21, 2015. This snocross track was built on top of the drag strip area of the raceway. It was definitely a different perspective to see Route 66, as I had been there a handful of times when I was younger to watch the National Hot Rod Association's (NHRA) drag racing series. It was pretty cool to be back at the raceway, yet with a very different perspective.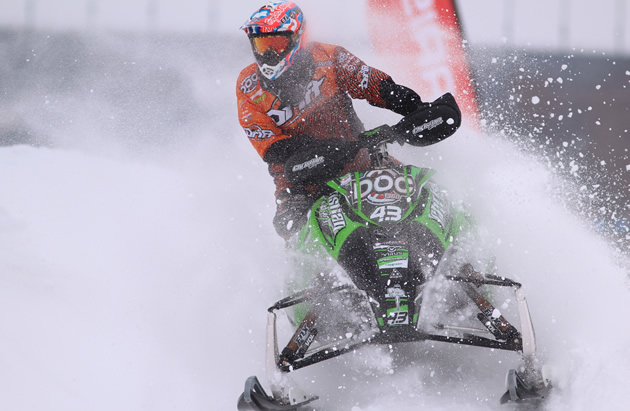 From an aerial view, the right side of the course had the finish line, along with a giant triple and rhythm section, and the left side of the course contained massive rollers, which took out a few racers throughout the weekend.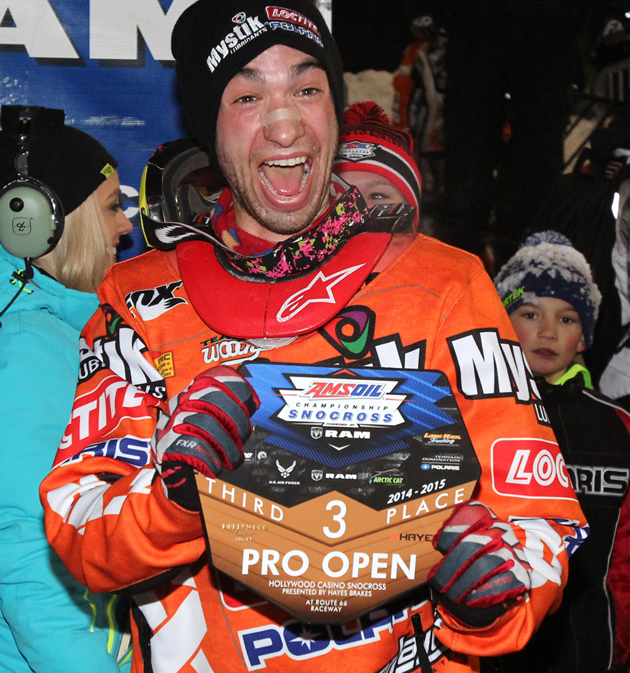 Friday was bitter and cold, with strong flurries off and on for most of the day. This left a lot of fresh powder throughout the track, which made for some great photos of riders blasting through the corners and spraying snow outwards. Additionally, many riders were trying different lines through the rhythm section after the finish line and many of the Pro Open riders were hitting the triple, which catapulted them high above the course. Some of the Pro Lite riders also took this line, but very few Sport riders attempted this tactic. The Pro Open Final was the last race of the night, where Tucker Hibbert took first place, Canadian racer Tim Tremblay took second place and Kyle Pallin took third place.
The weather on Saturday was significantly better. The sun was out for parts of the day, and it felt much warmer. I recall taking my jacket off at one point, and a lot of the track workers were in T-shirts. I spent a lot of time on Saturday with my good friend, Grant Glashagel, back at his site, and at his teammate Keagan Bachara's site as well.
Bachara, who raced in the Junior 14-15 class, ended up crashing during his final, due to a broken suspension component, and Gashagel crashed during his heat as well, after leading in first. He ended up finishing the race and received a seat in the last-chance qualifier, but he ended up withdrawing from the race due to pain, which was later determined to be due to a fractured tailbone.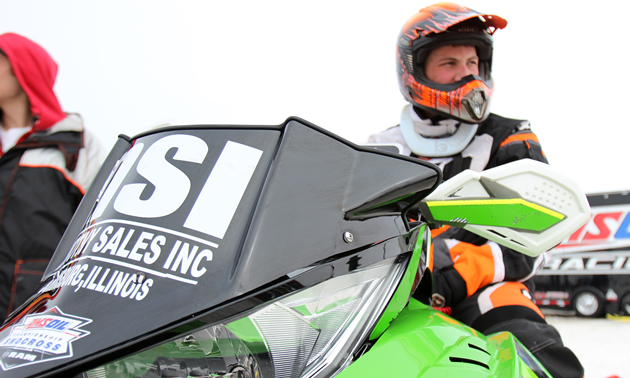 The Pro Open final later that evening yielded Tucker Hibbert taking home first place again, Logan Christian with second place and Kyle Pallin with third place.
What to watch for this year
On March 4 and 5, 2016, Route 66 Raceway will once again play host to the ISOC National snocross series. For more information and tickets, see the Hollywood Casino Snocross National webpage.
The series will then head north to Lake Geneva, Wisconsin, for Nielsen's Snocross Grand Finale on March 18 to 20. For more info, see the webpage.
Both races will include action-packed racing along with battles for second and third place in the Pro Open points standing. There will also be big battles in the Pro Lite and Sport classes, as the current top three points positions are very close and can easily shift throughout a weekend of racing. Check back for snocross galleries from both events on SnoRiders.